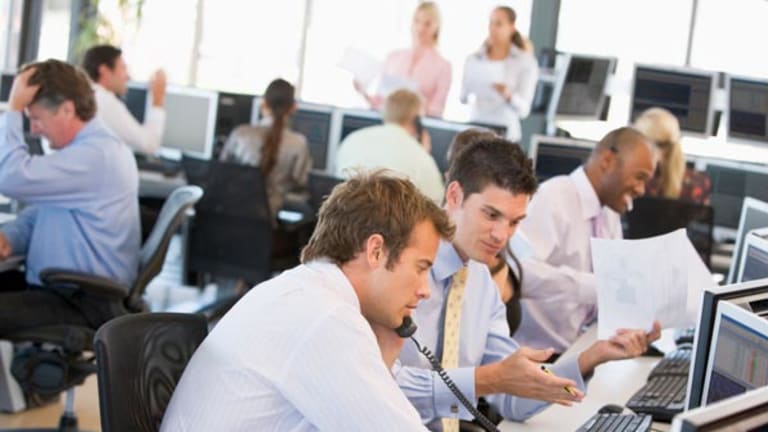 Oil's Spike Punctures Stocks
The Dow breaches 9800 -- an 11-month low. The Nasdaq dives 2%.
The Dow breaches 9800 -- an 11-month low. The Nasdaq dives 2%.
Updated from 4:05 p.m. EDT
Oil and stocks aren't mixing.
Crude futures hit another record high Friday and the
Dow
plunged to an 11-month low, closing below 9800 for the first time this year.
The Dow fell 107.95 points, or 1.09%, to 9757.81, below its previous closing low for the year of 9814, set on Aug. 12, and its intraday low of 9767, touched on Aug. 6. The Dow last closed below 9800 on Nov. 28, 2003.
The
S&P 500
shed 10.75 points, or 0.97%, to 1095.74, while the
Nasdaq
lost 38.48 points, or 1.97%, to 1915.14.
For the week, the Dow lost 175 points, or 1.8%, while the S&P 500 fell 12.5 points, or 1.1%. The tech index eked out a 3.5 point gain. Both the Dow and the S&P 500 extended their losing streak to three consecutive weeks.
Volume was moderate Friday on the
New York Stock Exchange
, where 1.5 billion shares traded with advancers trailing decliners 2 to 1. At the Nasdaq, 1.7 billion shares changed hands and advancers fell behind decliners by a 2 to 1 margin.
High oil prices continued to sour the mood. Nymex crude for December delivery closed 70 cents higher at $55.17, a new record but still below the intraday high of $55.43 last Friday. Prices are up more than 70% this year.
In other markets, the 10-year Treasury note rose 5/32 in price to yield 3.97%, while the dollar was higher against the yen and lower against the euro.
"The big news right now is the price of oil making new highs and so that's really taking its toll on the markets," said Peter Cardillo, chief market analyst at S.W. Bach & Co. "Unless you have some real substantial news, a new catalyst, that can divert the market's attention from the price of oil, there's no reason for the market not to pay attention to the price of oil."
"Every time we go into a weekend, the market tends to get a little nervous," said Barry Hyman, equity market strategist at Ehrenkrantz King Nussbaum.
Hyman said uncertainty generated by the presidential election is contributing to the market's jitters. "The market is positioning itself for the postelection outcome," Hyman said. "I think the lackluster behavior we're seeing in the market is the inability to predict the election. If that were possible, investors and traders could position themselves ahead of a Democrat or Republican winner."
"I'm disappointed in today's action," said Ken Tower, chief market strategist at CyberTrader, adding that strength in the broader market was not matched by the Dow. "After yesterday's rally, I thought we'd see some follow-through here.
"There has been a real market skepticism, on the part of investors, to accept the idea that this market can rally and the economy can grow, in spite of these very high oil prices," said Tower, who likes basic material, utility and energy stocks, but is avoiding retail and health care issues.
Tech shares, after a mixed bag of corporate earnings news, were dragged lower by
Microsoft
(MSFT) - Get Report
and
Intel
(INTC) - Get Report
, which fell 2.9% and 1.8%, respectively -- and both led the volume board at the Nasdaq.
"I'd say we've moved up in a nice technology rally with really no fundamental news, so I think there's going to be some profit-taking," Hyman added. Investors view the semiconductors as a sector that is "least affected by rising energy prices, but we've seen mixed earnings at best, and the semiconductors have moved up almost 10% in past week."
Intel shares fell on the news that the chipmaker would delay efforts to produce a particular chip to be used in televisions. The news adds itself to a long list of product delays. The stock fell 39 cents to $21.30.
Microsoft late Thursday said that first-quarter per-share earnings came in 2 cents above estimates, but the second-quarter revenue forecast fell short. Microsoft put current-period revenue at $10.3 billion to $10.5 billion, while Wall Street was expecting $10.6 billion. Microsoft shares fell 82 cents to $27.74.
In the first quarter, Microsoft earned $2.9 billion, or 27 cents a share, including a stock-based compensation charge of roughly 5 cents a share. Wall Street had projected earnings of 32 cents a share, excluding the charge. Revenue rose 12% from a year ago to $9.2 billion.
Google
(GOOG) - Get Report
reported third-quarter earnings of $52 million, or 19 cents a share, compared with $20 million, or 8 cents a share, last year. Stripping out a host of special items, Google earned an adjusted $193 million, or 70 cents a share, in the quarter, about 14 cents better than estimates. Revenue more than doubled from a year ago to $806 million. Revenue rose 15% sequentially, reflecting "strong traffic and monetization growth in the quarter as well as advertisers' growing recognition of the Internet as an effective advertising medium," according to the company.
The stock popped $23.05, or 15.4%, to $172.43.
Yahoo!
(YHOO)
,
Mamma.com
(MAMA)
and several other search companies also were rising on the news.
Amazon.com
(AMZN) - Get Report
fell as much as 9% Thursday night after warning that 2005 revenue would come in well below forecasts. The online retailer, which missed third-quarter earnings estimates by a penny a share, put next year's sales at $7.4 billion to $8.15 billion. Wall Street had been expecting $8.27 billion. Shares of Amazon dropped $4.87, or 12.3%, to $34.60.
Coca-Cola
(KO) - Get Report
said third-quarter earnings dropped 24% from a year ago, although the per-share number beat estimates that were cut in September. Coke earned $935 million, or 39 cents a share, including a 10-cent writedown, in the quarter, compared with earnings of $1.22 billion, or 50 cents a share, last year.
Excluding the charge, Coke earned 50 cents a share, above Wall Street's estimates calling for 47 cents a share. For the full year, Coke expects to earn $1.88 a share to $1.90 a share, including the 10-cent charge. Shares lost 58 cents, or 1.5%, to $38.90.
Ericsson
(ERICY)
posted a third-quarter profit, citing increased spending in its telecom infrastructure. The company had earnings of $666 million, or 4 cents a share, compared with a loss in the prior year. However, the shares were lower on a weaker-than-expected outlook for 2005. Ericsson shares fell $3.24, or 10.2%, to $28.41.
Wireless carrier
Nextel
(NXTL)
reported strong third-quarter results, including an 18% jump in sales year over year. On an adjusted basis, the company posted earnings of 39 cents a share, a penny better than Wall Street estimates of 38 cents a share. Shares of Nextel dropped 7 cents higher at $25.34.
Elsewhere, shares of
Broadcom
(BRCM)
fell Friday, after the company warned that fourth-quarter revenue would be lower than expected due to a slowdown in orders. Shares plunged $4.06, or 13.3%, to $26.41.
Marsh & McLennan
(MMC) - Get Report
remained in the news Friday, as independent directors at the firm are reportedly considering the removal of Jeffrey Greenberg, the company's chief executive officer. Last week, New York Attorney General Eliot Spitzer announced a broad investigation into insurance companies, triggering a massive selloff in the sector. Shares of Marsh & McLennan rose $1.70, or 7%, to $26.55.
Overseas markets had a mixed finish, with London's FTSE 100 gaining 0.1% to 4626.60 and Germany's Xetra DAX lost 0.2% to 3915.17. In Asia, Japan's Nikkei rose 0.6% overnight to 10,857, while Hong Kong's market was closed for a holiday.