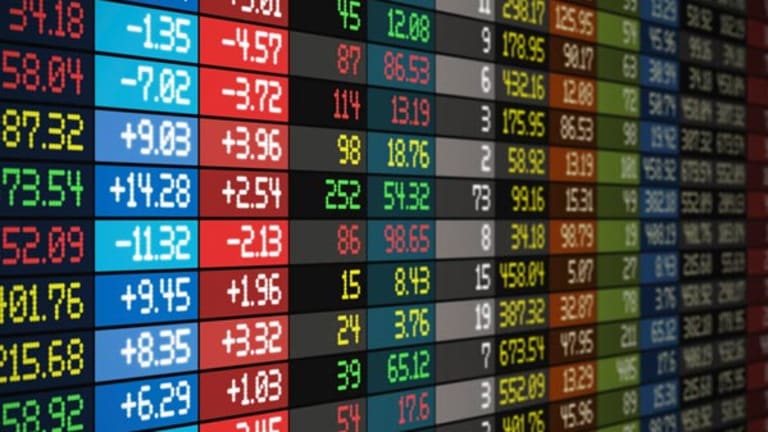 Oil's Slide Boosts Stocks as Retailers Joy Is Energy's Burden
Sliding oil prices prop up hopes that lower prices at the pump will help fuel consumer spending during the fast-approaching holiday season.
NEW YORK (TheStreet) -- A day after oil prices beat markets down, they're now propping them up with hopes that plunging gasoline prices will help fuel consumer spending over the holiday season.
Since summer, crude oil prices have dropped 25% as supply has far outstripped demand. On Thursday alone, oil prices tanked nearly 4%, dropping below $75 a barrel for the first time since 2010, on fears OPEC wouldn't inhibit its production in the face of a global supply glut. The commodity market's freefall hit oilers hard, with Chevron (CVX) - Get Chevron Corporation Report , Exxon Mobil (XOM) - Get Exxon Mobil Corporation Report and Hess (HES) - Get Hess Corporation (HES) Report collectively losing around $5.7 billion market cap in just one trading day.
The timing isn't good for the Keystone XL Pipeline, the bill for which was passed in the House of Representatives Friday with 252 votes to 161. A Senate vote is scheduled for Nov. 18. The value of the project, proposed to run between Alberta, Canada and the Gulf Coast of Texas, has been undercut as crude production margins are squeezed.
For consumer discretionary stocks though, sliding oil prices could portend holiday cheer. Economists hope the falling prices at the pump will translate to a loosening of purse strings.
"Four years ago when Americans last devoted less than 10% of total spending to gasoline stations, the cost of gasoline was just $2.73," Interactive Brokers chief market analyst Andrew Wilkinson wrote in a note. "The current cost according to AAA is $2.92, which bodes well for holiday sales ... Lower gasoline prices appear to have inspired consumers to spend more elsewhere."
The timing is perfect for the retail sector given the holiday shopping season typically accounts for around a third of annual sales. Down-and-out retailers such as J.C. Penney (JCP) - Get J. C. Penney Company, Inc. Report and Sears (SHLD) are particularly in need as fickle customers defect to online or are only lured with massively-discounted items.
Consumer spending excluding volatile items such as gasoline, autos and food services increased 0.5%, the biggest jump since August and above an expected 0.4% increase, according to U.S. Census Bureau data released Friday. Department store sales continued to drop, though, down 0.3% month on month and 3.5% for the year.
"We've been waiting for the consumer to come back into the marketplace," Hennessy Funds' Brian Peery said over the phone. "Now with gas prices dropping downward, you really start to see some discretionary income coming back to the middle-income and low-end consumer who now have the ability to spend a little bit coupled with an increase in jobs."
Consumer sentiment in November spiked to a seven-year high as better labor market conditions and lower gasoline prices boosted optimism. The preliminary reading came in at 89.4, its highest level since mid-2007, according to the Thomson Reuters/University of Michigan survey. Economists had expected a reading of 87.5.
In the broader market, benchmark indices made little ground since Monday in a week categorized by itsy-bitsy trades which barely moved the needle. Though gains were miniscule, the S&P 500 and Dow Jones Industrial Average still managed to notch new record closes in three of the five trading sessions.
Underlying optimism pushing U.S. markets to new heights doesn't extend to Europe, however. The world economy is believed to be at its worst since 2012, according to those polled by Bloomberg, with a total 38% describing its position as deteriorating with a majority citing eurozone deflationary risk.
The latest data does little to ease these concerns. On Friday, the eurozone released GDP growth of just 0.2% in its third quarter, as economists expected though triggering renewed worries of deflation. There were some bright spots in the report though, with France posting economic expansion for the first time this year and Greece outperforming the region with a 0.7% bump in GDP.
Amazon (AMZN) - Get Amazon.com, Inc. Report was the best-performing stock on both the S&P 500 and Nasdaq on Friday, receiving a 3.6% boost after resolving its months-long feud with book publisher Hachette. The deal's terms grant France-based Hachette the right to set e-book prices with incentives from Amazon to keep costs low.
Baker Hughes (BHI) continued to plow higher after confirming it had been in preliminary talks with Halliburton (HAL) - Get Halliburton Company (HAL) Report for a potential merger or acquisition. Since rumors emerged on Thursday, shares have surged nearly 18%, while Halliburton has spiked 4%.
Virgin America (VA) surged 32% in its debut trading day on the Nasdaq. Shares in the IPO of the Richard Branson-backed company were initially priced at $23 a share, raising more than $300 million.
Next week, minutes from the Federal Reserve's most recent meeting will be released on Wednesday. Investors will parse the notes to decipher any hints as to when the Fed might hike rates.
If it were up to long-time hawk St. Louis Fed Bank President James Bullard, a hike would come sooner than later. "While a low inflation rate may suggest a somewhat lower-than-normal policy rate, that effect is not large enough to justify remaining at the zero lower bound," Bullard told an economic forum on Friday.
Earnings season is winding down with 464 companies of the S&P 500 already having reported. Of those, 74% beat estimates while 9% came in as expected. Twenty-four S&P companies will report next week including Tyson Foods (TSN) - Get Tyson Foods, Inc. Class A Report and Urban Outfitters (URBN) - Get Urban Outfitters, Inc. Report on Monday.
--Written by Keris Alison Lahiff in New York.