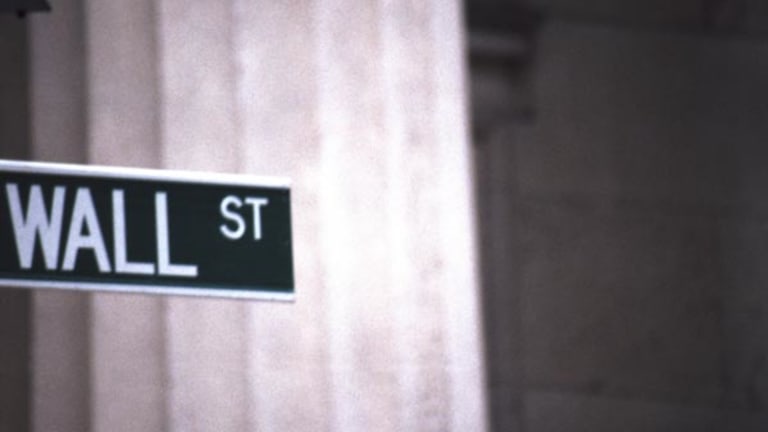 Oil's Decline Fuels Tech Stocks
The Nasdaq leads the way, despite mixed earnings.
The Nasdaq leads the way, despite mixed earnings.
Updated from 4:01 p.m. EDT
Stocks closed higher Monday, led by the tech sector, as oil prices pulled back sharply after hitting resistance around $55 a barrel. Industrial stocks were relatively flat as earnings misses from
3M
(MMM) - Get Report
and others suggested higher commodity prices are squeezing profits.
The
Dow Jones Industrial Average
gained 22.94 points, or 0.23%, to 9956.32, its second consecutive gain after closing at a two-month low last Thursday. The
S&P 500
rose almost 5.82 points, or 0.53%, to 1114.02; and the
Nasdaq
added 25.02 points, or 1.31%, to 1936.52. The 10-year Treasury note rose 1/32 to yield 4.05%, while the dollar fell against the euro and yen.
Volume was moderate at the
New York Stock Exchange
, where 1.4 billion shares were traded and advancers beat decliners 5 to 4. On the Nasdaq, 1.5 billion shares changed hands, with advancers ahead of decliners 3 to 2.
"It's oil and earnings," said Larry Wachtel, senior market analyst at Wachovia Securities, noting that 3M held down the Dow all session.
Oil briefly traded above $55 a barrel in electronic Nymex trading, spurred on by supply concerns ahead of the winter heating season. But the November futures contract wound up closing down $1.26, or 2.3%, to $53.67, as profit-taking kicked in when floor trading began.
"The basic problem I have with oil is that I don't know when it's going to stop," said Wachtel, who pointed to the "open-endedness" of the price of crude. "It remains the overhanging cloud."
The third-quarter earnings season sees its busiest stretch this week, with some 300 of the S&P 500 companies slated to report. In the day's biggest update,
IBM
(IBM) - Get Report
reported earnings of $1.17 a share before items, better than Wall Street estimates. IBM's news hit after trading closed.
Before the bell Monday, Dow component 3M said that rising raw material costs hurt third-quarter earnings. The diversified manufacturer posted earnings of $775 million, or 97 cents a share, up 17% year over year, but below analysts' estimates of 98 cents a share.
"3M kind of represents a composite for all the industrial sector, the global industrial sector, so if they're kind of flailing around it means the globe is kind of flailing also," Wachtel said. 3M stock fell $1.88, or 2.4%, in $76.10.
Lexmark
(LXK)
reported third-quarter earnings up 50% from the prior year. The printer solutions company had a profit of $156.1 million, or $1.17 a share, well ahead of analysts' estimates of 98 cents a share. Despite its strength, the company warned that fourth-quarter profit targets would be difficult to reach. Based on that outlook, Lexmark shares dropped 62 cents, or 0.8%, to $81.78.
Toy companies
Mattel
(MAT) - Get Report
and
Hasbro
(HAS) - Get Report
both fell short of third-quarter expectations, noting weaker-than-expected sales and citing an uncertain retail environment. Mattel posted earnings of $255.9 million, or 61 cents a share, flat from the prior year, but beating analysts' estimates of 60 cents a share. Revenue at Mattel dropped 2% year over year.
Hasbro said it had earnings of $88.7 million, or 45 cents a share, down from 48 cents a share in the prior year. Analysts surveyed by Thomson First Call expected EPS of 51 cents. Also, the company said it was unlikely to reach its revenue growth goal for 2004. Shares of Hasbro closed $1.20 lower to $17.26, while Mattel's shares lost 47 cents to $17.50.
Meanwhile, Prudential took down its forecast for Intel's 2005 earnings, saying it expects the chipmaker to post a profit of $1.04 a share next year, down from its old estimate of $1.10. Prudential warned of a coming price war in the high-end microprocessor space, saying
Advanced Micro
(AMD) - Get Report
could be a beneficiary. The brokerage dropped its price target to $18 from $19. Shares of Intel rose 18 cents to $20.79, while Advanced Micro gained 19 cents to $14.19.
Automotive supplier
Delphi
(DPH)
reported a third-quarter loss, pointing to higher raw materials costs and lower automotive production. The company said the quarterly loss was $66 million, or 12 cents a share, in line with analysts' estimates. Shares fell 20 cents to $8.24.
Overseas markets were mostly lower, with London's FTSE 100 closing up 0.1% at 4626.60 and Germany's Xetra DAX dropping 0.2% at 3915.17. In Asia, Japan's Nikkei fell 0.2% overnight to 10,966, while Hong Kong's Hang Seng fell 0.2% to 13,035.