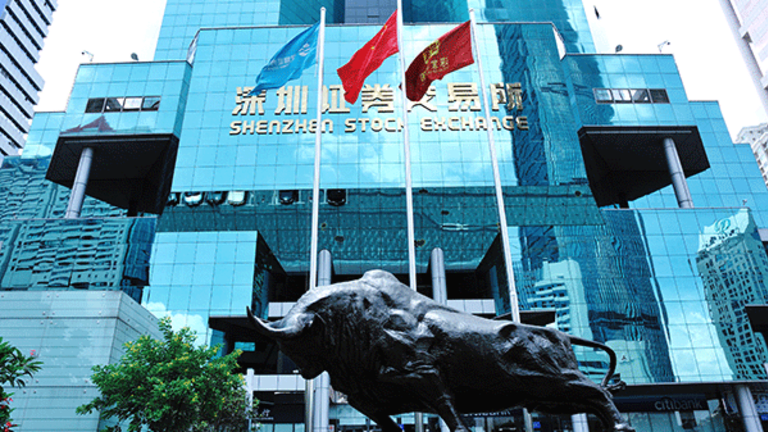 Oil Woes, Declines on Wall Street Sink Asia Markets and U.S. Stock Futures
Asia stocks and U.S. futures take a cue from Wall Street, falling in early trade.
Asia markets and U.S. stock futures were in the red across the board in early trade Wednesday morning, weighed down by a pullback on Wall Street, where concerns about oversupply hit crude oil prices.
In Tokyo, the Nikkei 225 was off 18.18 points, or 0.09%, at 20,211.32. Hong Kong's Hang Seng index was down 206.13 points, or 0.80%, to 25,640.11. Markets in Shanghai and Singapore also declined.
MSCI said Tuesday that it will add 222 mainland Chinese stocks to its benchmark emerging market index in June 2018, accounting for about 0.7% of the MSCI EM index.
U.S. stock futures were mostly lower in early trade overnight, with Dow futures down 0.07%, S&P 500 futures off 0.12% and Nasdaq futures declining 0.21%.
Crude futures also were lower, down 1.95%, but gold futures climbed 3.50, or 0.28% to 1,247.00.
In the U.S. Tuesday, the S&P 500 fell 0.66%, the Dow Jones Industrial Average was down 0.29%, and the Nasdaq declined 0.82%. The S&P 500 and Dow pulled away from records set a day earlier.
Crude oil prices came back from session lows, but remained sharply lower as worries over global oversupply continued. West Texas Intermediate crude for July delivery was down 2.2% to $43.23 a barrel on Tuesday. The descent puts crude in bear market territory, having fallen just over 20% from its Feb. 21 high.
This article was written by a staff member of TheStreet.