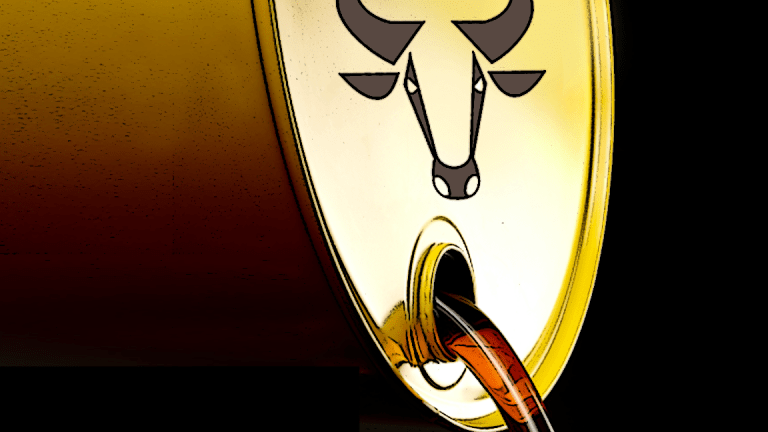 Oil Slips From Three-Year Peak After Trump Tweets Anger at OPEC
Oil prices gave back early Friday gains after President Donald Trump said "artificially high" crude prices "will not be accepted" after OPEC meeting.
Global oil markets slipped Friday, after prices traded at three-year highs overnight, as President Donald Trump took to Twitter to criticise OPEC for what he called "artificially high" crude levels. 
Oil prices have been rallying for the past six weeks, and continued to do so in overnight trading Europe, after Saudi Arabia's Energy Minister told reporters at an OPEC meeting in Jeddah that a "future cooperation framework" on production limits would likely exist when the current agreement on cuts ends at the end of this year.
Brent crude contracts for June delivery, the global benchmark, were seen changing hands at $73.05 each, down 1% following the President's Tweet,  while WTI futures for the same month were marked 0.9% lower at $67.39 each.
OPEC ended its meeting Friday with a broad agreement to "continue our joint efforts" in addressing what the cartel calls a glut in global crude supplies, according to Russia's Energy Minister Alexander Novak. Russia has been participating in OPEC's agreed production cuts, which are taking a collective 1.8 million barrels from the market each day, since December 2016.
Crude has had an impressive run for global crude, taking prices to the highest levels since late 2014 after Reuters reported that Saudi Arabia would be comfortable with prices trading in a range of $80 to $100 over the near term as it plots the listing of its state-owned producer Saudi Aramco in early 2019. 
"Given the fate of Venezuela, continued strong compliance from other OPEC members, and robust demand growth we now expect that the global oil market will be in deficit for the remainder of the year, which supports our relatively more constructive view," ING strategist Warren Patterson wrote in a recent report.
The current rally is also being supported by declines in domestic U.S. crude stocks, which fell b 1.1 million barrels last week, according to official figures published Wednesday by the Energy Information Administration. The key WTI distribution hub at Cushing, Oklahoma, also saw a 1.1 million dip in crude stocks, the EIA said.
Investors are also concerned over the impact of potential U.S. sanctions on Iran, which President Donald Trump may invoke if he refuses to certify the dormant nuclear energy deal with Tehran by the May 18 deadline. Should the President slap restrictions on Iran's crude exports, a further 500,000 barrels a day could be removed from the market, analysts have estimated.
Trump waived fresh sanctions on Iran in January, but insisted that was only to "secure our European allies' agreement to fix the terrible flaws of the Iran nuclear deal.
"This is a last chance," he insisted at the time. "In the absence of such an agreement, the United States will not again waive sanctions in order to stay in the Iran nuclear deal. And if at any time I judge that such an agreement is not within reach, I will withdraw from the deal immediately."