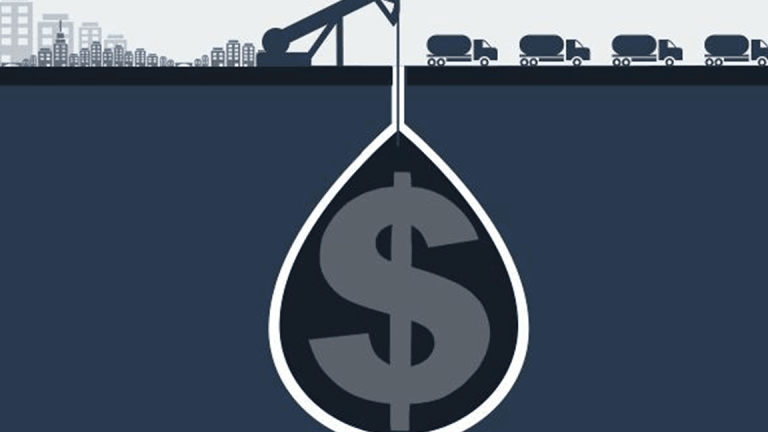 Why Oil Price 'Super-Spike' Fears Have Faded on Wall Street
Shareholders' demands for cash returns have led to dwindling investments in long-term energy projects, which may set the world up for a crude oil deficit in the next decade.
So much for a monster oil price spike.
Prospects for a crude "super-spike" to $150 a barrel because of lower investment in new sources are receding as the U.S., Russia, Saudi Arabia and even Libya boost production, analysts said.
Still, there's little doubt that the current price of $67 a barrel won't last for long.
In July, Sanford Bernstein & Co. analysts suggested the pursuit of higher returns for investors has prompted oil producers to cut back on long-term projects in undeveloped regions, setting the stage for a swift rise in crude prices.
Since then, though, second-quarter earnings reports show that several oil producers including global producer Occidental Petroleum Corp. (OXY) , and U.S. companies including SM Energy Co.  (SM) and Cimarex Energy Co.  (XEC) reported capital expenditures that were well above analysts expectations.
Cimarex is a holding in Jim Cramer's Action Alerts PLUS member club. Want to be alerted before Jim Cramer buys or sells the stock? Learn more now.
Global and domestic inventories of crude were well above average levels in 2017. Inventories in 2018 are much closer to five-year averages, however, and are expected to drop further.
Last week, for example, the U.S. Energy Information Administration reported what Seaport Global Securities LLC analysts called a "strong-like-a-bull" 5.8-million-barrel draw in domestic crude stockpiles, bringing inventories within 0.2% of the five-year average.
The Paris-based International Energy Agency said earlier this month that global crude demand is set to grow to 1.5 million barrels per day in 2019 from 1.4 million barrels per day this year, but "risks to stable supply that will grow later this year could cause higher prices and thus impact demand growth."
Production increases in Saudi Arabia and Russia, surging U.S. crude exports and a "partial, but fragile" Libyan recovery have eased concerns about the stability of oil supply, the IEA said Aug. 10.
The boost by U.S. producers in spending is linked to rising oilfield services and materials costs, however, as producers ramp production in short-cycle plays like the Permian Basin of west Texas.
"In the U.S., there are increasing demands by investors that public E&Ps return cash to shareholders," Raymond James & Associates Inc. analyst Muhammed Ghulam told TheStreet in an email. "However, it is important to remember that private operators continue to outspend cash flows, and that many of the large integrated multinationals are investing cash generated outside of the country in U.S. unconventional plays."
That doesn't mean investment in new projects isn't needed. Global oil demand is expected to rise annually until about 2040, when renewable energy sources finally begin to gain ground on fossil fuels, according to a report from Exxon.
Outside of the U.S., spending by operators such as Colombia's Ecopetrol SA (EC) and Petróleo Brasileiro SA (PBR) , remains well below past years, and U.S.-based international oil majors, such as Chevron Corp. (CVX) and Exxon Mobil Corp. (XOM) , are forgoing investing in large long-lead-time projects like those in the North Sea and Africa in favor of short-cycle investments in U.S. shale.
According to analysts, operators can rapidly increase production in U.S. shale regions like the Permian in Texas, but those plays' inventories decline quickly as a result. Projects in the North Sea, South America and Africa take more time and capital to develop, and subsequently have a longer shelf-life, but have seen reduced investments by international oil majors.
The concentration on short-cycle plays, will spur significant production growth in the U.S. over the next few years, Ghulam said, though by the next decade he said increasing basin decline rates will begin to eat away at this growth.
Declining U.S. production and decreased investment in long-term projects will set the world up for a potential crude deficit. Add in new regulations that could take supply down further such as the International Maritime Organization's 2020 plan focused on reduced carbon emissions from ships, which may erase 1.5 million barrels of heavy fuel oil supply from the market, and higher prices seem a foregone conclusion.
Whether prices reach the $147 a barrel seen in 2008 is up for debate, but the current price of about $67 a barrel is unsustainable, he said.
"Putting all this together, we will likely see higher oil prices over the coming years, which should spur higher levels of investment by operators," Ghulam wrote. "We are already beginning to see this, with a few companies reporting higher-than-anticipated capex, but it will take time for it to translate into higher production. In the meantime, we should see continuing draws in global oil inventories, and higher crude prices."