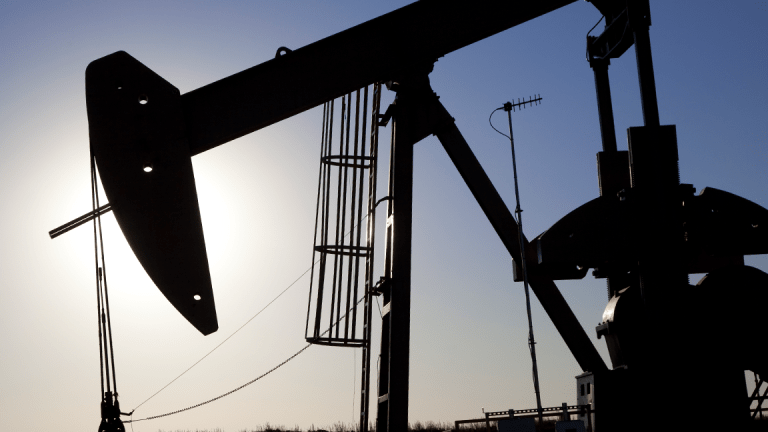 Oil Prices Extend Gains as Norway Disruption Adds to Global Supply Concerns
Global crude edged closer to $80 a barrel again Tuesday as a strike in Norway added to ongoing concerns over supply disruption that have taken oil prices to the highest in nearly four years.
The oil gusher. 
Global crude prices extended gains again Tuesday amid fresh concerns over more supply disruption, this time in the Knarr shelf off the coast of Norway, as investors bet that there may not be enough spare capacity to increase production to meet global demand. 
A planned walkout by hundreds of oil rig workers, which could rise to as many as 2,200 by the end of the week, has the potential to disrupt the 1.27 million barrels of cruder produced each day by the Norwegian oil complex, the largest in Western Europe. 
The Knarr disruption, along with questions as to whether OPEC members can effectively add to production rates when supply disruptions are holding back deliveries in Libya, political chaos has decimated capacity in Venezuela and looming U.S. sanctions on Iran have reduced appetite for it crude, is likely to keep both oil and gas prices elevated for much of the summer months.
Brent crude contracts for September delivery, the global benchmark, were marked $1.12 cents higher from their Monday close in New York and changing hand at $79.19 per barrel by midday in London. WTI contracts for August delivery, which are more tightly linked to U.S. gas prices, were seen 41 cents higher at $74.26 per barrel.
Last week, data from the U.S. Energy Information Administration showed that domestic oil stocks fell to their lowest levels in more than three years, even as drillers continue to add rigs in order to pump more crude.
The American Petroleum Institute will publish it private forecast for domestic crude supplies at 4:30 eastern time, with analysts forecasting a decline of 4.2 million barrels over the week ending July 6. The EIA report will follow on Wednesday afternoon.
U.S. gas prices are beginning to rise closer to the $3 a gallon mark once gain, now that domestic crude is trading at the highest levels since November 2014, with the comparison website Gasbuddy.com suggesting the national average is now around $2.85 per gallon, just four cents shy of the $2.91 mark that prompted a Tweet from President Donald Trump on June 13 that said: "Oil prices are too high, OPEC is at it again. Not good!"
A top Iranian oil official accused Donald Trump of boosting global oil prices Thursday, saying the President's Tweeting on crude markets is having the opposite of his desired impact and 
Hossein Kazempou Ardebili, Iran's representative to OPEC, told the country's Shana news agency that Trump's Tweets have added $10 a barrel to global crude prices, adding "he must stop this method", which he said was merely designed to stir-up tension between Iran and Saudi Arabia.
The accusation by Kazempour Ardebili, who argued against any changes to OPEC December 2016 agreement that is taking 1.8 million barrels of crude from the market each day until at least the end of the year, that Trump is attempting to create division among OPEC members was partly in evidence last week when Trump said he's asked Saudi Arabia to significantly increase oil output.
Trump suggested that 'turmoil' in Iran and Venezuela has led to a sharp increase in prices, which hit a four-year high last week despite an agreement by OPEC members that would, in effect, add as many as 1 million barrels of oil to the market each day.
Trump then said that King Salman, the country's highest politician, agreed with his assessment, although it was unclear whether the consensus was with respect to high prices or the need to increase output.