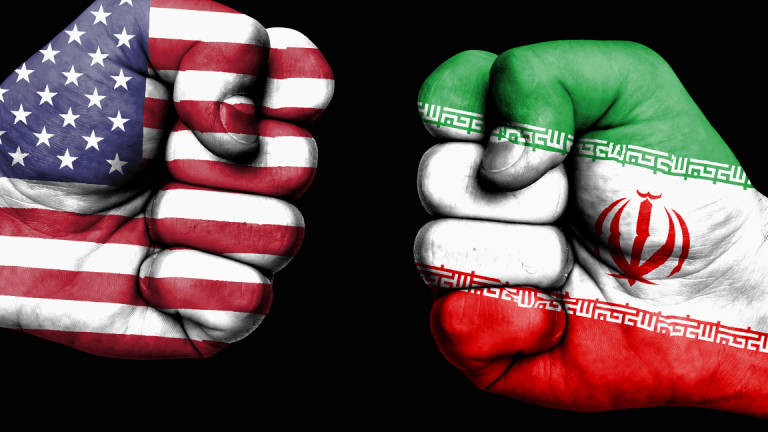 Oil Extends Gains as Trump Unveils 'Most Biting Sanctions Ever Imposed' on Iran
Global oil prices extend gains Tuesday, taking U.S. crude closer to $70 a barrel, as President Donald Trump's decision to renew 'snap back' sanctions on Iran rattles investors.
Oil is running. 
Global oil prices extended gains Tuesday, taking U.S. crude closer to $70 a barrel, as President Donald Trump's decision to renew "snap back" sanctions on Iran rattled investors.
The renewed sanctions, which include limits on U.S. dollar purchases as well as coal, metals and certain industrial software, follow the President's decision to withdraw from a multi-lateral treaty designed to thwart Tehran's nuclear weapons program. Sanctions on countries buying the 3 million barrels of crude that Iran produces each day are due to kick-in in November.
Brent crude contracts for September delivery, the global benchmark, were seen $1.04 higher from their Monday close in New York and changing hands at $74.79 per barrel in mid-day trading in London, while WTI contracts for the same month were marked 66 cents higher at $69.67 per barrel.
European lawmakers are prepping plans to protect companies from U.S. sanctions linked to crude purchases, given that around 20% of Iranian oil finds its way into the EU. 
"If a company fears legal action taken against it and enforcement action taken against it by an entity in response to American sanctions then that company can be protected as far as EU legislation is concerned," said Alistair Burt, a UK lawmaker, in an interview with BBC radio Tuesday. "It is a commercial decision for companies whether they continue to work in Iran."
However, luxury carmaker Daimler AG  (DMLRY) confirmed a Stuttgarter Zeitung report Tuesday that it would drop plans to expand its Mercedes business in Iran owning to the threat of U.S. sanctions. 
U.S. National Security Adviser John Bolton told Fox News Monday that Tehran could avoid the worst of the sanctions if officials agreed to President Trump's offer for face-to-face negotiations and agreed to "give up their ballistic missile and nuclear weapons programs fully and really verifiably."
"If the Ayatollahs want to get out from under the squeeze, they should come and sit down," Bolton said. "The pressure will not relent while the negotiations go on," said Bolton, one of the administration's main hawks on Iran."
Iran's President, Hassan Rouhani, appeared unimpressed by the olive branch from Washington.
"If you stab someone with a knife and then you say you want talks, then the first thing you have to do is remove the knife," Rouhani said in televised speech Monday. "We are always in favor of diplomacy and talks, but talks need honesty."