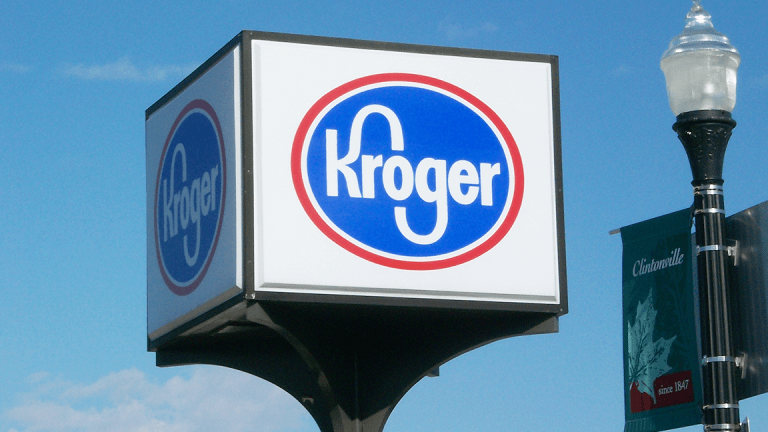 Here's a clever retail deal.
Ocado Plc  (OCDDY) shares rose the most on record Thursday after the British online grocery retailer agreed a partnership deal with Kroger Co. (KR) - Get Kroger Co. (KR) Report that will pave its entry into the U.S. market.
The deal will see Ocado roll-out its online grocery shopping and delivery platform for Kroger's existing business, which generated more than $120 billion in sales last year, in exchange for a 5% stake in the London-based group worth around £183 million ($247 million). The groups will set up three automated warehouse sites in the U.S. this year, the companies said, with the aim of establishing a further 20 over the life of the multi-year . agreement. 
"We see Ocado as an innovative, exciting and transformative partnership in pursuit of our Restock Kroger vision, to serve America through food inspiration and uplift. We are actively creating a seamless digital experience for our customers," said Kroger CEO Rodney McMullen. "Our partnership with Ocado will speed up our efforts to redefine the food and grocery customer experience - creating value for customers and shareholders alike."
Ocado shares soared 75.8% in early London trading, the biggest one-day gain on record, to trade at an all-time high of 967 pence each and value the group at just under £6.4 billion. Kroger shares closed at $24.94 each in New York Wednesday after rising 0.81% on the session to trim its year-to-date decline to 9.41%.
With Ocado's platform and technology in place, Kroger is able to challenge last year's sector-changing $13.7 billion takeover of Whole Foods Markets by Amazon Inc (AMZN) - Get Amazon.com, Inc. Report . Kroger will retain exclusivity with Ocado if it meets certain market share targets, the companies said. 
Kroger's 10.3% U.S. market share sits well behind the combined 21.2% dominance of Walmart Inc. (WMT) - Get Walmart Inc. Report and Sam's Club, but its still the country's second-biggest grocery store chain with 2,800 outlets and a further 800 convenience stores.
Kroger said the deal would not alter its diluted earnings guidance of $1.95 to $2.15 per share and is already reflected in the 'Restock' plan. 
However, Kroger's attempt to fend off the twin challenge of Walmart and Amazon has come at a cost, with first quarter earnings falling shy of analysts's estimates and CFO Michael Schlotman warning that gross profit margins would likely decline this year as the Cincinnati, Oh.-based group ups its investment plans to $3 billion amid its 'Restock Kroger' turnaround plan.
"The opportunity to partner with Kroger to transform the way in which US customers buy grocery represents a huge opportunity to redefine the grocery experience of Kroger's customers and create value for the stakeholders," said Ocado CEO Tim Steiner. "As we work through the terms of the services agreement with Kroger in the coming months, we will be preparing the business for a transformative relationship which will reshape the food retailing industry in the US in the years to come."
TheStreet presents on May 22: "How to Stomach Market Volatility." Hosted by Fisher Investments, the exclusive live webinar will give you the tools to successfully navigate market volatility and discuss why having a wealth manager is more critical than ever before. Quickly register for the event here.