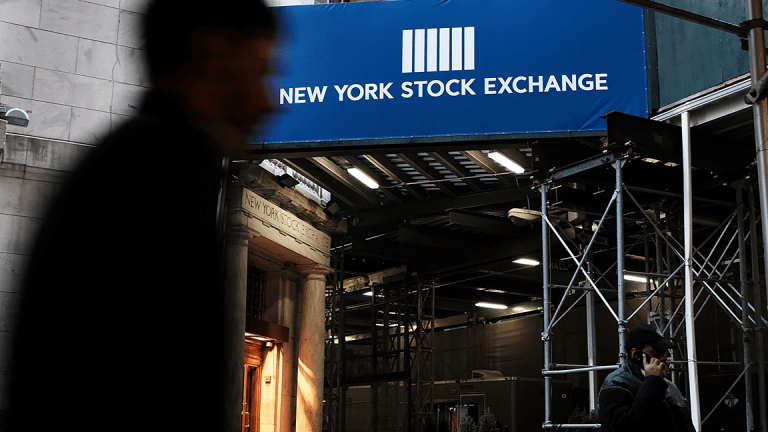 NYSE Suspends Trading for Some Shares of Nasdaq-Listed Amazon, Alphabet
A price scale code issue has caused the exchange to halt some Nasdaq-listed names.
The New York Stock Exchange announced that shares of Amazon.com Inc. (AMZN) - Get Amazon.com Inc. Report , Booking Holdings Inc. (BKNG) - Get Booking Holdings Inc. Report , Alphabet Inc. (GOOG) - Get Alphabet Inc. Report and (GOOGL) - Get Alphabet Inc. Report and Zion Oil & Gas Inc. (ZNWAA) have been suspended from trading for the remainder of Wednesday, April 25.
"Due to the previously announced price scale code issue affecting [Binary Consumer Customer Gateway] execution reports, trading in the following Tape C symbols will be suspended for the balance of the trading day," NYSE wrote on its website at 12:24 p.m. ET. "Any open orders in these securities will be cancelled.
NYSE had earlier in the day alerted traders with the following advisory: "NYSE customers using Binary CCG order entry ports are advised that execution reports priced at or above $1,000 in some Tapes B and C securities (including AMZN, BKNG, GOOG, GOOGL) are being published with a 'price scale' code of 5."
Tape C is all Nasdaq-listed stocks on the NYSE. Shares of the halted securities were still trading on the Nasdaq exchange Wednesday afternoon, as well as the 10 other exchanges in the U.S.
A NYSE spokesperson told TheStreet the decision to halt trading came after a small group of clients received trade execution reports in an unusual manner. 
"It was a decision taken to minimize disruption to a small subset of clients," the spokesperson said by phone. She said she expects trading to resume normal operations Thursday morning.