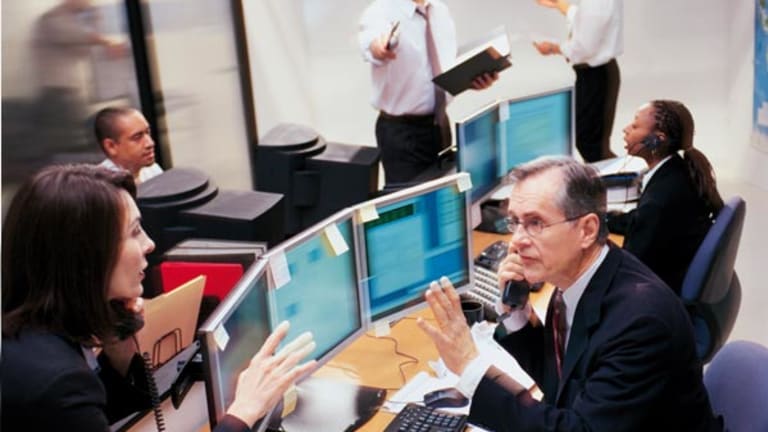 NYSE Euronext Hasn't Broken Support Yet
Don't jump the gun on selling. Plus, Qualcomm and Freeport-McMoRan.
This column was originally published on RealMoney on June 14 at 11:14 a.m. EDT. It's being republished as a bonus for TheStreet.com readers. For more information about subscribing to RealMoney, please click here.
I heard from quite a few readers Wednesday, asking for my take on their favorite stocks. I'll start with five:
NYSE Euronext
(NYX)
,
Qualcomm
(QCOM) - Get Report
,
Potash
(POT)
,
Freeport-McMoRan
(FCX) - Get Report
and
Uranium Resources
(URRE)
. But I'll get to the rest over the next few days. And I'll get to the first five right after I address the source of many of the expressions of pain I got along with those requests: the market's recent extreme volatility.
Increased volatility goes hand in hand with heightened emotions; after all, money matters! Let's break down the emotions that are the byproduct as well as a cause of the volatility.
When you're losing money, you get agitated. You struggle to reconcile the conflicting influences of
discipline
("I need to take my loss and preserve capital"),
patience
("The market is volatile but I've got to allow for the volatility by giving my stocks room to move") and
fear
("Yields are rising; I'm hearing talk of 1987; what if the "broken clock" phenomenon finally vindicates the bears?").
When you're making money, well, you still get agitated, but in a good way. You must reconcile the conflicting influences of
discipline
("I'd better sell this winner while I'm still profitable"),
patience
("I need to let my profits run; there's nothing wrong with holding on to a winner") and
fear
("If I sell now, I might miss out on more upside and won't be able to get back in!").
The challenge for most folks is taming these emotions, because they flip-flop more often than a politician in an election year. In volatile market conditions, there's no real opportunity to get emotionally stabilized, so most folks buy when they should sell and sell when they should buy.
There's a way around this mess, but you probably don't want to hear it: Have a plan and know yourself. If you do that, this is just another market condition to deal with.
Here's how it can work: A good friend of mine, a Palm Beach-based hedge fund manager, keeps a shopping list of stocks he'd like to buy and the price at which he'd like to buy them.
So he throws his line in the water and drags it behind his yacht. He then waits patiently for a strike. If his limit order gets filled, he's happy.
If it doesn't get filled, he can live with it -- precisely because he's avoiding the emotions discussed above. He can avoid them because he knows exactly what he wants to do, and he just waits for the volatility to do the work for him.
Now to get to those stocks:
NYSE Euronext sure looks like it's forming a top. But as long as the stock hangs in there at $80, we really can't be sure whether the stock is resting or reversing. But NYX is back below the 40-week (200-day) moving average, which puts it in bear territory. If you aren't deeply committed to the stock, then you might use current support of $80 as the reference level for a protective stop. But I wouldn't jump the gun on selling. Support is support -- until it's broken. It's not broken yet.
Qualcomm bottomed last August and has been oscillating in a fairly wide channel. If you've got a long-term horizon, the oscillations probably haven't bothered you because of the persistent uptrend. And if you're a short-term trader, you've probably done OK just buying the dips and selling the peaks. Either way, you've got a low-risk opportunity to buy here because you can place a stop just below the channel.
Potash has been trending higher for quite a while. But we can't go back to January and buy it at $45, so we've got to make do with what we have. Here, the stock is just breaking above near-term resistance at $75 and continuing the uptrend. I've drawn some potential buy and stop levels on the chart.
Freeport-McMoRan is another stock that would have been nice to buy in January. But with the stock up more than 60% since then, can it go higher? The price action says yes. After bouncing off support at $72.50, the stock continues its series of higher highs and lows. If you're long, try using the support line drawn above as your reference point for the trend. If that trend starts breaking down, you'll see that line broken on a pullback.
The current trading range for Uranium Resources is between $8 and $10.50 or so. The uranium story is well known, and companies like this are the beneficiary of the global trend toward nuclear power (that is, except for in the U.S., where memories of the movie
The China Syndrome
still hold sway over many folks). I'd be a buyer on a move back toward $8, or on a weekly close above $11.
Be careful out there.
At the time of publication, Fitzpatrick had no positions in any of the stocks mentioned in this column, though positions may change at any time.
Dan Fitzpatrick is the publisher of
, an advisory newsletter and educational forum dedicated to teaching effective risk management and trading methodologies to aspiring traders and investors. He is a former hedge fund manager and a member of the Market Technicians Association, and he now trades from his home in San Diego, Calif. While Fitzpatrick holds various securities licenses, he does not give recommendations to buy or sell stocks. Under no circumstances does the information in this column represent a recommendation to buy or sell stocks. He appreciates your feedback;
to send him an email.