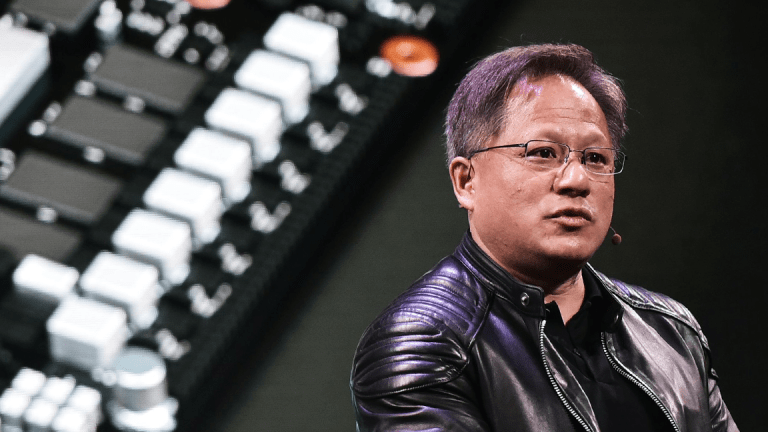 Nvidia Top Risks to Watch for Ahead of Earnings on Thursday
See what the risks are to this powerful chip company's upcoming earnings report.
Most on Wall Street agree Nvidia Corp. (NVDA) - Get Report has the expertise, technology, and cash-flow to compete devastatingly well in all of its business segments. 
TheStreet will be live-blogging Nvidia's report and call on Thursday after the close. Please check our home page then for more details.
Just look at its price-to-earnings ratio of 44, compared to the tech-heavy Nasdaq's 23. And look at the analysts' consensus price target of $283.52, roughly 10% above its current levels.
And while Nvidia could beat second-quarter Wall Street estimates on Thursday Aug. 16, buying the stock for a post-earnings pop isn't necessarily a sure thing. Shares of the hot chipmaker are already up 34% year to date and 55% over the last 12 months.
Although Wall Street expects positive results on Thursday, there are a few notable risks to the earnings print. First, the law of large numbers may weigh on the extent of data center revenue growth. Second, Nvidia may see a slight growth pause in some of its products as it introduces a new and better chip that won't be out for a few months. Plus, the cryptocurrency market could weigh on results. But some still very much see upside to the earnings report, and the arguments are certainly aplenty. 
Here's a closer look at some key areas of risk for the chipmaker:
Data Center Revenue
Analysts are expecting data center revenue to be $740 million for the quarter, and RBC Capital Markets analyst Mitch Steves, who has a $310 price target on the chipmaker, said he thinks it could come in even higher. MKM Partners analyst Ruben Roy, who has a price target of $255 on Nvidia, told TheStreet that "the law of large numbers" will likely put a damper on Nvidia's chances of beating data center revenue estimates.
The chip giant saw data center revenue growth of 71% year-over-year in its April quarter. And while expectations are still for strong growth, it would be hard for any company to sustain such a rapid growth rate. "They've been blowing out the data center numbers," Roy said. "The rate of growth is coming off a little bit." 
Steves, however, told TheStreet that "I think they're set up well for a beat." While power and speed improvements to Nvidia's GPU's are driving growth, it is Nvidia's CUDA software platform that will propel sales of data center GPU's. "It's coming down to which software is the best, and CUDA is the best software out there," Steves said. 
Gaming Revenue
There are two main risks to Nvidia's gaming GPU revenue. Firstly, the cryptocurrency market hasn't performed well of late, which means that demand amongst crypto miners may have come down, meaning that Nvidia will have sold fewer of those chips. "A lot of the currencies have really deteriorated," Roy said. "They're not making money anymore, so there's less consumption of those GPU's," he added.
An Alliance Bernstein note out to clients on Wednesday morning said "We have been somewhat reticent about crypto, and note the company filled the channel in first-quarter; to that end we model gaming revenues well below seasonal through the year as a result."
The second risk to gaming revenue for the quarter is wrapped inside of an overall positive development for Nvidia. Its soon-to-be-released Turing chip architecture may have paused sales on existing products. Turing doesn't get released until the fourth quarter, which means "there's a risk that customers are going to wait for Turing," Roy said, which is why Nvidia's total revenue guidance for the second-quarter was $3.01 billion, slightly down from its first-quarter revenue of $3.2 billion. 
While Steves certainly acknowledged the Turing risk, he also agreed with a Wells Fargo note out on Wednesday morning that not only said Nvidia could see some market share gains in gaming GPUs, but upgraded Nvidia from 'underperform' to outperform.' 
"Nvidia's competitive positioning in gaming" was a major driver of its upgrade, Wells Fargo wrote, adding that "while concerns over gaming GPU channel inventory levels vis-à-vis weakening crypto-currency mining demand could persist...Nvidia is well-positioned to continue to leverage and expand its platform story -- working on CUDA programming for gaming," the note added.
Steves agreed that it's possible Nvidia could well expand its footprint in the gaming market. "You can argue they are gaining share," Steve said. Nvidia has increased its pricing on those GPUs, while the number of units sold is largely the same. From that standpoint, he said, Nvidia could very well be gaining. 
Nvidia already has 86% of the gaming GPU market, the Wells Fargo note said, so further market share gains could bring it closer to the 90% mark. 
Wall Street is expecting earnings of $1.85 per share on revenue of $3.1 billion, which is in line with company guidance. 
Nvidia is a holding in Jim Cramer's Action Alerts PLUS member club. Want to be alerted before Jim Cramer buys or sells NVDA? Learn more now.