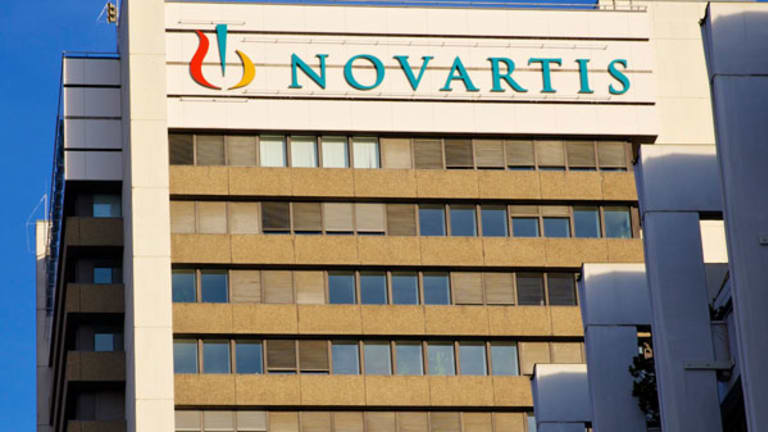 Novartis Cautions on U.S. Pricing Pressures; Shares Edge Higher on Steady Outlook for Sandoz Sales
Novartis shares edged higher after the Swiss drugmaker cautioned that pricing pressures in the U.S. and the delay of a multiple sclerosis therapy dosage would hit its generic division's sales.
Novartis AG (NVS) shares edged higher Wednesday even as the Swiss drugmaker cautioned that pricing pressures in the U.S. and the delay of a multiple sclerosis therapy dosage would hit sales in its generics division in the current quarter.
"The impact of US pricing pressure and prior year launch timing is expected to have a higher impact" on second quarter sales compared to the first, Novartis said in a statement at the end of an investor conference in Boston. "Full year 2017 Sandoz sales guidance, expected to be broadly in line with prior year, remains unchanged." Novartis also noted the "delayed Glatopa 40mg launch", which is linked to FDA concerns over a Pfizer Inc. (PFE)  production facility in Kansas.
Novartis shares were marked 0.16% higher at Sfr78.70 each in the opening minutes of trading in Zurich, outpacing a broader loss for the SMI benchmark. However, the shares have lagged the 8.9% year-to-date advance for the Stoxx Europe TMI Pharmaceuticals index, gaining only 6% since the end of December.
Sandoz generated around 12% of Novartis' $11.5 billion in first quarter sales this year, but the unit's topline growth rate slowed by around 1% when compared to the same period in 2016.
Novartis also repeated its plans to consider "all options" for its Alcon eyecare unit, noting that "with continued innovation, investment and improved operations, Alcon expects to return to long-term, sustainable growth with margins in line with industry peers."
Alcon added $1.417 billion to Novartis' topline in the first quarter and generated core operating income of $187 million, or just 6.2% of the company's quarter total of $3.01 billion.
"As announced in January 2017, Novartis is conducting a strategic review of the Alcon Division exploring all options to maximize value for our shareholders. The review is on track and Novartis expects to provide a status update towards the end of 2017," Novartis said.
Novartis also said that new prescriptions and that number of cardiologist recommending its recently-launched heart medicine, Entresto, "have doubled since last year and global access is improving", adding it's been approved for use in 80 countries.
Entresto were marked at $84 million for the quarter, just shy of the $85.3 million market estimate. CEO Joseph Jimenez told analysts on a conference call following the earnings that he expected Entresto sales to grow on a quarter-by-quarter basis. Cosentyx, its psoriasis treatment, saw sales of $410 million compared to an analyst consensus of $402 million.
Earlier this year, Novartis earned "breakthrough" status from the U.S. Food & Drug Administration last week for its genetically-altered cell therapy CTL019 based on a cell therapy cancer clinical trial known as JULIET that enrolled patients with diffuse large B-cell lymphoma (DLBCL) whose disease has returned or is unresponsive to prior treatments.
The data to emerge from Novartis' JULIET study is of keen interest to investors because it will be compared against Kite Pharma's competing "CAR-T" KTE-C19 in the same DLBCL patients.
The FDA appears to like Novartis' JULIET data well enough to drop a breakthrough label on CTL019 but how the therapy stacks up against Kite's KTE-C19 is not known quite yet.