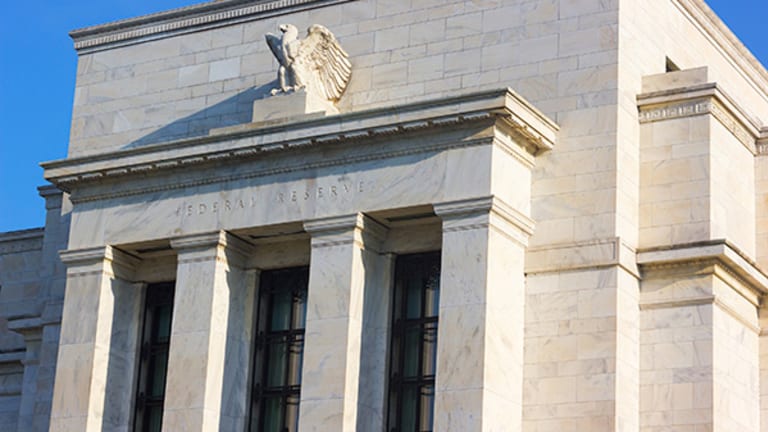 Northern Trust EVP McDonald Says To Expect Low Interest Rates on BloombergTV
Northern Trust EVP Jim McDonald told Bloomberg TV that he expects the Federal Reserve to raise interest rates once in the next year.
NEW YORK (TheStreet) -- A good jobs report on Friday could make rumblings that the Federal Reserve will raise interest rates in September significantly louder.
Hike or no hike, Northern Trust Chief Investment Strategist and Executive Vice President Jim McDonald thinks, overall, rates will remain low.
"There's a governor on how fast the Fed can raise rates. We've seen the dollar appreciate of late and that is going to slow earnings growth and slow the economy," he said on BloombergTV's "Bloomberg GO" Wednesday morning. "We think the Fed maybe raises once over the next year and expect rates to stay low for quite a long time."
McDonald told the network's Alix Steel that he believes Friday's Bureau of Labor Statistics report will have to show a jobs added number in the mid-200,000s to put the possibility of a September rate hike in play.
"If they got a really good number, they might want to take that opportunity to hike," McDonald said. "In the past, when they have had the stage set for them to hike and they have waffled, it's come back to bite them."
Other analysts have expressed concern that the market has grown complacent and warned of a potential inflation overshoot. PIMCO's Scott Mather told Bloomberg TV on Monday that he believes inflation-linked treasury securities will be a strong investment in the event of an overshoot.
"We think that the risk we have a big inflation spike is relatively low," McDonald said, pointing to generally lower inflation rates in the Producer Price Index, Consumer Price Index and Personal Consumption Expenditures Price Index. "[Inflation-linked treasury securities] will be expensive insurance."