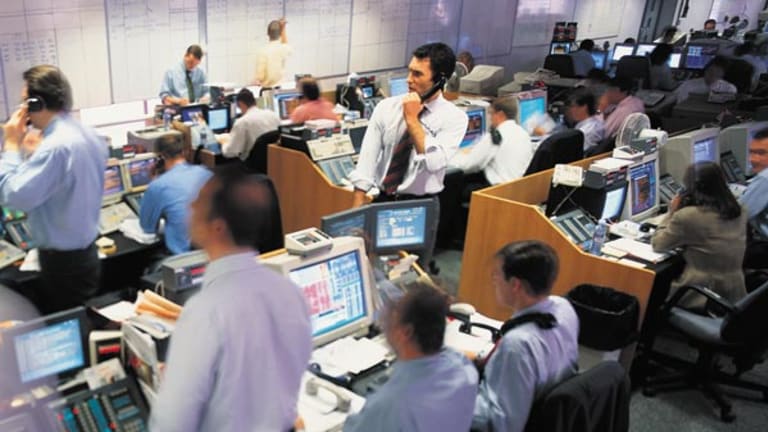 Nortel Makes It Look Difficult
The networking company manages to disappoint investors on a regular basis.
Editor's note: This column by Margaret Ruschmann is a special bonus for TheStreet.com and RealMoney readers. It first appeared on Street Insight on June 6 at 12:25 p.m. EDT. To sign up for Street Insight, where you can read Ms. Ruschmann's commentary in real time, please click here.
Nortel
(NT)
didn't exactly light up the earnings board, but its CEO offered reasons why its stock should be a good trade in the coming quarter.
The company reported a loss this morning of 4 cents a share, a penny worse than consensus estimates. Revenue of $2.38 billion was also below the consensus estimate of $2.54 billion. In sum, it was not a great quarter for Nortel. But we should at least give the company credit for consistency: It manages to disappoint investors on a regular basis.
At the risk of repeating myself, it looks like the restatements are finally over. On this morning's conference call, CEO Mike Zafirovski was touting the fact that the company is now current on its financials.
He was also quite candid that this quarter was a disappointment. Gross margins of 38% were down both year over year and sequentially and were meaningfully below the company's full-year target of 40%. Revenue was flat year over year, also below management's goal of high single-digit growth for 2006.
Three Steps
So was there any good news in this quarter? I think the answer is yes. Zafirovski is clearly a man in charge who is aggressively developing and implementing a full-scale reinvention of the company.
First, he is focusing on the cost structure. He is bringing in outside consultants and implementing six sigma programs. The former is helpful because, at times like this, employees can become very political for fear of losing jobs. They tend to be risk-averse. An outsider will not be worried about stating the hard realities of a difficult situation.
And six sigma is a good idea. Zafirovski is an alumnus of
General Electric
(GE) - Get General Electric Company Report
and
Motorola
(MOT)
, two companies that pioneered the art of six sigma. He knows what a powerful force it can be to margins and cash flows if you eliminate inefficiencies across the manufacturing process. He expects gross margins to reach 40% for this year. For the long term, he says they can reach the low 40s.
Second, he is focusing on growth. Despite the lackluster sales in the first quarter, he reiterated his goal for high-single-digit growth for fiscal 2006. The first quarter was a little light, partially because of timing, so he expects the second quarter to be strong.
In the short term, he is trying to get growth from a number of areas, including Enterprise Go-To Market, Services and Metro Ethernet networks. In the long term, he is still investing heartily in R&D and plans to be an even stronger player in the aforementioned areas and with newer initiatives, including video, IMS and WiMAX.
He did caution that this continues to be a competitive business. In particular, Zafirovski said that the GSM/UMTS business is so competitive that he does not want to forecast where its profitability will be down the road. That is a little scary for any investor to hear.
Third, he is focused on cash and the balance sheet. A company like Nortel cannot afford to be continually whittling away at its balance-sheet cash. It needs to start steadily generating some meaningful cash. Look for some improvement in operating cash flow later this year as well as a nice chunk of cash from the Flextronics deal. But also expect some cash outflows down the road, including the shareholder lawsuit settlement (part cash, part equity) and undetermined fines from government agencies.
Other Highlights
Revenue growth was flat this quarter, mostly because of timing issues on some contracts. The company maintains its goal that it will generate revenue growth in the high single digits for 2006. Mobility was down 4%. CDMA was also down 4%, primarily because of timing issues. Nortel, however, continues to be strongly positioned in this part of the market. GSM/UMTS was down 11%, with weakness in North America partially offset by some growth in UMTS and good momentum in Korea. Circuit and Packet Voice was up 17% year over year, thanks to strength in circuit packet in North America and Europe, a 5% increase in optical and good growth in metro optical in North America and Europe. Long haul was flat.
Gross margins were weak. Speaking in round numbers, gross margins were at 38%, down roughly 400 basis points from the prior year and 100 basis points sequentially. Margins were hurt by a number of factors, including product mix, timing of certain programs, pricing pressures and promotional costs. Management expects these to improve for the balance of the year and in the next couple of years.
Backlog increased during the quarter, as the book-to-bill ratio was 1.1.
M&A activity: During the Q&A, management was asked about its role in the M&A game. Zafirovski seemed a little closer to the vest than I would have liked, but he did say the company was not going to do any "silly deals." While consolidation is important for this industry, investors have been burned time and again by companies that are too focused on participating in this game without enough regard to price. I believe Nortel will be disciplined in this arena, but I definitely view this as one of the risks to the shares.
Full-year guidance remains unchanged. Management seemed confident on the call that it would still hit its earlier forecasts of high-single-digit revenue growth and margins of 40%. Because the first quarter started out so weak, this means that the company really has to make up some lost ground. This puts them in one of those positions I don't like -- namely, the company's forecast is back end-loaded. That often requires a level of trust and betting with management that makes me uncomfortable. This case is no exception to that rule.
All that being said, I remain long the shares of Nortel in my personal account for some (possibly foolish) reason. I guess it is because I believe that there are still pockets of good growth in a number of the company's core markets, industry consolidation is finally starting to happen, and the internal focus on six sigma and cost-cutting by a well-regarded CEO could all create the kind of environment for good stock performance. The shares opened down this morning, and at the very least, my guess is that these shares are a good trade going into the second quarter.
Editor's note: This column by Margaret Ruschmann is a special bonus for
TheStreet.com
and
RealMoney
readers. It first appeared on
Street Insight
on June 6 at 12:25 p.m. EDT. To sign up for
Street Insight
, where you can read Ms. Ruschmann's commentary in real time, please click here.
At time of publication, Ruschmann held a long position in Nortel, although holdings can change at any time.
Margaret Ruschmann worked as an equity research analyst at U.S. Trust from 1998 through January 2004, most recently covering communications equipment and services, imaging technologies, and electronic manufacturing services.
From 1998-2001 Ruschmann covered capital goods, basic industries, and automotive industries. Prior to joining U.S. Trust, Ruschman worked on a team of four at J&W Seligman from 1996-98, managing a $4 billion growth and income fund, and she previously worked as a research analyst at Salomon Brothers and Bear Stearns.
She graduated with a B.S. in Political Economy from the University of California at Berkeley.