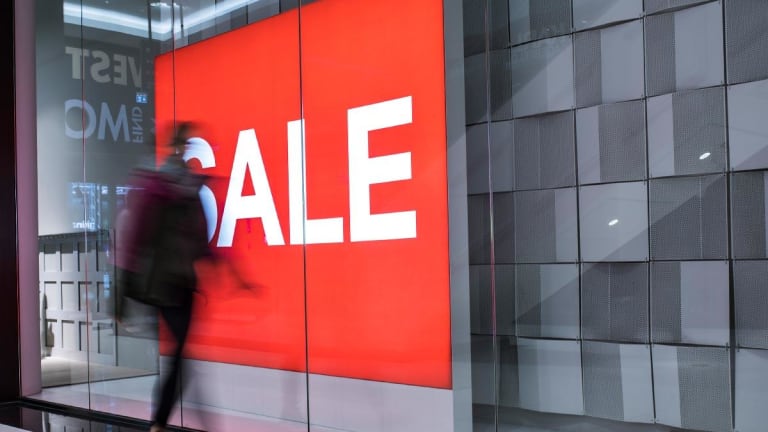 Nordstroms, Macy's of the World v. Walmarts, Targets: Picking Retail
Hard-line retailers seem better positioned than soft-liners, according to Morgan Stanley analysts.
One thing became abundantly clear in the batch of retail earnings that just hit the wires: The hard-line retailers are better positioned than the soft-line players. 
That's according to a team of Morgan Stanley retail analysts, who said in a note that "what separated stock re-ratings from de-ratings was margin performance."
They said the hard-line companies were able to fatten their profit margins, while soft-liners largely saw their margins shrink. 
"A growing gap exists between retailers with scale, which have the ability to expand margins, and those without it," the bank said.
Citing rising costs from tariffs and factors unrelated to tariffs, the analysts said that "larger retailers with greater sophistication around expense management, more opportunities for cost cuts, and negotiating power over suppliers, are best positioned to absorb these higher costs."
The analysts said companies valued at $10 billion or more tended to be the ones with scale and the ability to protect their downside. 
With the majority of hard-line stocks beating estimates, those companies saw their stocks move up 7% collectively, on a market-cap weighted basis, the day after earnings. Soft-liners, the majority of which missed expectations, saw their stocks decline 3%. 
Hard Lines
Target (TGT) - Get Free Report beat earnings expectations last week on better-than-expected same-store-sales growth of 3.4%. "But the real surprise was 80 basis points of margin expansion," Morgan Stanley said. In the face of a tariff war, Target's second-quarter operating margin widened to 7.2% in the second quarter from 6.5% in the first quarter. Management lifted full-year guidance to earnings per share to between $5.90 and $6.20 from $5.75 to $6.05. 
Target shares hit an all-time high of $106.32 last week, before pulling back to $105. The stock was trading at $85 pre-earnings. Target, like a handful of other retailers, has had to mitigate a higher cost of revenue on account of President Donald Trump's tariffs on consumer goods. 
Walmart (WMT) - Get Free Report beat earnings expectations, reporting EPS of $1.27 against expectations of $1.22. Its 2020 outlook now forecasts EPS somewhere between "a slight decrease and slight increase," higher than the previous estimate of a slight decrease. This comes amid management's comments, made throughout 2019, that prices on some products might increase. 
Morgan Stanley also applauded the cost controls implemented by Advance Auto Parts (AAP) - Get Free Report , Grocery Outlet (GO) - Get Free Report , Home Depot (HD) - Get Free Report , Lowe's (LOW) - Get Free Report , BJ's (BJ) - Get Free Report and Dick's (DKS) - Get Free Report , all of which except AAP beat earnings expectations. 
Softlines
Macy's (M) - Get Free Report was the bank's first call-out regarding a negative margin trend, as the department store's earnings before interest, taxes, depreciation and amortization fell 29% and Ebitda margin shrank 2.9 percentage points.
Higher costs due to tariffs have been an issue for Macy's. Meanwhile, it's not getting margin support from pricing, as excess inventory led to markdowns at many Macy's locations.
Still, "we took markdowns to clear the excess spring inventory and are entering the fall season with the right inventory to meet anticipated customer demand," Chairman and CEO Jeff Gennette said in a statement. Management cut 2019 EPS guidance to a range of $2.85 to $3.05 from $3.05 to $3.25. 
Only two of the following soft-liners beat expectations (Ross beat, TJX was in line), as noted by Morgan Stanley:
Foot Locker, RealMoney's stock of the day, needs to show better earnings trends, according to Wedbush Securities analyst Christopher Svezia. "FL is even more a `show me' story given reduced investor confidence due to the second-quarter comp miss as it faces more difficult second-half comparisons," Svezia wrote in a note Monday. 
Perhaps most important, "many retailers are reluctant to talk about exposure to list 4 tariffs," Morgan Stanley said. "The brunt of list 4 tariffs do not seem to be fully reflected in Street forecasts yet, creating potential downside to 2020 earnings estimates." That reality furthers the bank's case for understanding hard-line versus soft-line. 
Home Depot and Kohl's are holdings in Jim Cramer's Action Alerts PLUS member club. Want to be alerted before Jim Cramer buys or sells these stocks?