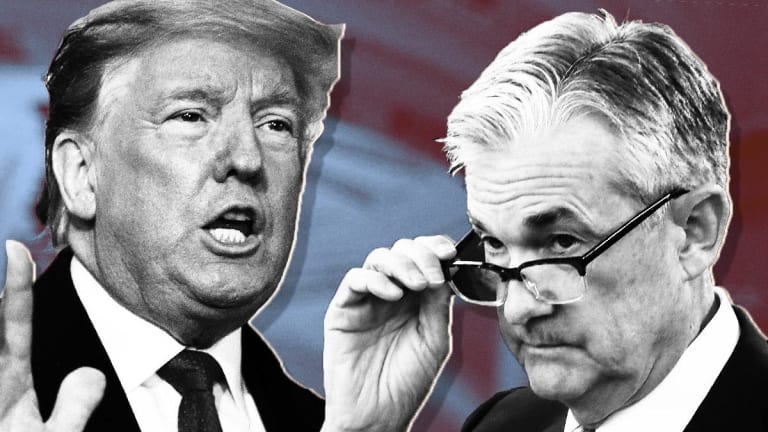 None and Done? This Economist Doesn't Think the Fed Will Cut Rates - At All
Futures-market investors see it as an absolute certainty that the Federal Reserve will cut interest rates later this month. But a few bold economists, including Pantheon's Ian Shepherdson, say the conviction isn't warranted.
In an increasingly interconnected world, where a lot can -- and does -- change or go wrong, minute by minute, it's pretty stark when any potential future occurrence is described as having a 100% chance of occurring. In other words, there's zero chance of it not happening.
Yet that's the probability that traders in U.S. futures markets are now ascribing to the possibility that the Federal Reserve will cut official interest rates at its meeting scheduled for late July -- not a near certainty; complete certainty.
But in recent days a few brave economists have come forward to acknowledge that, deep in their souls, or at least deep in their brains, they don't think the market's certitude is justified. In fact, they think the market's 100% wrong: The Fed will keep rates exactly where they are at the July 30-31 meeting.
These economists just don't get it, perhaps. Or maybe they do.
One such contrarian is Ian Shepherdson, chief U.S. economist at the highly respected forecasting firm Pantheon. He said the latest economic data reveal strength in the labor market and an inflation rate that's creeping up. President Donald Trump's trade war with China has cast a pall over business confidence, but the administration has expressed optimism that a deal could soon be reached to resolve the dispute. Shepherdson thinks a deal is likely.
Typically, the Fed only cuts interest rates -- known as "easing" in the jargon of monetary policy -- when unemployment is surging, inflation is sagging or a recession is looming. None of those are happening right now. In fact, the strength of the economy is reflected in U.S. stocks, which hit record highs as recently as last week.
"They shouldn't ease because the economy does not need it," Shepherdson wrote in an e-mailed response to questions from TheStreet. "The only problem is the trade war, and that's not bad enough to slow overall growth much."
Shepherdson isn't the only one willing to buck the 100% odds. None other than Bank of America, the second-biggest U.S. bank, doesn't see the Fed cutting rates either. 
Economists for the Charlotte-based bank argued last week in a report that Federal Reserve Chair Jerome Powell could use his semiannual testimony before  Congress, scheduled for Wednesday and Thursday, to bolster the case for keeping official U.S. interest rates in their current range between 2.25% and 2.5%. 
"If the data does not warrant a cut, how can Powell still justify easing?" wrote the Bank of America economists, which included Michelle Meyer and Joseph Song. "If Powell wants to push back against market pricing, he can make the case that the data have been better than expected."
It's not just pushing back against market pricing. If Fed officials decided not to cut rates at the July 30-31 meeting, they would be pushing back against Trump -- and would likely face excoriation via the Twitter account that he has used so vociferously in recent months to harangue Powell, his own appointee to the lead the central bank, for setting interest rates too high.
Under the latest forecasts compiled by data provider FactSet, the U.S. economy is projected to expand by 2.5% this year. That would represent a slowdown from 2018's clip of 2.9% but would still look respectable considering the economy's trajectory has now been positive for more than a decade, the longest such stretch in U.S. history.
Trump has argued that 5% annual economic growth is possible -- if only the Fed would cut interest rates. One of the key reasons the president said the Fed has the leeway to cut rates now is that the U.S. is enjoying "very low inflation." 
"Our Federal Reserve doesn't have a clue!" Trump tweeted last week.
But according to Pantheon's Shepherdson, a survey released Tuesday by the National Federation of Independent Business, an industry association, showed that small companies noted a steep jump in their selling prices last month, suggesting the 12-month U.S. inflation rate could reach 2.7% by early 2020.
That would be well above the Federal Reserve's target of 2%.
Shepherdson said that strong economic data over the next few weeks could rattle futures traders' confidence.
"If these data are strong, so that markets put the odds of action at, say, less than 60% by the day of the meeting, we'd be inclined to think that the Fed will hold fire, not least because inaction would demonstrate policymakers' unwillingness to be pushed around by the president," Shepherdson wrote. 
It might not hurt to demonstrate some independence from financial markets, either.            
JPMorgan, Citigroup and Goldman Sachs are holdings in Jim Cramer's Action Alerts PLUS member club. Want to be alerted before Jim Cramer buys or sells the stocks? Learn more now.