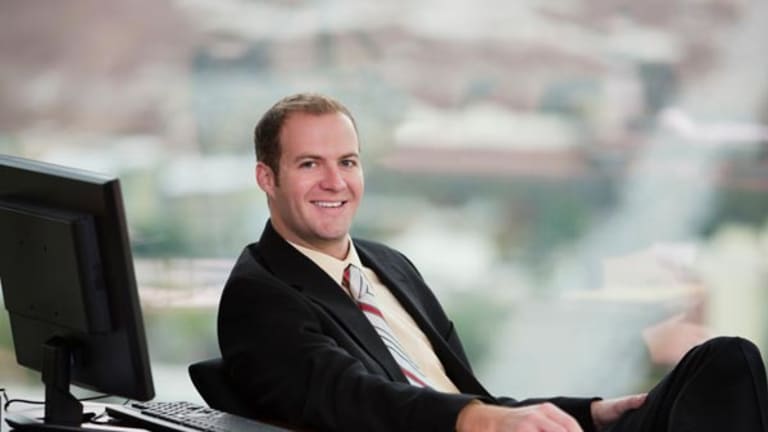 Nine Stocks for Playing the Long Side Safely
No matter the macro outlook, everyone needs to make money. One macro bear takes a quant approach.
This column was originally published on RealMoney on June 8 at 10:32 a.m. EDT. It's being republished as a bonus for TheStreet.com readers. For more information about subscribing to RealMoney, please click here.
Some of my long-term macro themes -- rising inflation, slowing economy, subpar job creation, and ongoing drag from the housing slowdown -- have been causing some turmoil in the markets lately.
Heading into Friday's trading, we look set to have the worst weekly decline in more than three months, a decline that has caused a short-term spike in volatility.
Despite this -- or perhaps, because of it -- we've gotten a number of inquiries from our clients, who range from rapid-fire traders to long-term investors and everyone in between, and I'm getting some variation of the same email from each of them:
I am afraid this market is overvalued, over-extended, and overdue for a major correction -- but I want to play from the long side (variation: I cannot afford to fall behind my benchmark). How can I participate in a way that is relatively safe, but still allows me upside?
When everyone starts asking you the same question -- regardless of their trading style -- it makes you sit up and pay attention. Even the tone of the emails are surprisingly similar. On the one hand, they evince a grudging respect for the strength of the recent market trend; at the same time, there is a recognition of the disconnect between the domestic economy's slowing growth and stubbornly "sticky" inflation, and the near-relentless bid for equities. (The past few days notwithstanding.)
That ongoing dynamic of good ol' fear and greed prompted me to put together the following long equity screen where I try to find ways to play the long side of this market safely. Now, before you scream "Capitulation!" please recognize that many of my institutional clients use their own investment models, and those styles are often quite different from my firm's. Applying a different approach to your methodology can discern between two good ideas or expose a glaring weakness. Looking at the technicals of a value portfolio, or screening for potential short squeezes in a Long/Short fund is merely another way to compete.
To answer the question of how to "play the market" in a way that is much safer than merely chasing momentum names as the market climbs higher, I set up a few qualifiers. Since my firm is essentially a quant shop -- we rely exclusively on a quantitative ranking system for stock selection -- we identified these half-dozen parameters:
1) Identify strong sectors with good money flow;
2) Screen for stocks with the best technical and fundamental potential;
3) Look for stocks within those sectors with desirable risk/reward characteristics;
4) Find stocks that are near good entry points;
5) Avoid the "runaway momentum" names;
6) Look for stop-loss protection that is a reasonable percentage downside away.
All of the following names fit these characteristics: They are technically superior (at or near the highest ranks within their industry groups), have good earnings potential, and have a good risk/reward ratio. Consider each of these long plays as three-month to one-year holds. Use the entry points discussed and choose a stop loss that is commensurate with your risk tolerance and time horizon. You should always (always!)
honor stop losses.
A note on our quantitative ranking system: We develop a master ranking by combining all of our technical and fundamental scores. The technical metrics include the three time frames of price trend, a money flow score (both individual stock and its industry group), short interest, and directional institutional ownership. The fundamental metrics include an earnings consistency score, and a predicted earnings surprise metric. I'll go into more details about these metrics in future columns.
Now let's look at some of the names we find appealing in the screen:
AON Corp.
( AOC): The insurance-broker sector has built a tremendous base post-9/11. The money flow score registers 88 out of 100 -- one of the stronger rankings in our industry group universe. Our favorite within the group is AON. It is the top-ranked stock in the group with a cap over $1 billion. It is reasonably priced with a P/E of 15.4, has a nice yield of 1.4%, and from a technical perspective, $42 was the key breakout level.
Use an entry level between that $42 breakout up to $46. I am comfortable with a stop loss of $40.50 for traders. Longer-term investors could use the 100 day moving average of $38.50 as a stop. Our point and figure (longer-term) price target is $70.
Input/Output
(IO) - Get Report
: This company falls in the seismic data space and provides seismic data equipment, software and seismic processing services to the global oil and gas industry. Whether you believe in "Peak Oil" or not, the ongoing demand for more oil reserves is why business in this sector remains so robust. As long as oil stays above $50 a barrel, we expect companies in this group to have strong demand for their services.
The seismic data collection group is ranked fifth in master score and its technical ranking is fourth out of our universe of 275 industry groups.
Several companies in this sector caught our attention, but a larger firm we really like is Input/Output. The stock has a master score of 86 out of 100, and a technical score of 94 out of 100. The technical breakout over $13 (and then $14.25) leads to an entry price between $14.50 and $17.00. Our trading price target is $21, and investors can use $26 as their longer-term target. I am using a stop loss of $12.75.
Input/Output

Source: Kevin Lane, Fusion Analytics
Service Corp.
(SCI) - Get Report
: Operating in a recession-proof industry -- Funeral Services and Cemetery Operations -- Service Corp. is the top-ranked non-small-cap stock in the group and is also the best known. The company is likely to benefit from the demographics of aging baby boomers. The stock has a huge base on the monthly chart, which is one of the reasons it has a technical score of 92 out of 100. We have a longer-term price target of $21. You can buy this between $12 and $15, and I have a stop loss of $10.50.
Xerox
(XRX) - Get Report
: This has been a perennial turnaround story in the office product space that has gotten little traction over the past few years. We like its technical score of 91 out of 100, and the group has a money flow score of 80 out of 100. Its recent breakout over $17.10 gives us an entry price between $17.50 and $20, with an upside target of $26. I'd use a stop below the breakout, in the $16-$16.30 level.
Mosaic Company
(MOS) - Get Report
: I have been monitoring the agricultural chemicals sector since last summer. Not only are they plays on the increased demand for food, but there is also a biofuels aspect to these plays. Our favorite in the group is Mosaic, a stock we have owned since last summer. Despite missing its earnings numbers last quarter, the stock has traded higher recently, primarily based on excellent money flow scores, and it has a technical rank of 92. We still like this name, and would use any pullbacks to initiate or add to a position; our upside target remains $41.
Charles Schwab
(SCHW) - Get Report
: The appeal of the online asset manager is due to its technical score of 90, and its perfect (100) money flow and trend scores. Ideal entries are lower than the current price. So if you can get long between $19 and $21.40, then do so. That gives you a great risk/reward ratio. I would use a stop loss below the breakout over $19, around $18.50, and a $32 target. Yes, I keep hearing they are a potential M&A target, but that's irrelevant to quantitative investing. There may be lots of consolidation among money managers and online trading firms, but we prefer to rely on our unbiased quantitative system for discovering likely candidates.
Although Big Pharma is not one of our top sectors, there are a few names in the sector that are worth looking at: We bought
Schering-Plough
( SGP) and
Abbott Labs
(ABT) - Get Report
for our managed accounts back in January 2007. Each has done well and remains on our buy list. Schering has excellent money and trend scores, and a technical rank of 88 of 100. Current entries for Schering are $31-$34, with a point and figure price target price of $39-$40. Your stop loss is $30.25, providing a good risk/reward ratio. For Abbott, the money flow and intermediate and longer term trend scores the price target is $75, with an entry between $52 and $55 and a stop of $51.75. Again, this is an attractive risk/reward ratio.
A speculative name in the group is
Warner Chilcott
(WCRX)
. The company has strong earnings momentum, with a 16.25% upside earnings surprise, and a 40.14 % upside earnings surprise in the previous (3/7/07) quarter. WCRX saw 26.88% of its outstanding shares bought by the 25 largest mutual funds in the fourth quarter of 2006. The technical target for WCRX shares is $26.
Back to the Macro
I need to make clear that I continue to have concerns about a laundry list of economic problems: inflation, slowing growth, slow job creation, rising interest rates, the drag from housing. However, certain sectors are more likely to outperform on a relative (as well as on an absolute) basis, especially if the economy slows or slips into a recession.
We will continue to look for names that allow our clients to participate in the market's upside. The key is identifying those stocks that will participate at much lower levels of risk. The companies discussed above fit that qualification.
To see Barry Ritholtz expound on this theme, check out this interview on TheStreet.com TV.
At the time of publication, Ritholtz was long AOC, IO, SCI, XRX, SCHW, SGP, ABT and WCRX, although holdings can change at any time.
Barry Ritholtz is the chief market strategist for Ritholtz Research, an independent institutional research firm, specializing in the analysis of macroeconomic trends and the capital markets. The firm's variant perspectives are applied to the fixed income, equity and commodity markets, both domestically and internationally. Other areas of research coverage also include consumer, real estate, geopolitics, technology and digital media. Ritholtz is also president of Ritholtz Capital Partners (RCP), a New York based hedge fund. RCP is driven by the analysis performed by Ritholtz Research. Ritholtz appreciates your feedback;
to send him an email.