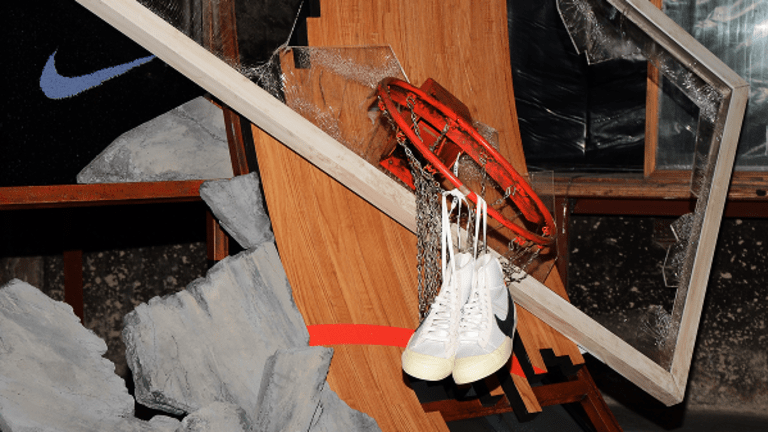 Nike Stock Poised to Get Run Over
Nike continues to lose ground to Adidas on its home court. The company's latest results left much to be desired.
Nike Inc. (NKE) shares are expected to open sharply lower Wednesday after the sportswear group posted weaker-than-expected sales for its fiscal first quarter and warned of slower growth in its key U.S. market.
Nike soundly beat Wall Street estimates with a bottom line of 57 cents a share in earnings for the three months ending in August, but flat quarterly sales of $9.07 billion-- the slowest in seven years -- and a forecast of further weakening in the current quarter has put shares in the athletic shoemaker on the back foot. 
CEO Mark Parker said late Tuesday revenue in the quarter was driven by Air Max sneakers and that new products under that collection will be released "soon", but the company also noted that gross margins fell 180 basis points in the first quarter due, in part, to "a higher mix of off-price sales."
Nike is indicated 3.6% in pre-market trading, with an expected opening price of $51.76 that would erode nearly all of the stock's 5.6% year-to-date gains. 
Nike also noted that its North American sales fell 3% over the quarter, raising even more questions over its ability to challenge the recent gains made by European rival Adidas AG (ADDYY) . Last month, Adidas said North American sales grew 29% to just over €1 billion, with the bulk of that total (€915 million) coming from Adidas-branded merchandise.
In fact, earlier this month, research group NPD said Adidas leaped over Nike Jordan Brand to become the second most popular footwear brand in the U.S., something analyst Mike Powell called "an achievement I never thought I would see in my lifetime."
The firm's August footwear data showed that Adidas sports footwear grew 40% while Jordan brand declined over 30%. Nike meanwhile also saw a decline in the low single digits. Basketball shoe sales are in the second year of a sharp downturn, declining about 20% this year according to NPD.
Watch: Why Is Lonzo Ball Wearing Nike?
More of What's Trending on TheStreet: