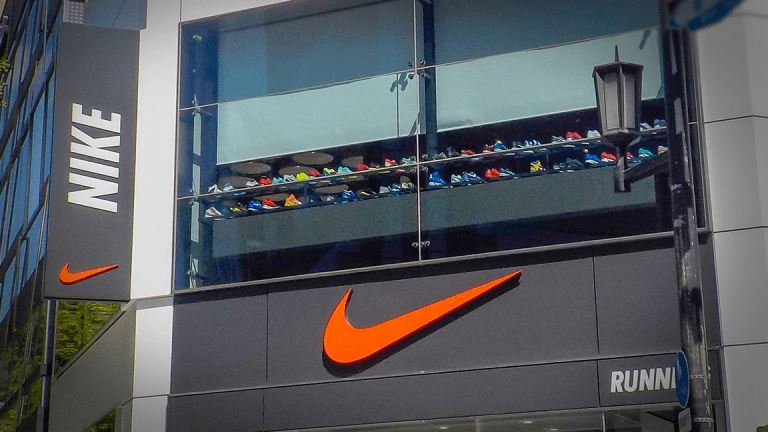 Nike Slides as 'Just Do It' Campaign Fails to Boost Full-Year Earnings Estimates
Nike shares slipped lower in pre-market trading Wednesday after the world's biggest sportswear maker held onto it full-year earnings targets despite the expected support of a controversial ad campaign featuring former NFL quarterback Colin Kaepernick.
Nike Inc. (NKE) - Get NIKE, Inc. Class B Report shares fell to the bottom of the Dow Jones Industrial Average Wednesday after the world's biggest sportswear maker held onto it full-year earnings targets despite the expected support of a controversial ad campaign featuring former NFL quarterback Colin Kaepernick.
Nike said earnings for the three months ending in August, its fiscal first quarter, came in at 67 cents a share, topping the consensus forecast of 63 cents and rising 17.5% from the same period last year. Group sales, the company said, rose 9.7% to just under $10 billion, again ahead of Street forecasts. However, a smaller-than-expected improvement in gross margins, as well as a tepid assumption for growth despite the headline-grabbing Kaepernick campaign, pushed shares lower in extended-hours trading.
"We're motivated to inspire our consumer to connect and engage and inspire," CEO Mark Parker told investors on a conference call late Tuesday. "We feel actually very good and very proud of the work that we're doing with Just Do It, introducing Just Do It to the new generation of consumers, on the 30th anniversary of the campaign when it first debuted." 
"Like many campaigns, it's driving a real uptake, I think in traffic and engagement, both socially as well as commercially," Parker added. "We've seen record engagement with the brand as part of the campaign. And our brand strength, as you well know, is key dimension that contributes to the ongoing momentum that we're building across the NIKE portfolio."
Nike shares were marked 2.4% lower at the opening bell and changing hands at $82.75 each, a move that trims the stock's year-to-date gain to just under 31.75% and value the Beaverton, Ore.-based group at around $135.7 billion. 
"We are maintaining our full year guidance for fiscal year '19," said CFO Andy Campion. "Specifically, we expect revenue growth in the high single digits, albeit at the lower end of that range as operational upside will likely be somewhat offset by FX headwinds."
"We expect gross margin to expand 50 basis points or slightly greater, SG&A to grow in the high single digits and our effective tax rate to be in the mid teens," he added. "Other expense net of interest expense is now projected to be an expense of $100 million to $125 million."
Nike said its gross margin for the first quarter improved by 50 basis points to 44.2%, noting that selling and administrative expenses rose 7% to just over $3.1 billion.
North American revenues, which comprise around half of overall group sales, rose 5.6% to $4.145 billion. Rival Adidas AG (ADDYY) , however, said its last quarter sales in North America, where it is stealing market share from Nike on a consistent basis, rose 7% to just over $1.27 billion. Adidas' gross margin was also expanding at a faster clip, rising 2.2 percentage points to 523%.
In China, where the two sportswear giants are going head-to-head, Adidas second quarter sales, which comprise the three months ending in June, rose 27% from the same period last year while Nike's first quarter sales in China rose 24% to $1.379 billion.
Nike unveiled its new advertizing campaign featuring Kaepernick, a former NFL quarterback who inspired a series of nation-wide protests against police brutality and social injustice but courted controversy by kneeling during the playing of the national anthem, earlier this month.
Nike chose Kaepernick, who is currently suing the National Football League for collusion after he failed to find a spot on any team roster despite leading the San Francisco 49ers to the Super Bowl in 2013, to lead the 30th anniversary of its iconic 'Just Do It' campaign that includes tennis superstar Serena Williams and skateboarder Lacey Baker. Kaepernick's participation was first made public via his official Twitter account with the phrase "Believe in something, even if it means sacrificing everything."
Engagement from the campaign, despite initial controversy and criticism from President Donald Trump, has been nonetheless been solid: analysts estimate its Instagram account has gained 170,000 new followers and the online sames jumped by 31% over the three-day period in which the ad was released. Nike shares, too, have risen 6.5% since the ad's launch, adding around $6 billion to the group's market value.