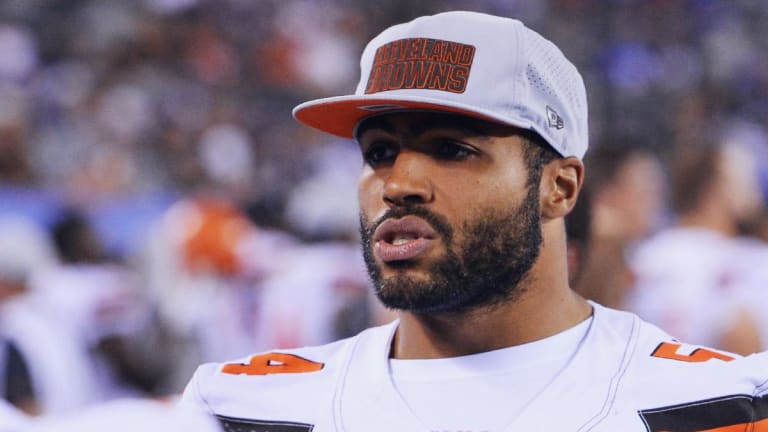 Cleveland Browns linebacker Mychal Kendricks faces federal insider-trading charges after he allegedly netted some $1.2 million in 2014 from advance tips on pending corporate mergers passed along by a Goldman Sachs Group Inc. (GS) - Get Goldman Sachs Group, Inc. (GS) Report investment banker.
According to a press release Wednesday from the office of U.S. Attorney William McSwain in Philadelphia, Kendricks, 27, traded on tips from Damilare Sonoiki, also 27, who at the time was a junior analyst at Goldman Sachs in New York. Sonoiki was also charged in the case.
Acting upon non-public information from Sonoiki, the linebacker allegedly bought call options on Compuware, Move, Sapient and Oplink prior to merger announcements, the prosecutors alleged.
"Sonoiki obtained and used this information in violation of his duty of confidentiality that he owed to the investment bank," according to the press release from McSwain's office. "When the proposed merger was announced in each case, the value of Kendricks's options went up significantly."
Kendricks rewarded Sonoiki with tickets to Eagles games and about $10,000 in cash, the prosecutors said. Each of the defendants faces a maximum of 25 years in prison and a $5.25 million fine.
A native of Fresno, California, Kendricks played for the Philadelphia Eagles from 2012 through 2017, with four tackles in the Eagles' Super Bowl victory that year. He was signed by the Browns in June as an unrestricted free agent, according to the Cleveland football team's website.
Kendricks, in a statement provided by his lawyer, Michael Schwartz of Pepper Hamilton LLP in Philadelphia, acknowledged his participation in the insider trading scheme, while apologizing and asserting that he deeply regrets it. He said he has "fully cooperated" with authorities in the matter.
Sonoiki joined Goldman Sachs after graduating from Harvard University in 2013, according to his brokerage record with the Financial Industry Regulatory Authority. He couldn't immediately be reached for comment.
"I invested money with a former friend of mine who I thought I could trust," Kendricks said in the statement. "His background as a Harvard graduate and an employee of Goldman Sachs gave me a false sense of confidence."
The pair also face charges filed by the U.S. Securities and Exchange Commission, according to a separate statement from the agency. According to the SEC, the two communicated through "coded text messages and FaceTime conversations" after meeting at a party. The alleged activity took place from July 2014 through November 2014.
Additional compensation for Sonoiki came when Kendricks invited him to the set of pop star Teyana Taylor's music video, in which Kendricks made a cameo appearance, the SEC said in its complaint.
According to the SEC, Sonoiki worked as an analyst in the investment bank's technology, media and telecommunications group. His employment with the investment bank ended in May 2015, after which he lost access to confidential, nonpublic information, the agency said.
"We are aware of the situation regarding Mr. Sonoiki, who left Goldman Sachs over three years ago, and are cooperating with legal authorities," Michael DuVally, a spokesman for the New York-based firm, said in an e-mailed statement. "Protecting confidential information is our highest priority and we condemn Mr. Sonoiki's alleged behavior."