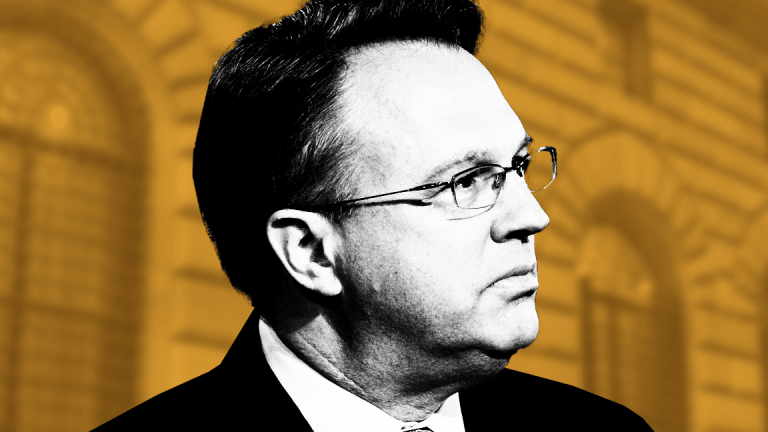 New York Fed President John Williams: Bitcoin Won't Pay Your Taxes
John Williams hosts a town hall in Brooklyn, New York on Wednesday.
Welcome to the new gig, NY Fed chief John Williams.
When asked how he was enjoying the role so far at a town hall event in Brooklyn Wednesday evening, Williams replied that it's "exciting." Williams went on a tour throughout Brooklyn today, ending with the event.
Williams was previously the President of the San Francisco Federal Reserve Bank.
Immigration and Local Businesses
The often outspoken Williams didn't shy away from a question on immigration. "Immigration is an important part of entrepreneurship and innovation...It's an important part of our economy in terms of small businesses and entrepreneurship." 
When asked about naturally occurring affordable housing (NAOH), which focuses on housing that is not government assisted or regulated, Williams replied, "first of all there's not just one answer. The other thing is that I do believe that there is a good privateversus public approach."
"How do we build, rebuild, strengthen a community that is going to be vibrant and sustainable for a long time?," Williams asked. "I think the answer depends on the situation...what I worry about honestly is a market like here...a purely private solution tends to focus on the most profitable use of the land."
But, he continued, "It's not just about housing...it's about bringing all things together to create a vibrant community."
And What About the Community Reinvestment Act (CRA)?
"One of my goals here is learning what is and isn't working well. Where should CRA go, where are the resources needed?," said Williams.
He stated that he wanted to "maintain what CRA is all about. Our banks are lending financial services into the communities that they serve." 
According to Williams, it's important that the "financial industry sector is serving the American population."
CFPB
Williams was asked about the Consumer Financial Protections Bureau (CFPB) and the importance of it, to which he responded, "The CFPB was an important development...in my experience over the years they've been a very good partner with the Fed to make sure that the consumer is protected."
"We work very hard to make sure that the regulation laws are followed," he said.
Bitcoin
During the town hall, Williams was asked about bitcoin and whether or not there was a possibility of bitcoin being used for taxes. "I just don't see the business case as a cryptocurrency being a normal transaction," he answered.
Education
Williams spoke extensively about education. He reiterated that he's a strong believer in lifelong education, and allowing people to constantly reinvent themselves. 
"With the overall strong economy, employers need to have skilled employees for their businesses. I'm optimistic that this is a good time for businesses to engage with people who have the potential skills," said Williams.
He also believes that a Pre-Kindergarten education allows for a higher economic return and that, in general, "education is a critical component in the modern economy."
Strengthening the Economy
In light of the ongoing trade war, an obvious theme of the town hall was whether or not the economy is prepared for another recession.
"Memories fade...2008 seems like a long time ago but I'll tell you something, in the Fed, 2008 wasn't that long ago," he answered. The Fed is watching the banks and the economy closely, he continued.
Williams believes that the Fed has strengthened the defenses of the financial system of the last decade. 
"Make sure that, over time, they [banks] have the resilience and strength to survive," he said about bank stress tests.
The Fed has also tested going through the process of closing down a major bank or institution if it fails so it doesn't disrupt the economy.