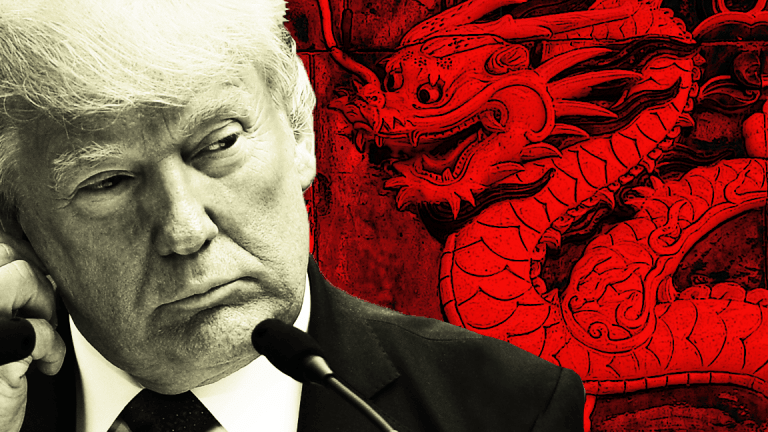 Trade War With China Won't Cure U.S. Trade Deficit, N.Y. Fed Note Says
Import tariffs may have little to no effect on the trade deficit, a team of researchers wrote on the Federal Reserve Bank of New York's website. That position may be anathema to President Donald Trump, who has made import tariffs on China the centerpiece of his efforts to reduce the U.S. trade deficit.
It was enough of a broadside from the Federal Reserve in July, when minutes of a closed-door meeting were released showing officials of the U.S. central bank fretted over the potential economic damage from President Donald Trump's threatened trade war with China.
Now, a new challenge has emerged, courtesy of researchers at the Fed's New York branch.
In a blog post Monday on the Federal Reserve Bank of New York's website, a team of four researchers argued that the imposition of import tariffs -- precisely Trump's strategy for tackling China -- will likely bring "little or no improvement in the trade deficit."
That's because import tariffs raise the cost of supplies and raw materials for domestic manufacturers, in turn making it more expensive to produce goods for export, the researchers wrote. 
"The costs for U.S. firms producing goods for export will rise and make U.S. exports less competitive on the world market," according to the post. "The end result is likely to be lower imports and lower exports, with little or no improvement in the trade deficit."
Trump has pressed forward with import tariffs against China, calling the $375 billion trade deficit with the country unfair to U.S. businesses, consumers and job-seekers. Even so, he's faced public criticism over the policies from industry groups that argue the tariffs will simply drive up prices for Americans, which for years have relied on cheap imports from China. They include the U.S. Chamber of Commerce and the National Retail Federation, which represents consumer-oriented businesses including Macy's Inc. (M) - Get Report and BJ's Wholesale Club Holdings Inc.  (BJ) - Get Report .
And in July, minutes were released from a Fed meeting the month before showing that officials were already seeing signs of business executives' delaying new investments in plant and equipment because of concern that the tariffs might lead to a full-blown trade war.
The Trump administration's initial $34 billion of tariffs on Chinese imports took effect in early July, and China immediately responded with retaliatory tariffs on imported goods from the U.S., including automobiles and soybeans.
The team at the New York Fed was led by Mary Amiti, an assistant vice president in the bank's research and statistics group. Her co-authors included Mi Das, an associate professor at Beijing University; Robert Feenstra of University of California, Davis; and the University of Sydney's John Romalis. 
According to the blog post, they examined the case of China after it joined the World Trade Organization in 2001. The country slashed tariffs, leading to an increase in both exports and imports. In fact, the loosening of the trade restrictions probably helped Chinese companies become more competitive in world markets.
"By lowering its own tariffs on imported inputs, China reduced its production costs and increased productivity, enabling Chinese firms to enter the U.S. export market and compete with other firms," the researchers wrote. 
The reverse is likely to happen for countries that increase tariffs, they wrote. 
"Even if U.S. exporters switch to domestically produced inputs, their costs will still rise, because competing domestic suppliers will be able to increase their markups in the industries that are protected by higher tariffs," according to the post. "While we cannot predict the size of the trade deficit, what seems clear from our analysis is that import tariffs will reduce both imports and exports."  
Whether the research will reach Trump's desk is another question. Recently, he's shown few signs of backing away from a trade war with China. 
"We've been ripped off by the world," the president told reporters on July 27. "They stole our jobs and they plundered our wealth. But that ended."