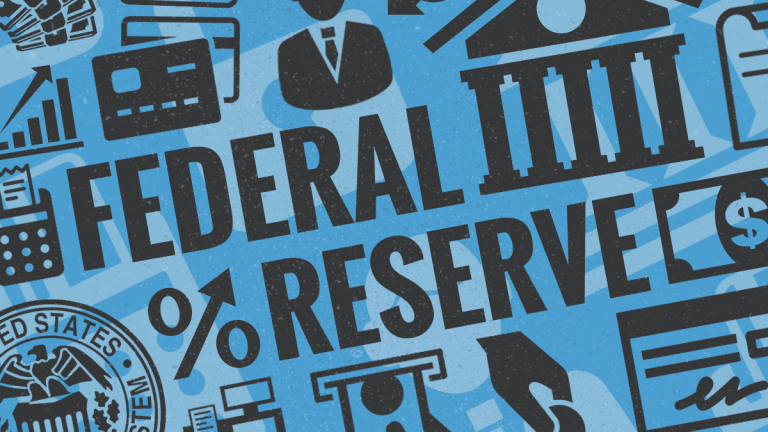 New Fed 'Stress Tests' Let Big Banks Get Closer to Edge of Risk
A decade after the entire financial system nearly collapsed in 2008, Fed officials are following through on a plan to simplify annual 'stress tests,' in which banks are graded on their ability to withstand a severe financial crisis. Shareholders could see bigger dividends and stock buybacks -- potentially at the cost of increased risk.
The Federal Reserve says this year's "stress tests" of JPMorgan Chase & Co. (JPM) - Get JP Morgan Chase & Co. Report , Bank of America Corp. (BAC) - Get Bank of America Corporation Report and other big banks will examine how they would fare under a "tougher" economic scenario than envisioned in 2018.
But analysts at the Wall Street firm Goldman Sachs Group Inc. (GS) - Get Goldman Sachs Group Inc. (The) Report described the new tests as "mixed" in their difficulty, when compared with last year, and predicted that banks might now operate with a slimmer margin of error against the risk of failure.
The annual stress test procedure, known formally as the "Comprehensive Capital Analysis and Review," was set up roughly a decade ago to prod banks to operate with lower risk -- part of a plan to prevent a repeat of the 2008 mortgage crisis, during which the entire financial system almost collapsed and had to be bailed out by the U.S. government.
In keeping with President Donald Trump's pledge to ease regulations on the financial industry as a way of stimulating economic growth, the Federal Reserve has pushed to make the tests more predictable for the banks, and thus to reduce the chance of a failing grade. With the prospect of public embarrassment no longer a grave threat, banks are expected to push harder in their plans to pay out fat dividends to shareholders -- at the same time exposing themselves to greater risk. 
Under this year's "severely adverse" test scenario, the big banks must prove that they can withstand a "severe global recession accompanied by a period of heightened stress in commercial real estate markets and corporate debt markets," according to a press release published late on Tuesday, Feb. 5.
The hypothetical U.S. unemployment rate would surge to 10% in 2020, from about 4% now, while economic output would contract for seven straight quarters. Yields on investment-grade corporate bonds would widen by 3.5 percentage points relative to comparable U.S. Treasuries, a condition that would subject the banks to losses on their holdings of non-government bonds. 
"We are confident this scenario will effectively test the resiliency of the nation's largest banks," Randal Quarles, a former banking-industry lawyer and private-equity executive whom Trump appointed to the Federal Reserve in 2017, said in the press release.
In an e-mailed note on Wednesday, Andrea Usai, an analyst at the credit-rating firm Moody's Investors Service, said the tougher scenario was a "credit positive" -- good for bondholders, who typically prefer lower risk -- because the hypothetical macroeconomic conditions were "harsher" than in 2018. 
"Overall we think it's a little bit more conservative," Usai said. 
The Goldman Sachs analysts, by contrast, wrote in a note Wednesday that the Fed will "materially improve the transparency" of the tests, which could allow banks to operate with lower "management buffers," essentially a margin of error. In the past, according to the note, banks on average have held capital ratios -- a key regulatory gauge -- roughly 1 percentage point above the regulatory minimum to avoid running afoul of supervisors.
With less uncertainty about the Fed's grading system, banks could now get more aggressive in their push to pay bigger dividends and operate with higher debt levels.  
And while the test's economic scenario is more severe than last year, certain parameters of the test are lighter. In particular, according to the Goldman analysts, stock markets would tumble by 50% in the hypothetical recession, instead of the 65% plunge envisioned in the 2018 tests.
The banks also could benefit from an assumed drop in Treasury yields, which would theoretically bring them big paper gains on the U.S. government bonds to offset higher loan losses.  
The stress tests are "mixed versus last year, as a tougher economic drawdown is offset by more muted shocks to asset pricing," the Goldman analysts wrote.