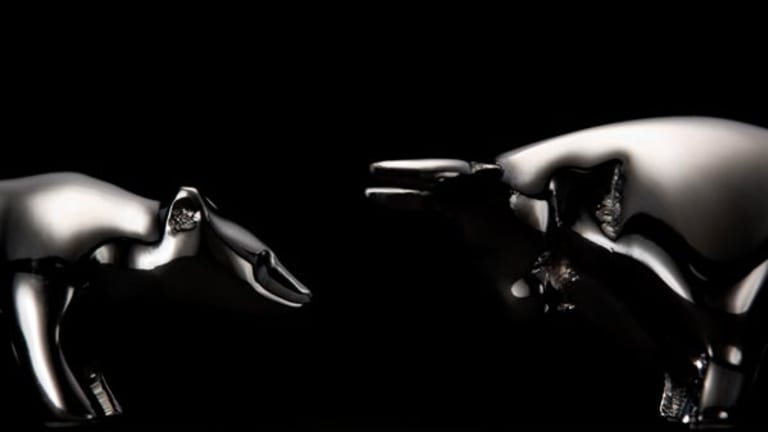 New Fed Debt Relief Effort Lifts Wall Street
Stocks in New York edge higher at the open Tuesday following news the central bank will buy short-term debt from nonfinancial companies.
Updated from 9:02 a.m. EDT
Stocks in New York opened to the upside Tuesday, after the
Federal Reserve
said it would buy short-term debt from U.S. companies to provide relief from the credit crisis.
The Fed announced creation of a new lending facility to buy
from businesses. The central bank also said it expects the new lending program to remove the stoppage in the credit markets.
The
Dow Jones Industrial Average
was adding 80 points to 10,036, and the
was up 9 points to 1066. The
Nasdaq
gained 15 points to 1877.
On Monday, the major indices sold off frantically only to recover from much of their losses as the credit crisis manifested itself outside the U.S. The
Dow Jones Industrial Average
, down as much as 800 points during the session, ended with a loss of 369 points, or 3.6%. Nasdaq and the S&P 500 finished down 3.9% and 4.3%, respectively.
After Monday's close,
(BAC)
announced it would cut its dividend and raise $10 billion in fresh capital as it reported quarterly earnings ahead of schedule.
Meanwhile,
Citigroup
(C)
and
Wells Fargo
(WFC)
agreed to take a two-day breather from their legal fight over who would get to acquire
(WB)
.
In the technology sector,
chipmaker Advanced Micro Devices
(AMD)
announced a plan to spin off its manufacturing operations.
Automaker
Adam Opel
, a segment of
General Motors
(GM)
, said it would cease production at its Eisenach, Germany plant, according to the
AP
.
As for economic data, traders will get a look at minutes from the Federal Open Market Committee's Sept. 16 meeting, when it elected to leave its key interest rate unchanged at 2%. Later in the afternoon, the Fed's look at U.S. consumer credit is due for release.
In commodities, crude oil was gaining $4.02 to $91.83 a barrel. Gold was gaining $23.20 to $889.40 an ounce.
Longer-dated U.S. Treasury securities were declining in price. The 10-year was down 28/32 to yield 3.56%, and the 30-year was down 1-12/32 to yield 4.05%.
Abroad, markets were higher. The FTSE in London and the Dax in Frankfurt were logging gains.
finished mixed following a rate cut from Australia's central bank.