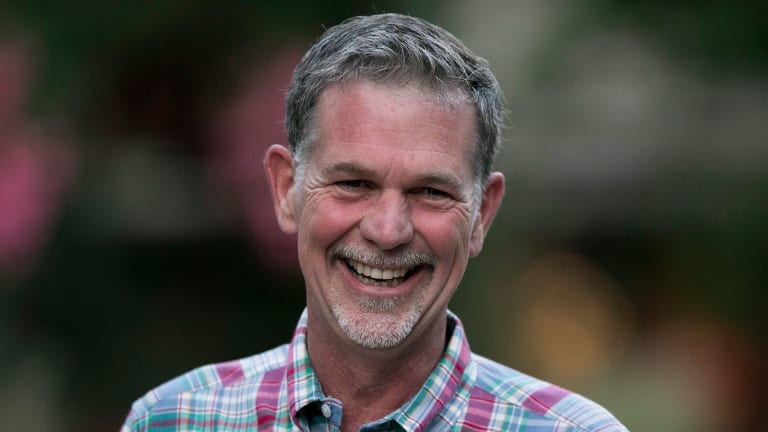 Publish date:
Netflix Stock Is on a Mini Winning Streak - Here's Why
Two reasons Netflix is soaring of late. The main one being that investors have moved beyond a second quarter shortfall.
Two reasons Netflix is soaring of late. The main one being that investors have moved beyond a second quarter shortfall.
Investors are tuned back into Netflix.
Netflix Inc. (NFLX) - Get Netflix, Inc. (NFLX) Report shares have been in rally mode the past five days, up about 11% in that span. The stock traded up more than 1.5% Monday. 
Usually such a jump in the share price would be spurred by specific news that would be seen to change the profit outlook in the eyes of investors. At the moment, it's pure speculation fueling the stock. 
Bharti Airtel, an Indian telecommunications service, announced a partnership with Netflix on Monday that would allow "subscribers of select Airtel Postpaid and V-Fiber Home Broadband plans will receive a three month gift of a Netflix subscription," Airtel said in a press release. After that period, Indian subscribers would be able to pay for Netflix using their home broadband bills or their Airtell postpaid service. 
Netflix is up more than 80% this year in large part because of its international growth prospects, and this partnership seems to be one small peg in the streaming giant's effort to fend off competition as subscribers around the globe increasingly adopt video streaming. 
"Netflix and Bharti Airtel announced an expanded partnership for Airtel postpaid mobile and home broadband customers in India which could bode well for future Netflix international subscribers," USAA senior equity research analyst Cindy Frick told TheStreet, suggesting the news was a driver of Monday's gains. 
But the stock has been up a lot in the past several days. "People think the stock was oversold and due for a bounce," Craig Huber of Huber Research Partners told TheStreet. "It was more of a one-off thing, what happened in the second quarter," he added. Netflix missed Wall Street estimates on international subscriber net additions in the second-quarter, a rare miss for the usually impressive Netflix.
In turn, that pressured the stock. 
As time has gone on since the disappointing quarter, investors may have done their due diligence and are no longer rattled by the results. "It took investors a while to get through the shock of the second quarter," Huber said. It took "five plus weeks to kind of move on from that," he added.