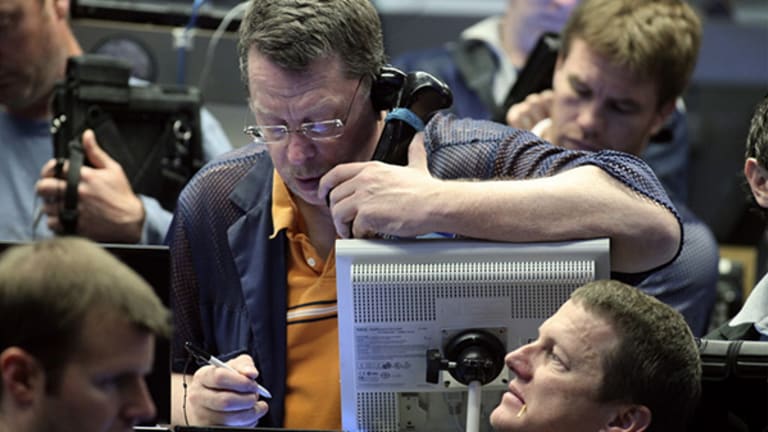 NetApp (NTAP) Stock Downgraded to 'Hold' by TheStreet's Quant Ratings
NetApp (NTAP) shares are falling after being downgraded by to 'hold' by TheStreet's Quant Ratings team.
NEW YORK (TheStreet) -- Shares of NetApp (NTAP) - Get Report are down 5.29% to $26.14 in afternoon trading after being downgraded to "hold" from 'buy" by TheStreet's Quant Ratings team yesterday.
The rating change reflects the company's mix of strengths and weaknesses, according to the Quant Ratings team.
Strengths such as revenue growth, a "solid" financial position, "reasonable" debt levels and good cash flow from operations are tempered by weaknesses such as "disappointing" stock performance, "deteriorating" net income and a "disappointing" return on equity, the team explained.
Additionally, today multiple analyst firms issued negative notes on NetApp after the computer storage and data management company announced that it agreed to acquire data storage startup SolidFire for $870 million in cash.
RBC Capital analysts this morning downgraded the company to "sector perform" from "outperform" saying that the acquisition of SolidFire will "significantly reduce its near-term earnings and make it a less likely takeover target." It lowered its price target to $28 from $38.
Similarly, Jefferies said the acquisition will not serve NetApp's core business issues, keeping a "hold" rating with a $31 price target. In another analyst note, Robert W. Baird decreased its price target to $35 from $40.
TheStreet's chartist Bruce Kamich, in an article titled "NetApp Hasn't Reached the Bottom," stated: "NTAP has been weak all year. There was an October/November recovery, but those gains have already been given back and more. Prices are below their 50-day and 200-day moving averages and those averages are pointed down. The On-Balance-Volume (OBV) line had a brief recovery in October, but is now making new lows. The momentum study has a small bullish divergence versus prices, but with the lack of upside volume, we can't get bullish."
data by