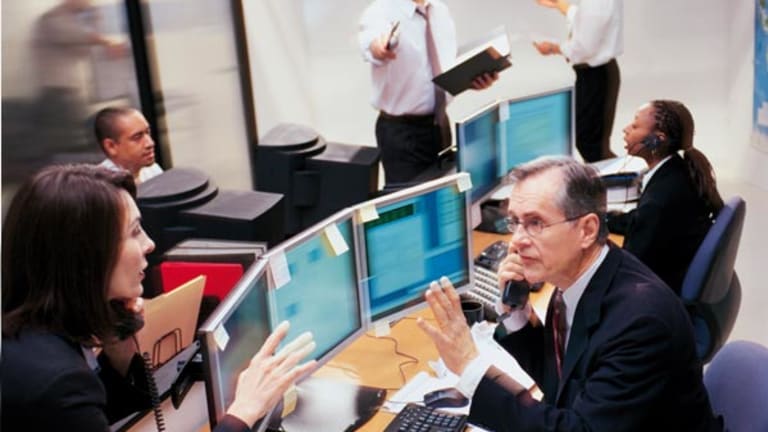 Net Bellwethers Beaten Into Bargains
Three Internet mainstays have hit my downside targets and are significantly undervalued.
Three Internet mainstays have hit my downside targets and are significantly undervalued.
This column was originally published on RealMoney on May 19 at 3:07 p.m. EDT. It's being republished as a bonus for TheStreet.com readers.
I know hindsight is 20/20, but the bellwether Internet stocks warned that a
Nasdaq
bust could be coming.
Since January, while the Nasdaq has traded sideways to up, Internet stocks (and many other tech issues) started to drift lower.
On Thursday, three of the four bellwethers I have been tracking tested 52-week lows:
Amazon.com
(AMZN) - Get Report
,
eBay
(EBAY) - Get Report
and
Yahoo!
(YHOO)
are all down over 30% from their December/January peaks. While these stocks swooned,
Google
(GOOG) - Get Report
came close to testing its 200-day simple moving average of $369.22, 22% below its peak on Jan. 11.
The Nasdaq tested 2300 on Jan. 9, at which point my mantra became "Nasdaq 2300, then bust." The Nasdaq traded between 2230 and 2332 into the end of March, as the Internet stocks -- and many other tech names -- began to tank.
I was surprised that the Nasdaq traded higher into April, but the strength of the four-letter transportation stocks was propping up the tech-heavy index.
The Nasdaq formed a double top at 2375 on April 7 and April 20, broke below 2300 on May 11 following the
FOMC
meeting, and in the six trading days since, through Thursday, it has fallen 5.2%.
Essentially, it has taken only six days to reverse a four-month sideways-to-up pattern -- this could be a precursor to a bust, which I define as a drop of at least 20%.
Investors should consider adding to holdings in three of the four Internet bellwethers; they have hit my downside targets and are significantly undervalued.
Amazon.com held above my quarterly value level of $31.64, which is a level at which investors should add to positions. eBay is 36.2% undervalued, making it cheap enough for investors to add to positions.
In March, Google bounced nicely off a test of its 200-day SMA, and with the stock hovering around this average on Friday, investors should add to positions.
Yahoo! isn't as compelling yet; I don't have a value level for it, and the stock is only 14.6% undervalued. I'd wait to buy Yahoo! on weakness to its 200-week SMA of $25.18.
As I have often written, it is difficult to combine fundamentals and technicals in evaluating stocks. However, I have been able to mix this oil and water by providing value levels to buy on weakness, which are a distillation of fundamental analysis and technical profiles, and risky levels to sell on strength, which are based on analysis of nine years' of a stock's price movement.
A value level is being used to buy Amazon.com; eBay is a pure call on a cheap valuation; and Google is holding a key moving average.
Internet stocks aren't for the buy-and-hold investor; they require that you have a strategy to fold if the stock doesn't perform as expected.
P.S. from TheStreet.com Editor-in-Chief, Dave Morrow:
It's always been my opinion that it pays to have more -- not fewer -- expert market views and analyses when you're making investing or trading decisions. That's why I recommend you take advantage of our
to TheStreet.com's
RealMoney
premium Web site, where you'll get in-depth commentary
and
money-making strategies from over 50 Wall Street pros, including Jim Cramer. Take my advice --
Richard Suttmeier is president of Global Market Consultants, Ltd., and chief market strategist for Joseph Stevens & co., a full service brokerage firm located in lower Manhattan. Early in his career, Suttmeier became the first U.S. Treasury Bond Trader at Bache. He later began the government bond division at L. F. Rothschild. Suttmeier went on to form Global Market Consultants as an independent third-party research provider, producing reports covering the technicals of the U.S. capital markets. He also has been U.S. Treasury Strategist for Smith Barney and chief financial strategist for William R. Hough. Suttmeier holds a bachelor's degree from the Georgia Institute of Technology and a master's degree from Polytechnic University.