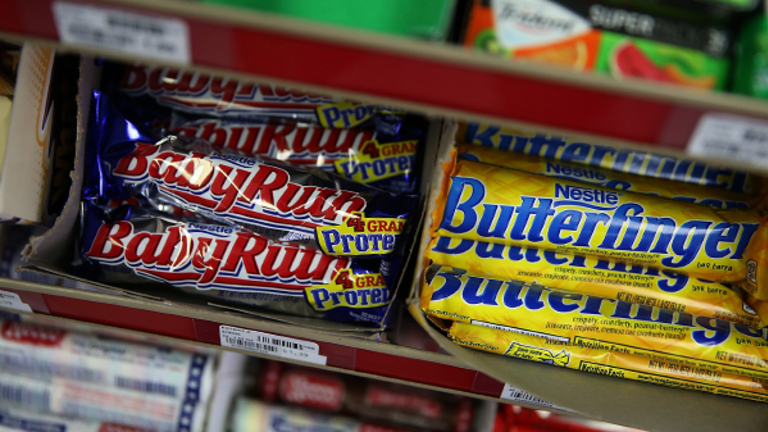 Nestle Whiffs on Profits -- Here Comes Activist Investor Brawl
Nestle sees organic growth and sales slow amid activist campaign.
Nestle SA (NSRGY) - Get NSRGY Report posted weaker-than-expected first half earnings and confirmed its full-year guidance as the world's biggest food company even as sales slipped in the face of currency headwinds.
Nestle said first half net profits rose 19% to Sfr4.9 billion, modestly ahead of analysts' forecasts of Sfr4.83 billion. Sales for the six months ending in June were pegged at Sfr43 billion, the company said, missing the consensus forecast of Sfr43.77 billion and down from Sfr43.155 billion over the same period last year. Organic growth, however, slowed to 2.3% against a consensus forecast of 2.77%, the company reported.
"We are pleased with our value creation progress in the first half of 2017. This includes solid operational improvements as well as portfolio management choices and our decision to increase balance sheet efficiency," said CEO Mark Schneider. "Organic growth in the first half did not fully meet our expectations. While volume growth remains at the high end of our industry, pricing continues to be soft."
Nestle shares were marked 1.5% lower at Sfr81.10 each in the opening minute of trading in Zurich, trimming their year-to-date gain to around 11.7%. 
Coke Zero Isn't the Only Thing Coca-Cola Needs to Overhaul
Coca-Cola CEO: Thanks to Amazon and Walmart War, Retail Will Look Profoundly Different
Nestle shares hit a record high of Sfr86 earlier this month after activist investor Third Point LLC revealed it had built a 1% stake, worth around $3.5 billion, which would put the group among the ten largest shareholders of the Vevy, Switzerland-based group and said it wants management to pursue a series of options it argues would unlock shareholder value, including the sale of its 23% stake in luxury goods maker L'Oreal SA (LRLCY) .
Reuters has also that Third Point's Dan Loeb met with Mark Schneider in early June and is broadly supportive of the new CEO's ambitions, but wants the group to set growth and margin targets in order to spur a cultural shift at the brand giant. The report also said the Nestle is not interested in selling it's L'Oreal stake, which is has held for more than 40 years.
Shortly after Third Point revealed its stake, Nestle said it would buyback around $21 billion in shares over the next three years following criticism from the U.S. hedge fund and indicated it may look at acquisitions in key growth areas.
Nestle said it launched a program to increase returns earlier this year which included a "comprehensive review" of its capital structure and priorities. The review, the company said, determined that capital spending should focus on high-growth sectors such as coffee, petcare, infant nutrition and bottled water as well as consumer healthcare. It also said it would "continue to assess opportunities for margin improvement" through selective cost-cutting.
Watch More with TheStreet: