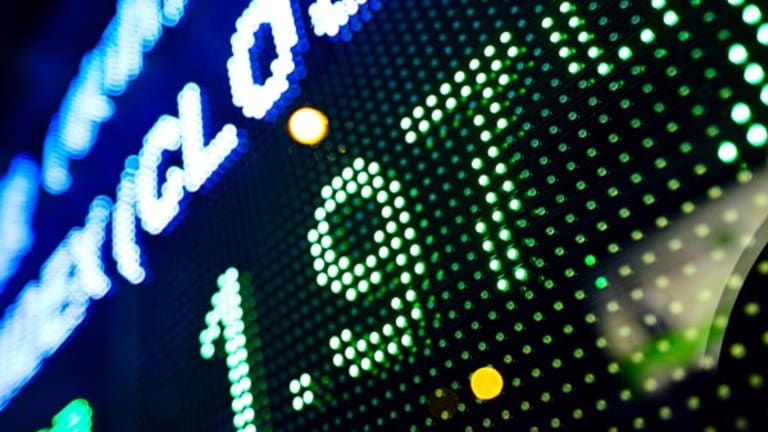 Nazz Parties Like It's 1992
Upbeat news on earnings, housing and employment sends the Nasdaq to its longest winning streak in 17 years and the Dow past 9000. Gregg Greenberg reviews the big move in The Real Story.
Updated with closing prices.
The
Dow Jones Industrial Average
reached a new high for the year and the
Nasdaq
achieved its longest winning streak in more than a decade and a half as a fresh batch of better-than-expected earnings and data on home sales gave stocks a solid boost.
The Dow Jones Industrial Average rose 183.03 points, or 2.1%, to 9069.29, and the
S&P 500
climbed 22.22 points, or 2.3%, to 976.29. The
Nasdaq
tacked on 47.22 points, or 2.5%, to 1973.60, marking its 12th consecutive positive session and longest winning streak since January 1992.
Industrials
Alcoa
(AA) - Get Alcoa Corporation Report
and
DuPont
(DD) - Get DuPont de Nemours, Inc. Report
rose 5.6% and 5.8%, respectively, on the Dow. They were joined by
3M
and
AT&T
, up 7.3% and 2.4%, respectively, after topping earnings expectations.
Immediately after the close,
Microsoft
(MSFT) - Get Microsoft Corporation Report
disappointed earnings expectations as sales dropped 17%, sending shares 3% lower in the post-market. But
Celgene
(CELG) - Get Celgene Corporation Report
and
Intuitive Surgical
(ISRG) - Get Intuitive Surgical, Inc. Report
up 18.7% and 26.8%, respectively, during the regular session bolstered the Nasdaq after their better-than-anticipated earnings earlier in the day.
Those and other strong earnings paired with improvements in housing and jobless claims data gave Wall Street a noticeable skip in its step.
"I suspect a lot of it is that there were not very many true believers, and more and more evidence piling up whether it's earnings, economic data, etc., that at least the intensity of the decline is less severe -- it's forcing people to want to get in," says Bill Stone, chief investment strategist at PNC Wealth Management. "You've got a back drop of things getting better, but you also have the idea that we've been able to weather some storms that maybe in the past would have knocked us out."
It certainly didn't hurt that existing-home sales increased to 4.89 million in June, up from 4.72 million in May and topping expectations for 4.84 million.
That news sent housing stocks
Toll Brothers
(TOLL)
,
KB Home
, and
Lennar
(LEN) - Get Lennar Corporation Class A Report
5% to 6% higher.
Among other movers, online auctioneer
eBay
shares jumped 10.6% after it came in
and offered a view of the current quarter that would top estimates. Also,
Ford
(F) - Get Ford Motor Company Report
shares rose 9.4%, after it posted a surprise
of $2.3 billion, although it was due largely to a $3.4 billion gain from debt reduction.
Meanwhile, the Department of Labor said early Thursday that the four-week moving average for new jobless claims as of the week ended July 11 decreased by 19,000 to 566,000, and the advance number of total uninsured claiming unemployment decreased by 88,000 to roughly 6.23 million. However, jobless claims rose by 30,000 last week to 554,000, just not as much as expected.
In other news,
Bristol-Myers Squibb
(CS) - Get Credit Suisse Group AG Report
, which is also reported its earnings, said it's going to buy
Medarex
(MEDX)
for $2.4 billion, or $16 a share. Bristol shares added 2.8%, and Medarex jumped 89% to $15.89.
Also, bond advisers that rescued small business lender
CIT Group
(CIT) - Get CIT Group Inc. Report
with a $3 billion loan earlier this week are recommending creditors push the company into Chapter 11 bankruptcy even if a debt swap next month is successful,
Bloomberg
reports. CIT shares fell 14.9%.
Crude oil futures popped $1.76 to $67.16 a barrel and gold advanced $1.50 to $954.80 an ounce.
Longer-dated Treasuries were falling in price, rising in yield. The 10-year was losing 1-3/32 to yield 3.68%, while the 30-year gave up 1-30/32, yielding 4.57%.
Stocks overseas were mostly higher. In Europe, London's FTSE 100 and the DAX in Frankfurt were rising 1.5% and 2.5%, respectively. In Asia, the Nikkei in Japan rose 0.7%, and the Hang Seng in Hong Kong gained 3%.