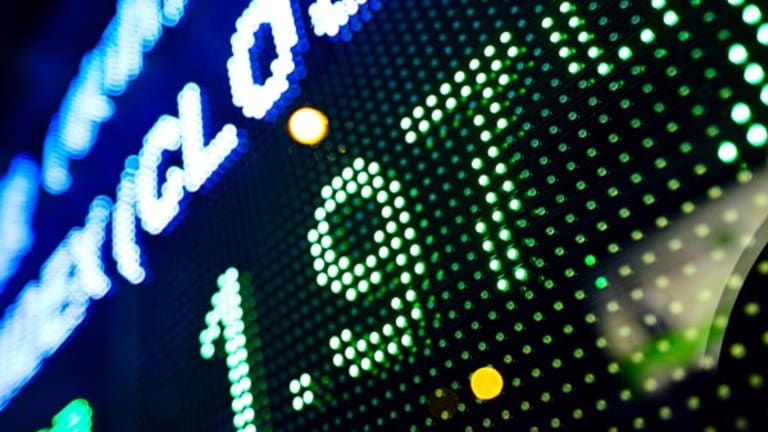 Publish date:
Nasdaq Ticks Higher; Dow Slides Again
Alcoa posts quarterly results and ends lower. AOL also falls a day after its forecast.
Alcoa posts quarterly results and ends lower. AOL also falls a day after its forecast.
Updated from 3:32 p.m. EST
The
Dow Jones Industrial Average was weighed down by a less-than-stellar profit report from an industry giant, while tech shares made strides in trading Tuesday.
The Dow finished down 46.50 points, or 0.5%, to 10,150.55. The
Nasdaq gained 18.63 points, or 0.9%, to 2055.73, and the
S&P 500 was off 4.18 points, or 0.4%, to 1160.71.
The news flow from corporate America was picking up as the holidays came to a close and Wall Street began to prepare for fourth-quarter earnings season. Investors had plenty to digest Tuesday, sorting through a wave of earnings forecasts and other news from technology and media sectors.
Alcoa
(AA) - Get Report
posted fourth-quarter earnings before the regular session started, saying that it recorded income of $99 million, or 11 cents a share, before items. The company said revenue fell to $5.2 billion from $6.6 billion in the same quarter a year ago. After charges, the aluminum producer posted a loss of 17 cents a share. Alcoa's shares traded down 82 cents, or 2.2%, to close at $37.34.
AOL Time Warner
(AOL)
was trading lower a day after disclosing plans to
take a charge of up to $60 billion, one of the largest ever, to write down the value of the stock used in the merger that created the company in 2000. AOL also predicted only modest growth in 2002 and said it would use cash to buy out
Bertelsmann's
stake in AOL Europe. Shares of AOL finished at $32, down 68 cents.
Altera
(ALTR) - Get Report
was climbing after the company said fourth-quarter revenue would fall about 7% sequentially and predicted the quarter would be the worst of its current cycle. Shares of the specialty chipmaker ended the session up $1.02, or 4.3%, at $24.92.
BMC Software
(BMC)
expects third-quarter earnings at the high end of the existing range, and the company's stock climbed 87 cents, or 4.3%, to $21.
UAL
(UAL) - Get Report
, parent company of United Airlines, saw its shares jump after being upgraded by Goldman Sachs. The firm changed its rating on the airline to market outperform from market perform. The stock responded to the news accordingly, trading up 85 cents, or 5.7%, to $15.90.
Analysts at Merrill Lynch reiterated a cautious view on
Nokia
(NOK) - Get Report
and the rest of the wireless sector, saying they expect customer demand to remain weak in the near term. Nokia's shares traded down $1.43, or 5.7%, to $23.87.
Idec Pharmaceuticals
(IDPH)
was told by the Food and Drug Administration that approval for its Zevalin drug will be delayed because of manufacturing compliance concerns. Shares of the drugmaker were under pressure in the early going, but reversed course to finish up $1.95, or 3.1%, at $64.26.
(For more corporate news, check out
TheStreet.com's
Stocks to Watch and
Market Movers columns.)
European markets were mixed. London's FTSE 100 lost 0.8% to 5250, and Germany's Xetra Dax was up 0.1% to 5236. Asian stocks were lower, largely because of weakness in telephone equipment shares. Japan's Nikkei closed down 2.3% to 10,696. Hong Kong's Hang Seng fell 1.5% to 11,714, after posting a one-month high in the previous session.
Treasuries were lower. Around 4 p.m. EST, the 10-year note was falling 6/32 to 99 14/32, yielding 5.07%.