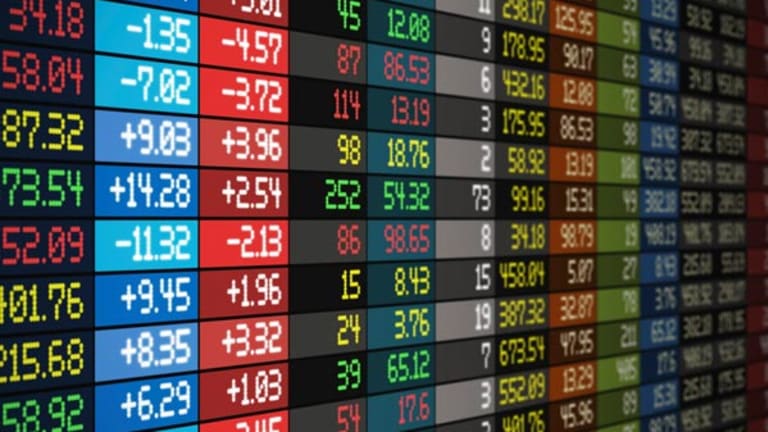 Nasdaq Plumbs New Lows for Year
Investors again turn negative on stocks amid concerns over large-cap tech earnings and oil prices.
Updated from 4:03 p.m. EDT
Stocks plunged Friday, as rising oil prices and the fallout from disappointing earnings calls from
Microsoft
(MSFT) - Get Microsoft Corporation (MSFT) Report
and
Amazon.com
(AMZN) - Get Amazon.com, Inc. Report
, took the
Nasdaq Composite
to new lows for the year, while the
Dow Jones Industrial Average
fell below 10,000.
After bottoming out at a new intraday low for the year at 1845, the tech-heavy Nasdaq proceeded to hit its lowest close so far this year, down 39.97 points, or 2.12%, to 1849.09.
The Dow closed below 10,000 for the first time since May, dropping 88.11 points, or 0.88%, to 9962.22; and the
S&P 500
fell just 2 points shy of its lowest close of the year, down 10.63 points, or 0.97%, to 1086.21.
Volume stayed on the high end of recent summer trading levels, over 1.3 billion on the New York Stock Exchange, where decliners outnumbered advancers by about 2-to-1. On the Nasdaq, nearly 1.7 billion shares changed hands, and decliners held close to a 7-to-2 majority.
In other markets, the 10-year Treasury note traded up 3/32, with yield at 4.43%; gold was down, and oil prices climbed 25 cents, or 0.6%, to $41,61 a barrel, less than a dollar shy of its record close of $42.33 set in June. The dollar rose against the euro and the Japanese yen.
Stuart Freeman, chief equity strategist with A.G. Edwards, said the selloff was part of a knee-jerk response to the first inklings of an inevitable slowdown in earnings growth that is a natural part of the upswing in an economic cycle.
"We're seeing some knee-jerk responses, and we're also probably having some technical reaction," Freeman said. "When analysts see prices drop below certain averages, they'll sometimes make decisions on that basis to pull in a bit. Also, we're going into a weekend, and if investors are feeling somewhat cautionary, sometimes they hang it up before the weekend."
He thinks the bull market of 2003 has another couple of years to go before it peters out.
Hinting towards an earnings slowdown, Microsoft reported fourth-quarter earnings that missed estimates by a penny on stronger-than-expected revenue after Thursday's close. As expected, the software behemoth also lowered guidance for fiscal 2005 earnings to reflect its plan announced earlier this week to pay out some $75 billion of its cash to shareholders. Wall Street's bad reviews weighed heavily on the market Friday, sending the software giant's stock down 97 cents, or 3.3%, to $28.03.
Also, Amazon said it swung to a profit in its second quarter, but its results fell short of expectations, sending the stock down $5.84, or 12.7%, to $39.98.
"Earnings from technology companies have underwhelmed investors this quarter, and when you combine that with bad numbers from
Intel
(INTC) - Get Intel Corporation (INTC) Report
and fears of a glut in chip inventories, it's making investors back off from technology for the most part," said Michael Sheldon, chief market strategist with Spencer Clarke LLC. "But the market as a whole is not looking particularly good right now from a technical standpoint.
Illustrating the market's aversion to technology, the Philadelphia Semiconductor Index closed down 3.5%, the Goldman Sachs Technology Industry Software Index was down 2.3% and the Amex Network Index shed 3%.
With no more companies listed on the S&P 500 scheduled to report this week, over half the releases due out this season are on the books. While some individual disappointments may have investors on edge, most companies have so far met or beat expectations.
Thomson First Call reports that, of the 260 companies that reported so far, 69% have provided an upside surprise, 19% were in line with expectations, and 12% have disappointed Wall Street. Meanwhile, the projected year-over-year growth rate in earnings ticked up to 24% from 21% since last Friday. That rate is projected to slow to around 15% to 16% in the third and fourth quarters, but that is still well above the historical average of around 7% growth.
"It was very unlikely that we could've maintained 20% growth for much longer," said John Butters, a research analyst with Thomson First Call. "That is a very high rate, historically."
Despite the overall positive earnings picture, stock investors find themselves in one of the deepest doldrums of the year. All three major indices have fallen four weeks straight. With the Nasdaq making new lows for the year, the other indices are closing in on a test of their 2004 lows, and while the majority of investors remain bullish, skepticism and frustrations are running rampant over Wall Street.
The Dow fell for its fifth week in a row, down over 1.7%; the S&P added to a 6-week losing streak, down almost 1.4%; and the Nasdaq has down been down 4 weeks straight, tumbling 1.8%.
Most observers attribute the market's funk to a host of worries that have garnered headlines in recent months, from fears of future terrorist attacks and uncertainty about the presidential election, to rising interest rates and softening economic statistics. But even with all the worries on the minds of investors, there is little doubt that Wall Street still loves a bargain. The steady decline in price-to-earnings ratios then begs the question: Are stocks cheap? And if not, when will they be?
Back in 2000, the S&P 500 hit prices at its peak that, overall, were about 46 times GAAP earnings for the previous 12 months. That was cut in half at the beginning of 2004, at about 23 times earnings.
Currently, the overall price-to-earnings ratio for the S&P currently stands at about 21 times earnings for the last four fiscal quarters. For 2004, the market is about 19 times estimated earnings for the year, and for 2005, it's at 18 times estimates, according to economists with Standard & Poor's.
Prices have come down considerably since the years of irrational exuberance, and current P/E levels have even dipped below the historical average since 1988 of about 23. Still, the market remains about 25% above the historical average going back to 1935 of about 16, which some would argue is a more relevant comparison.
"I think it's pretty hard for someone to say that we're dealing with bubble valuations still," said Sam Stovall, senior investment strategist with Standard & Poor's. "I think the jury is still out as to whether we're at bargain-basement prices. I don't think we're there."
Even if prices haven't reached the lower end of the scale, Stovall questions whether the market should go near the low end, since the estimates for the year-over-year increase in operating earnings remain on the high end.
"Should we be looking for low double-digit or high single-digit price to earnings ratios? I don't think so," he said. "We'll either have a big washout that brings us down to those levels, or we'll have an extended sideways move, because these prices are coming down little by little, where the market says, 'Well, I won't sell off, but I won't rise much either.'"
In earnings reports out Friday,
Xerox
(XRX) - Get Xerox Holdings Corporation (XRX) Report
said second-quarter profits more than doubled, and it raised its full-year guidance. Its stock closed up 49 cents, or 3.7%, to $13.80.
Halliburton
(HAL) - Get Halliburton Company (HAL) Report
swung to a loss after mounting charges on an asbestos-liability case. For the second quarter ended June 30, the company posted a continuing operations loss of $54 million, or 12 cents a share, and a bottom-line loss of $663 million, or $1.51 a share. A year ago the company posted a continuing operations profit of $42 million, or 9 cents a share. Revenue surged to $4.96 billion from $3.6 billion a year earlier. Its stock closed down 49 cents, or 1.6%, to $30.55.
Industry rival
Schlumberger
(SLB) - Get Schlumberger NV Report
said its continuing operation profits rose to $255 million, or 43 cents a share, up from the year-ago $146 million, or 25 cents a share. The latest quarter included a charge, without which the second-quarter profit was $288 million, or 48 cents a share. Revenue rose to $2.86 billion from $2.54 billion a year earlier. Its stock ended down $1.25, or 1.9%, to $63.01.
Also,
Clear Channel
(CCU) - Get Compania Cervecerias Unidas S.A. Sponsored ADR Report
said its second-quarter profits rose moderately, but ad sales were a disappointment. The national radio station chain earned $253.8 million, or 41 cents a share, compared with $251.3 million, or 41 cents a share, in the same quarter last year. Its stock closed off 32 cents, or 0.9%, to $35.41.
On overseas stock markets, London's FTSE closed up 0.5% at 4326 while Germany's Xetra DAX lost 0.1% to 3797. In Asia, Japan's Nikkei closed 0.9% lower at 11,187; Hong Kong's Hang Seng finished 0.3% higher at 12,352.
Earnings season resumes before Monday's open, with releases due out from companies like
Bellsouth
(BLS)
,
Boston Scientific
(BSX) - Get Boston Scientific Corporation Report
,
Coventry Health Care
(CVH)
,
Kellogg
(K) - Get Kellogg Company (K) Report
and
Tyson Food
(TSN) - Get Tyson Foods, Inc. Class A Report
.
At 10 a.m. EDT, the National Association of Realtors is expected to report that existing home sales slowed to an annualized 6.67 million homes in June from the 6.80 million reported in May.
During the session,
American Express
(AXP) - Get American Express Company Report
is expected to report second-quarter profits before special items of 67 cents a share, up from last year's 59 cents a share.
After the close, more earnings results are expected from such companies as
Pitney Bowes
(PBI) - Get Pitney Bowes Inc. Report
and
Centex
(CTX)
.