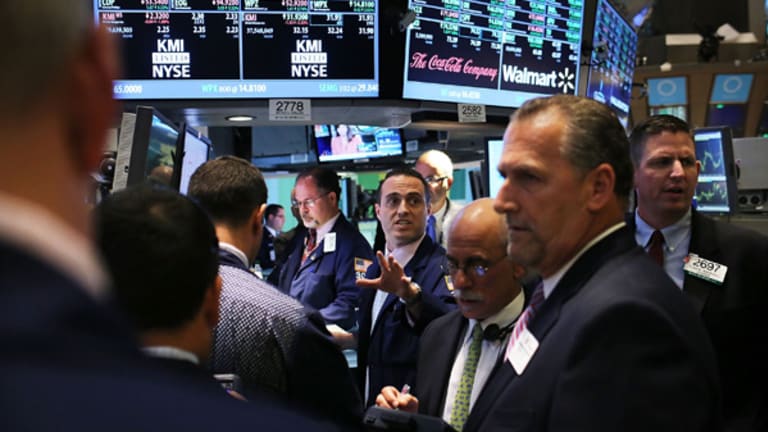 Nasdaq Leads Market Rally
Stocks in New York were mixed for most of the session, but they turned higher late Thursday, led by tech. Frank Curzio discusses the day in The Real Story video above.
Updated from 4:32 p.m. EDT
Stocks in New York were mixed for most of the session, but they turned higher late Thursday and closed positive as investors waded through another set of corporate earnings and economic data.
The
Dow Jones Industrial Average
gained 95.81 points, or 1.2%, to 8125.43, and the
rose 13.24 points, or 1.6%, to 865.30. The
Nasdaq
added 43.64 points, or 2.7%, to 1670.44.
Technology stocks performed particularly well, with
Hewlett-Packard
(HPQ)
and
Microsoft
(MSFT)
rising 5% and 4.9%, respectively, on the Dow.
Investors had their eyes on
(GOOG)
at the close. Google reported quarterly revenue of $4.1 billion after subtracting traffic acquisition costs, roughly in line with expectations, and topped profit estimates, earning $5.16 a share. Shares rose 2.4% during the regular session and nearly 5% after the report.
was the headliner of the day earlier after it also topped analysts' estimates.
Ever since
Wells Fargo
(WFC)
reported better-than-anticipated preliminary results, followed by
Goldman Sachs'
(GS)
estimate-topping first-quarter earnings, Wall Street has been
and simultaneously expressing some skepticism.
More bank earnings are close at hand, with
Citigroup
(C)
set to report on Friday and
Bank of America
(BAC)
on Monday.
The banks had an uneven day. JP Morgan added 2.1%, and
Citigroup
(C)
rose 1%. Bank of America lost almost 1%, Wells Fargo fell 0.5%, and Goldman Sachs shares were flat.
In other earnings,
Nokia
(NOK)
said profits slumped a whopping 90% in the first quarter, but analysts had expected even worse. Shares climbed 11.4% to $14.88 as the mobile-phone maker indicated it's seeing
.
A drag on the mood came away from earnings, when the nation's second-largest mall operator,
General Growth Properties
(GGP)
, was forced to file for bankruptcy protection.
On the bright side,
Rosetta Stone
(RST)
had the first
initial public offering
in nearly a year to price above its expected range. The company said late Wednesday that 6.25 million shares of common stock priced at $18 a share, vs. the predicted range of $15 to $17 a share. Shares soared $7.12, or almost 40%, to $25.12.
Sun Microsystems
(JAVA)
was back in the news after
CNBC
reported it went back to dismissed bidder
IBM
(IBM)
to ask it to return to the negotiating table. However, IBM is not interested "at any price" due to worries over prospective regulatory scrutiny, according to the report that cited sources close to IBM. Sun's shares added 4.4% to $6.40, while IBM tacked on 2.6% to $101.43.
Meanwhile,
eBay
(EBAY)
said it plans to pay as much as $1.2 billion to purchase a
majority stake
in South Korea's top online marketplace
Gmarket
undefined
. Shares of eBay edged up 0.6%, while Gmarket surged 19.2% to $23.79.
Also, drugmakers
GlaxoSmithKline
(GSK)
and
Pfizer
(PFE)
confirmed they plan to join their HIV-drug businesses, establishing a
that is 85%-owned by Glaxo. Shares of Glaxo lost 1 cent, and Pfizer ticked up 4 cents.
The day also brought mixed economic data. Housing starts fell to 510,000 in March from 572,000 in February and were 30,000 fewer than expected. There were 513,000 new building permits vs. an upwardly revised 564,000 in February and about 36,000 fewer than predicted.
"Fewer home starts and permits mean that we are undergoing a clearing mechanism for inventory," says Walter Gerasimowicz, chairman and CEO of Meditron Asset Management, adding that clearing inventory and stabilizing real estate prices will be central in getting out of the economic downturn.
Housing starts have now fallen to levels well below what's needed to support population growth, says Tony Crescenzi, chief bond strategist at Miller Tabak, on his
RealMoney.com
blog."The bottom-line is that empty homes will become occupied one way or another so long as builders under-build relative to population growth," he writes.
In other data, the Department of Labor said new weekly jobless claims narrowed to 610,000 from 663,000, almost 50,000 below analysts' consensus forecast.
Longer-dated U.S. Treasuries were falling. The 10-year was losing 16/32 to yield 2.8%, while the 30-year dropped 27/32, yielding 3.7%. The dollar was recently stronger against the pound, euro and yen.
As for commodities, oil rose 73 cents to settle at $49.98 a barrel, while
$13.70 to $879.80 an ounce.
TheStreet.com Ratings, recently cited for Best Stock Selection from October 2007 through February 2009 , is an independent research provider that combines fundamental and technical analysis to offer investors tremendous value in volatile times. To see how your portfolio can use this research, click here now!