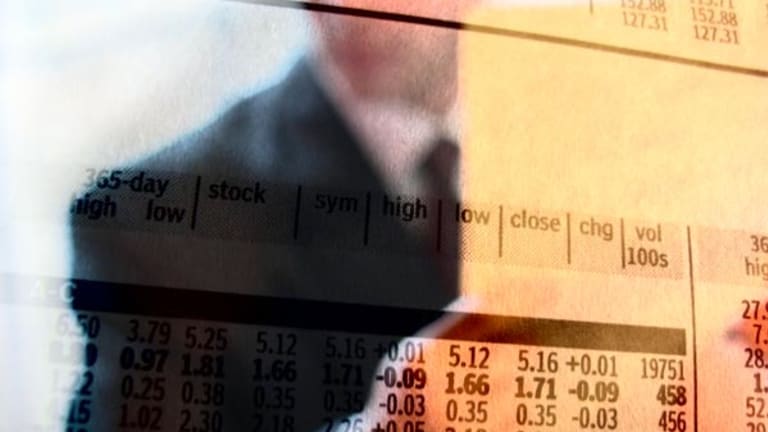 Nasdaq Has Fifth Down Week
Gains vanish again as blue-chips fall for the third straight day and the Nasdaq skid continues.
Updated from 4:05 p.m. EST
Stocks closed lower for the third straight session Friday while the
Nasdaq's
losing streak stretched to five weeks, amid new signs that the market's year-long advance may be primed for a pause or a correction.
Positive comments on the job market from
Fed
Chairman Alan Greenspan helped trim early losses triggered by an unexpectedly sharp rise in consumer prices.
The
Dow
was off by more than 45.70 points to 10,619.03, while the
S&P 500
lost 2.95 points to finish at 1,144.11, as both indices snapped modest two-week winning streaks. The
Nasdaq
sank 8.03 points to 2037.93, after being down 1% earlier in the session.
"We have seen encouraging signs of late that the labor market is improving," Greenspan said in a speech in Omaha, Neb. "In all likelihood, employment will begin to increase more quickly before long as output continues to expand."
Jay Suskind, head of institutional trading at Ryan Beck & Co., thinks the market will remain in a "sideways period" until the government releases February employment numbers on the first Friday in March.
"That is the macro number that everyone's focused on right now," he said. "That number will dictate how the market will move for the next couple of weeks afterwards," he said.
In a down week all around, the Dow and the S&P each lost a fraction while the Nasdaq shed 15.63 points, or 0.7%.
On Friday morning, premarket gains were squelched when the U.S. government said consumer prices shot up by 0.5% in January, reflecting a big jump in energy prices. The core number was up 0.2%. Both readings were slightly higher than forecasts.
John Hughes, an equity strategist at Shields & Co., believes that February, a historically rocky month for the markets, has been defined by very random action, with two or three good days disguising what has been a weak performance for most of the month.
"Stocks are a little bit vulnerable right now," he said. "The inability to really continue to go up when they've had some rally days suggests that there's really some contained, or capped, upside momentum here. On the surface, it's gotten a little bit sloppy. With yesterday's action, probably the best course of action is to be more cautious in here and save up a little bit."
"It becomes more of a stock-pickers' market," added Hughes. "In a sense, it would kind of be healthy to get a little bit of a correction in here because I think it would make it somewhat easier to make money."
The 10-year note fell in price after the inflation report, sinking 16/32 to yield 4.09%. The dollar was higher against the yen as Japanese Prime Minister Junichiro Koizumi's government raised the nation's alert to its highest level. The dollar was recently buying 109.055 yen in New York compared to 107.02 Thursday, while the euro bought $1.2528 compared to $1.272 Thursday.
Overseas, London's FTSE was up 0.5% to 4540, while Germany's Xetra DAX sank 0.3% to 4128. In Asia, Japan's Nikkei closed down 0.3% to 10,721, and Hong Kong's Hang Seng stayed flat at 13,868.
Telephone company
Verizon
(VZ) - Get Verizon Communications Inc. Report
expects bids by the end of March for two sets of local telephone lines,
The Wall Street Journal
reported on Friday, citing an unnamed source. The sale of local telephone lines in Hawaii and New York could bring in as much as $8 billion, the
Journal
said. Verizon shares lost 17 cents, or 0.46%, on the day to close at $37.18.
Friday's strength also reflects higher sales guidance from
Hewlett-Packard
, which matched analysts' estimates for its January quarter on Thursday after the close. In the second fiscal quarter now under way, H-P expects sales of $19.2 billion to $19.6 billion, above the consensus estimate for $19.1 billion. Pro forma EPS should total 34 cents, in line with Wall Street's current outlook. H-P shares traded down 73 cents, or 3.06%, to close at $23.13.
Business software maker
BEA Systems
undefined
reported that its quarterly profit and revenue rose about 12% on strong sales of its WebLogic Platform 8.1 software, used for building Web-based programs. Its shares gained $1.08 cents, or 8.35%, at $14.01.
Also, upscale department store chain
Nordstrom
(JWN) - Get Nordstrom, Inc. Report
reported higher fourth-quarter earnings, beating forecasts thanks to strong holiday sales, better merchandising and cost controls. Its shares recently lost 71 cents, or 1.78%, at $39.07.
Stocks retreated Thursday afternoon after an early rally. The Dow finished down 7.26 points, or 0.07%, at 10,665; the S&P ended down 4.76 points, or 0.41%, at 1147; and the Nasdaq dropped 30.51 points, or 1.47%, at 2046.
While there's no economic data scheduled for release on Monday, the start of next week's trading will be influenced by earnings reports from
Campbell Soup
(CPB) - Get Campbell Soup Company Report
and
Lowes
(LOW) - Get Lowe's Companies, Inc. Report
before the opening bell.
Analysts estimate that Campbell, which closed up 20 cents at $28.20 on Friday, will report second-quarter earnings per share of 57 cents, according to Thomson First Call. Last year, it earned 57 cents per share in the same quarter last year. Lowes is estimated to report fourth- quarter earnings a share of 50 cents compared to last year's 33 cents. The retailer closed Friday at $58.38, up 85 cents.