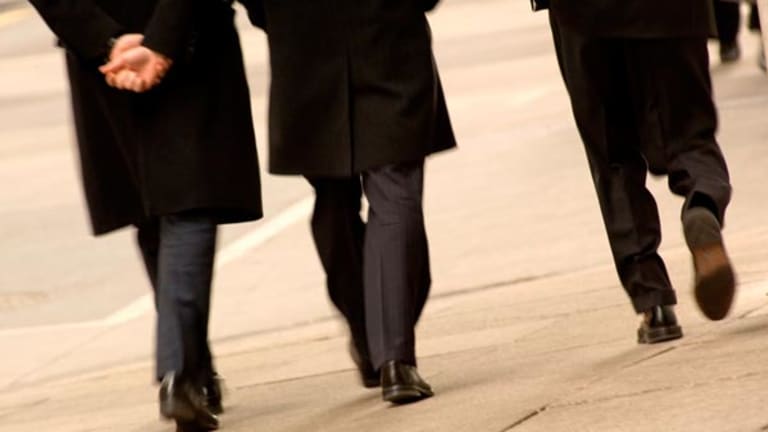 Nasdaq Flirts With 2004 High
The tech index closes just shy of its peak for the year in a cautious session.
Updated from 4:03 p.m. EST
Stocks closed mixed Monday afternoon with the
Nasdaq
ending just shy of its 2004 high, as a rebound in oil prices and downgrades of several blue-chip companies presented speed bumps for the end-of-year rally.
The
Dow Jones Industrial Average
lost 45.15 points, or 0.43%, to 10,547.06; the
S&P 500
was down 0.92 point, or 0.1%, to 1190.25, having closed at a 40-month high Friday; and the tech index rose 3.29 points, or 0.2%, higher to 2151.25, just shy of its 2004 high of 2153.83 touched in January.
Volume on the
NYSE
was 1.35 billion, with decliners beating advancers about 4 to 3. Volume on the Nasdaq was 2.14 billion, with decliners beating advancers by about the same ratio.
Weighing on sentiment was news that gunmen killed five people in an attack on the U.S. consulate in Jeddah, Saudi Arabia, before U.S. markets opened. No U.S. citizens were harmed in the attack, which ended in the killing of three assailants and capture of the two others, according to media reports.
The incident boosted oil prices, which gained 44 cents to $42.98, after a 14% selloff last week.
In other markets, the 10-year Treasury note rose 5/32 in price with the yield at 4.23%, while the dollar was lower against the euro but higher against the Japanese yen. Gold prices were up about $1 an ounce.
"The market suffers from time to time with no stimulus," said Larry Wachtel, senior market analyst with Wachovia Securities. "You're subject to commodities, but basically you end up with a decent day. There's a resiliency factor. Maybe we'll get some stimulus from the conferences starting tomorrow."
"There isn't much in the news to set the market off, especially when oil looks like it has stabilized," said Edgar Peters, chief investment officer with Pan Agora. "The market is just taking a breather, waiting to hear more about the Saudi Arabia attack. It appears this is just temporary; the market is still extremely undervalued."
In corporate news, Merrill Lynch downgraded drugmaker
Pfizer
(PFE) - Get Report
, saying the stock has only modest upside potential. Pfizer was recently down 68 cents, or 2.4%, to $27.21.
J.P. Morgan Securities raised its forecast for
Apple
(AAPL) - Get Report
, saying it now expects 2005 revenue of $12.92 billion and EPS of $1.69. Shares rose $3.10, or 5%, to $65.78.
Kimberly-Clark
(KMB) - Get Report
announced plans to raise its quarterly dividend by 12.5% to 45 cents a share. The company will also repurchase "at least" $1 billion worth of its shares next year. Finally, the company affirmed its earnings projection for the fourth quarter, saying it expects 89 cents to 91 cents a share. Shares closed higher by 36 cents, or 0.6%, to $64.34.
Alcoa
(AA) - Get Report
was downgraded to in line from outperform by Goldman Sachs, which also lowered its earnings expectations by 5% for 2005 and 6% for 2006. The firm said it believes Alcoa's upstream business will be negatively affected by raw-material price pressures as well as a slow recovery after a strike at one plant. Shares lost 44 cents, or 1.3%, to $32.42.
Circuit City
(CC) - Get Report
said its third-quarter same-store sales fell 4.3% from a year earlier, saying that lower traffic was due to cuts in music and movie software promotion, a weaker new-release schedule and business model changes in digital satellite services and wireless phones. Total sales for the third quarter rose 3.8% to $2.5 billion but fell short of the Thomson First Call estimate of $2.6 billion. Circuit City closed down $1.08, or 6.7%, to $15.13.
Microsoft
(MSFT) - Get Report
rallied after Smith Barney raised its fourth-quarter earnings to 34 cents a share from 33 cents. The broker also raised its 2005 EPS to $1.26 from $1.25, citing the success of the company's video game
Halo 2
. Microsoft finished up 10 cents, or 0.4%, to $27.33.
Overseas markets closed mostly lower. London's FTSE 100 was down 0.5% to 4722, while Germany's Xetra DAX was off 0.4% to 4193. Overnight, Japan's Nikkei fell 0.8% to 10,982, but Hong Kong's Hang Seng added about 0.3% to 14,256.