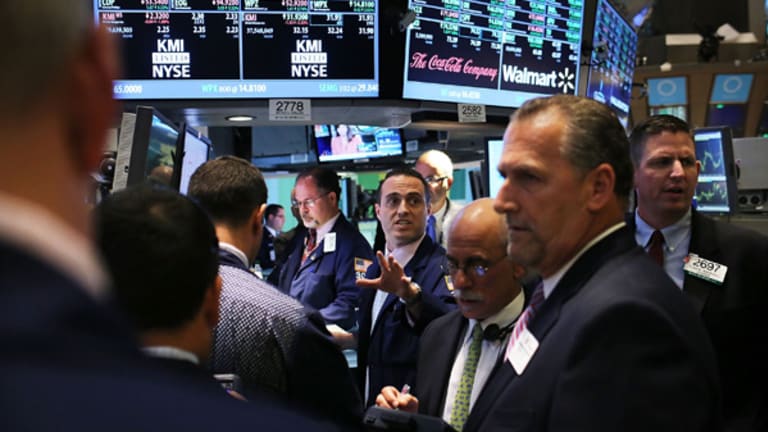 Nasdaq Ends Higher; Dow Slips
The averages endured a choppy session before closing mixed.
The averages endured a choppy session before closing mixed.
Updated from 4:04 p.m. EDT
Stocks endured a choppy session Thursday, but blue-chips closed well above their session lows and tech stocks managed to finish in positive territory.
The
Dow Jones Industrial Average lost 11.35 points, or 0.1%, to 9911.69. The
Nasdaq gained 7.52 points, or 0.5%, to 1631.91, and the
S&P 500 lost 3 points, or 0.3%, at 1064.66.
The indices opened lower, then strengthened and broke into positive territory before pulling back around the midpoint of the session. Late in the day, the averages again reversed course.
Before trading began, investors had to face reports that the
Securities and Exchange Commission
has set its regulatory gaze on the accounting of the country's top software maker.
A published report said
Microsoft
(MSFT) - Get Report
is in talks with the SEC to settle what are expected to be civil charges that it massaged its books by chronically underreporting its earnings.
The Wall Street Journal
said it's unlikely Microsoft will end up paying a fine but instead will agree to abide by SEC rules in the future. Microsoft rose 1.1% to $52.64.
Continuing tension along the border of India and Pakistan contributed to the negative tone. Simmering tensions in Kashmir took more lives last night as three Indian soldiers and 11 Indian civilians were killed in raids by suspected Islamic militants.
Fighting resumed shortly after the departure of British Foreign Secretary Jack Straw, who urged Pakistani President Gen. Pervez Musharraf and Indian Prime Minister Atal Bihari Vajpayee to resume peace negotiations. Musharraf warned he would unleash a "storm" if India encroaches any of his territory, local reports said.
Elsewhere,
Philip Morris
(MO) - Get Report
has reached a deal to unload its troubled Miller Brewing segment for $5.6 billion to
South African Breweries
. The London-based company will exchange $3.6 billion in cash and assume $2 billion in Miller debt, giving Philip Morris a 36% economic interest in SAB, which will be renamed SABMiller PLC. Philip Morris was up 1% to $56.58 to finish just below a 52-week high.
European shares were being pressured by a report that quoted a top
Alcatel
(ALA)
executive as saying prices for mobile-phone network equipment had fallen by half in recent weeks due to slack demand.
Alcatel,
Nokia
(NOK) - Get Report
and
Ericsson
(ERICY)
all closed lower.
Overseas markets were uniformly lower, with London's FTSE 100 losing 0.8% to 5041 and Germany's Xetra DAX dropping 2.5% to 4762. In Asia, Japan's Nikkei 225 lost 0.7% to 11,770 while Hong Kong's Hang Seng fell 0.4% to 11,381.
Back in the states, another giant warehouse retailer reported a strong quarter as
Costco
(COST) - Get Report
said third-quarter net income rose 24% to $130.4 million, or 28 cents a share, from $105.3 million, or 23 cents, a year earlier. Sales rose 12% to $8.44 billion. Analysts were expecting earnings of 27 cents a share. Costco added 2% to $39.32.
The rumor mill was busy, including talk apparently circulating among some trading desks that
Tyco's
(TYC)
CEO, Dennis Kozlowski, was planning to resign. The company denied the rumor. Separately,
Reuters
, citing sources, reported that
AT&T
(T) - Get Report
is considering a bid for
KPNQwest
(KQIPQ)
, the European telecommunications company that last week filed for bankruptcy.
Tyco rose 2% to $21.50. AT&T was down 0.3% at $11.97, but KPNQwest jumped 11 cents, or 79%, to 25 cents.
U.S. Treasury issues traded higher around 4 p.m. EDT. The 10-year was up 9/32 to 98 28/32, yielding 5.02%, while the 30-year was gaining 13/32 to yield 5.59%.