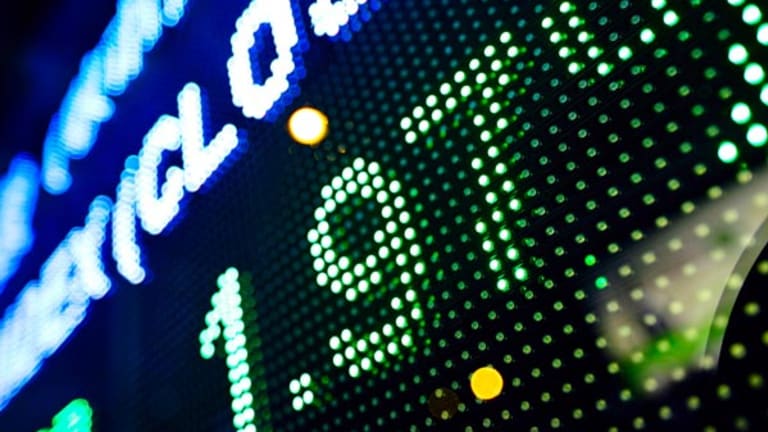 Nasdaq Backs Off Record High as Biotech Drags Markets Lower
Friday's record run was cut short on Monday as the S&P 500 and Nasdaq backed off of their closing highs.
Friday's record run was cut short on Monday as the S&P 500 and Nasdaq backed off of their closing highs.
NEW YORK (TheStreet) -- Friday's record run was cut short on Monday as the S&P 500 and Nasdaq backed off of their closing highs.
Stocks slumped into the close as nerves ran high in anticipation of Apple's (AAPL) - Get Report earnings after the bell and the kickoff to the Federal Reserve's two-day meeting on Tuesday.
The S&P 500 was down 0.41%, the Dow Jones Industrial Average slid 0.22%, and the Nasdaq fell 0.63%.
Biotech companies weighed on the Nasdaq, following the lead of Mylan (MYL) - Get Report and Teva Pharmaceuticals (TEVA) - Get Report. The two were lower after Mylan rejected a $40 billion bid from Teva.
Celldex (CLDX) - Get Report, Biogen (BIIB) - Get Report and Celgene (CELG) - Get Report were all lower, while the Health Care SPDR ETF (XLV) - Get Report declined 1.8% and the iShares Nasdaq Biotechnology Index ETF (IBB) - Get Report fell 4.3%. Biotech company Celladon (CLDN) tanked nearly 81% after a trial of its heart failure treatment missed its primary and secondary endpoints.
Apple earned $2.33 a share in its second quarter, 17 cents better than expected. Revenue jumped 27.1% to $58.01 billion, beating estimates by $1.95 billion. The company sold 61.2 million iPhones and 12.6 million iPads over the quarter. 
The Fed will convene for its monthly two-day meeting on Tuesday. The central bank is widely expected to maintain its crisis-level interest rate policy for another month, though its statement on Wednesday will be closely examined for clues as to when a hike could occur.
"The market has held to the gains made last week off of what has been, frankly, a wait-and-see overnight session with little data or concrete news to speak of," said CRT Capital's David Ader. "In the U.S. we wait for the FOMC with low expectations and really turn attention to (nonfarm payrolls) next week if we can sidestep overseas events."
Crude oil dropped below $57 a barrel again on Monday as infighting in Yemen continued to create waves on commodity markets. West Texas Intermediate crude closed 0.3% lower to $56.99 a barrel.
"The crude complex is having a soft start to the week, stuck between trying to weigh up a potential supply disruption due to the escalating unrest in Yemen, and a stronger dollar," said Matt Smith, commodity analyst at Schneider Electric. "As Saudi Arabia deploys ground troops to its southern borders, markets remain jittery about the prospect of contagion in the Middle East."
Google (GOOGL) - Get Report shares were also pressuring markets after the company announced an experimental program to purchase patents. The tech giant plans to create a marketplace that will counteract patent troll attacks. The company didn't outline the types of patents nor how many it intended to purchase. Shares fell 1.6%.
Applied Materials (AMAT) - Get Report and Tokyo Electron called off their $29 billion merger following problems with the U.S. Justice Department and regulatory issues in several different countries. Applied Materials plummeted 8.5%, the worst performer on the Nasdaq and S&P 500.
Deutsche Bank (DB) - Get Report tumbled 4.8% after reporting first-quarter profit half that of a year earlier as legal expenses ate into earnings. The German bank also unveiled a strategic overhaul which will target 3.5 billion euros in annual savings.
There were some winners on markets Monday. DuPont (DD) - Get Report was the leading gainer on the Dow, adding more than 4% as activist investor Trian Fund Management zeroed in on two board seats. Influential proxy adviser Institutional Shareholder Services recommended Trian's Nelson Peltz and John Myers for the positions.
Tesla (TSLA) - Get Report was leading the Nasdaq ahead of a scheduled presentation on Thursday. The company is expected to diversify the uses of its lithium-ion batteries into the home energy market.
HSBC (HSBC) - Get Report jumped 3.7% on reports it was considering spinning off its U.K. retail banking unit. The bank could make around $30 billion if a deal came to pass, according to the Sunday Times.
SeaWorld (SEAS) - Get Report jumped to an eight-month high after Goldman Sachs upgraded on the belief sentiment should begin to improve soon. The theme park operator has been suffering poor publicity over its treatment of killer whales.
French tech and outsourcing company Capgemini agreed to purchase iGate (IGTE) for $4 billion on Monday. An estimated $75 million in annual cost savings is expected within the first three years. iGate shares spiked 3.3%.
Growth in the U.S. services sector unexpectedly cooled in April, according to the latest figures from Markit. The Purchasing Managers Index for the services sector fell to 57.8 in April from 59.2 in March. Economists had expected an increase to 59.5.