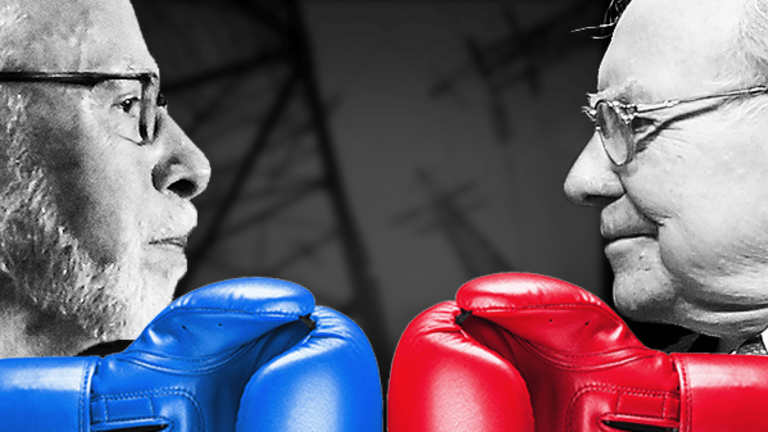 'Mystery Bidder' May Push Out Warren Buffett and Paul Miller in Battle for Oncor
Warren Buffett's Berkshire Hathaway doesn't have his bid in the bag for Oncor.
Warren Buffett's Berkshire Hathaway doesn't have his bid in the bag for Oncor.
Solar eclipse aside, a rare sight is due to be revealed in U.S. bankruptcy court on Monday in Wilmington, Del.
The $9 billion bid by Warren Buffett's Berkshire Hathaway (BRK.A) - Get Report (BRK.B) - Get Report  for Energy Future Holding's Oncor may not get approved, as scheduled.
But that won't be because fellow billionaire Paul Singer of hedge fund Elliott Management LLC, Energy Future Holding's largest creditor, couldn't meet the judge's deadline to come up with the rest of the money on his $9.3 billion bid for the Texas-based power transmission company.
A third "mystery" bidder has appeared, Dow Jones reported Friday, and the new bidder is offering $9.3 billion, too.
Elliott's lawyer, Keith Wofford, described the new contender's identity only as "a large investment-grade utility," according to CNBC.
On Wednesday, Berkshire Hathaway said it would "stand firm," according to Reuters, and refused to up its bid to buy 80% of Oncor Electric Delivery Co LLC. The company valued Oncor at $18.1 billion and Elliott at $18.5 billion.
Berkshire stock traded up 0.20%, to $177.56, on Friday.
Don't miss these top stories on TheStreet:
Amazon's Instant Pickup Service Shows Clearly Who Jeff Bezos Is Targeting Next
This article is commentary by an independent contributor. At the time of publication, the author held no positions in the stocks mentioned.