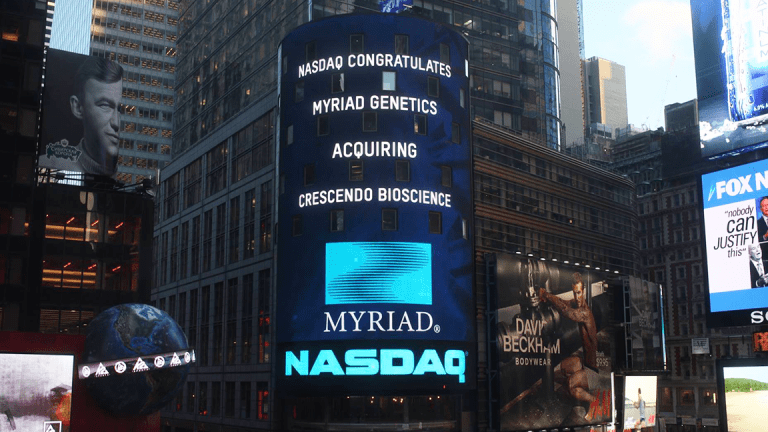 Myriad Genetics Sinks on Fourth-Quarter Earnings and Revenue Miss
Myriad Genetics tumbles after missing Wall Street's fiscal fourth-quarter earnings and revenue expectations.
Shares of Myriad Genetics (MYGN) - Get Free Report tumbled nearly 40% to $27.19 a share Wednesday after the molecular diagnostic company missed Wall Street's fiscal fourth-quarter earnings and revenue expectations.
The Salt Lake City-based company posted a loss of $4.2 million, or 6 cents a share, down from net income of $14.5 million, or 20 cents a share, a year ago. Adjusted income came to 41 cents a share, missing analysts' expectations of 47 cents.
Revenue totaled $215.4 million, up 11% from $193.9 million a year ago but fell short of Wall Street's call for $221 million. Among other things, sales for the company's GeneSight genetic test for depression fell 12%, while sales for the Vectra rheumatoid arthritis test sank 19%.
"Unfortunately, revenue in the fourth quarter was 2% below our expectations with a corresponding impact to earnings that was largely attributable to lower reimbursement for our expanded carrier screening test as a result of laboratory benefit management programs," Mark Capone, president and CEO, said in a conference call with analysts, according to a transcript of the event.
Capone added that "while we face some unanticipated headwinds in fiscal 2019, I'm proud of our team's ability to combat these headwinds through a combination of innovation and disciplined execution."
Myriad Genetics issued disappointing guidance, saying it expects adjusted full-year 2020 earnings to range between $1.80 and $1.90 a share. Revenue is expected to range between between $865 million and $875 million.