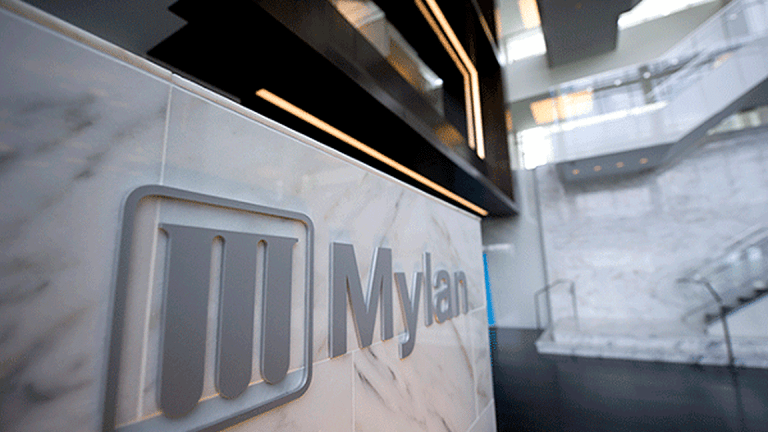 Mylan's Stock Gets Bump After Investor Day
Following Wednesday's event, Leerink analyst Ami Fadia said she is 'incrementally more positive' on the drugmaker's pipeline and diversified business model and moved her rating to outperform.
On the the heels of Mylan NV's (MYL) - Get Viatris, Inc. Reportinvestor day, Leerink Partners LLC analyst Ami Fadia on Thursday, April 12, raised her rating on the drugmaker's stock to outperform from market perform.
Fadia, who maintained her $52 price target, came away from the event "incrementally more positive" on the company's pipeline and its diversified business model, as well as its ability to produce about a 4% top-line and low-double-digit earnings per share compound annual growth rate over the 2018 to 2023 time period and its ability to bolster its balance sheet, according to a note.
"Despite these strengths, Mylan has continued to trade at a 2019E EV/EBITDA of 6.9x," Fadia wrote, pointing out that the valuation is a discount to Mylan's peers such as Teva Pharmaceutical Industries Ltd. (TEVA) - Get Teva Pharmaceutical Industries Limited American Depositary Shares Report , which trades at 8.4 times, and more in line with companies such as Endo International plc (ENDP) - Get Endo International plc Report , which trades at 6.6 times.
Near-term catalysts for Mylan include a decision by the U.S. Food and Drug Administration in June on the company's generic version of GlaxoSmithKline plc (GSK) - Get GSK plc American Depositary Shares (Each representing two) Report asthma drug Advair.
Fadia wrote in the note that Mylan's diversified business model "remains underappreciated" by investors.
Though Mylan has expanded beyond its roots as a U.S. generics company, Mylan CEO Heather Bresch said at the investor day that she still believes that "we're being valued as a U.S generics company."
Company officials noted that more than 60% of Mylan's revenue comes from outside the U.S. From a product standpoint, generics account for 60%, and the remainder is split between branded drugs and over-the-counter products.
"More importantly, about 50% of Mylan's generic business is outside the U.S., which is not experiencing nearly the same pricing headwinds as the U.S.," Fadia wrote. "Even in the U.S., we expect Mylan's generics business to grow mid-single digits in 2018 as it benefits from the annualization of generic Copaxone 40mg contribution along with new product launches like generic Advair."
Mylan, whose principal executive offices are in Hertfordshire, England, and global headquarters are in Canonsburg, Pa., in October clinched FDA approval for its generic version of Teva multiple sclerosis drug Copaxone.
Shares of Mylan were up 1.1% to $40.82 on Thursday morning. The stock is down 3.5% year-to-date but up 7.3% over the past 12 months.
Before You Go
Get ready for the must-attend investing conference of 2018, hosted by none other than TheStreet's Jim Cramer. From an exclusive interview with PayPal CEO Dan Schulman to expert panels that touch on investing in the stock market to alternative investing, you won't want to miss the event TheStreet is hosting on May 5. Details are below.Â
How to Diversify Your Portfolio: A Boot Camp for Investors
Date: Saturday, May 5, 2018
Location: 117 West 46th Street, New York City