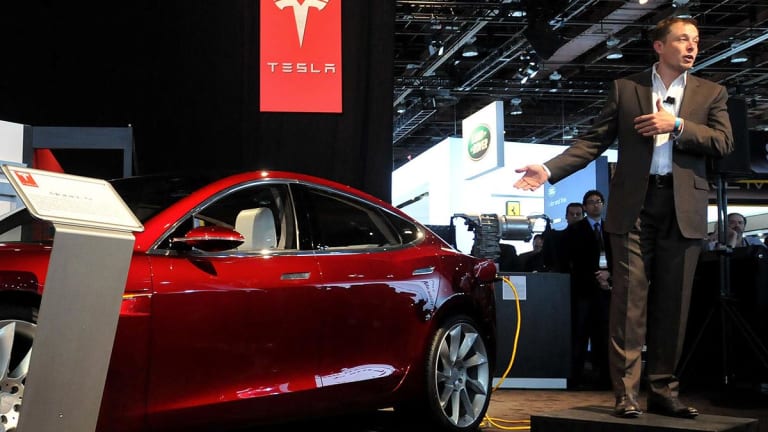 Musk Sees Tech In Place This Year For Tesla Self-Driving Car
Elon Musk is predicting that Tesla will be "feature-complete for full self-driving," in 2019. But billionaire electric-car tycoon said it will take longer to work out all the kinks and win government approval.
Never one to shy away from bold predictions, Elon Musk contends Tesla Inc. (TSLA) - Get Free Report will have all the technology in place by the end of this year for a fully self-driving car.
In a podcast chat with ARK Invest CEO Catherine Wood and analyst Tasha Keeney posted Tuesday, Musk said "we will be feature-complete for full self-driving this year."
Elaborating on exactly what that would mean, the billionaire electric car mogul said "the car will able to find you in a parking lot, pick you up, and take you all the way your destination without an intervention."
"I am certain of that," Musk said on the podcast with ARK's top executive, whose firm is a Tesla shareholder.
But Musk, who has faced fallout in the past over predictions that, at least in the eyes of his critics, didn't work out, also hedged his bets.
Musk went on to say his prediction about Tesla having the technology in place for self-driving by the end of 2019 does not mean Tesla will have a car that works with "100% certainty" and without observation.
The electric car maker won't reach that threshold until the end of 2020, he said.
"My guess when we would think it's safe for someone to essentially fall asleep and wake up at their destination (is) probably towards the end of next year," Musk said.
But regulatory approval will take longer, Musk said, envisioning two different stages of government review.
The first would involve getting approval to run tests with a driver at the wheel, followed next by permission to do testing without a driver in the car.
However, not everyone is buying into Musk's optimism.
Anton Wahlman, a former equity analyst who now writes about cars and technology, recently chided Musk in a column for TheStreet for making "impossible promises."
"Full self-driving" in the sense of being Level 5 driverless, remains decades away. Try having a car follow directions from a cop waving his hands, to get around a stalled truck on a one-lane road, in a snowstorm. Or park in a field for a game during an off-road exercise," Wahlman argued.
Tesla shares dipped 0.73% Tuesday to close at $305.64.