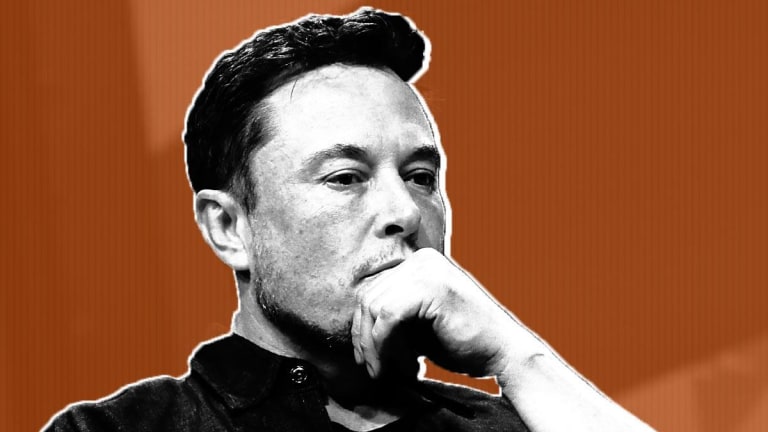 Musk Apologizes to Disrespected Analysts; Jamba Juice Finally Gets Sold--ICYMI
Here's what you need to know now for Thursday, August 2.
If in basketball it's 'live by the three, die by the three,' in Tesla's (TSLA) world it's live by Elon Musk or die by the guy. Tesla fanatics-and investors-breathed a sigh of relief on Thursday as the stock rocketed more than 16%, or $48.70 per share, to $349.54, after Musk promised that Tesla would be profitable each quarter going forward. Not so new, I know, but he also did the unthinkable and actually apologized for something. Musk apologized to the two Wall Street analysts he embarrassed on the first quarter earnings call. He blamed a lack of sleep last time. Tesla's net loss for the three months ending in June came in at $718 million, or $3.06 per share, the company said, wider than the $2.90 per share loss that analysts had predicted, although excluding some one-off items, that figure narrowed to $2.45 per share. The group burned through $740 million in cash over the three month period, but that figure was well below the $900 million expected by analysts.
Activist can be relentless, as we found out on Thursday when Roark Capital Group's Focus Brands acquired activist-targeted Jamba (JMBA)  for $200 million. But it wasn't a quick process for the Jamba Juice parent or its insurgent investor Glenn Welling. Students have completed full undergraduate education programs in the time it took Jamba to finally sell. The deal occurred about four years after Welling, who runs Engaged Capital, and another activist fund manager, James Pappas, joined the board of Jamba Juice in a January 2015 settlement. Welling had first accumulated a 7% stake between May and July 2014 and has been accumulating periodically ever since, reporting most recently an 18.25% stake. The sale price of $13 a share in cash represents a slight win for Welling, whose cost basis was about $11 a share, though the profit was many years in the making. The campaign was a difficult slog for Welling who has had more investment success elsewhere, writes The Deal's Ron Orol. Engaged succeeded in pushing Jamba towards a franchising model but the juice chain experienced some headwinds, partly due to its 2016 headquarter relocation from Emeryville, Calif. to Frisco, Texas, which included some layoffs.
Markets Today: U.S stocks rebounded to close mostly higher on Thursday as gains by Apple (AAPL)  and Tesla offset concern about the latest round of trade tensions between the U.S. and China. The Dow Jones Industrial Average ended off 7, or 0.03%, at 25,326, after trading more than 200 points lower early in the session. The S&P 500 rose 0.5%. The Nasdaq reversed its early losses, thanks in part to a good day for Apple, which saw the consumer tech company eclipse the $1 trillion market cap threshold. Wow, ONE TRILLION. Amazing.
This is an excerpt from "In Case You Missed It," a daily newsletter brought to you by TheStreet. Sign up here.