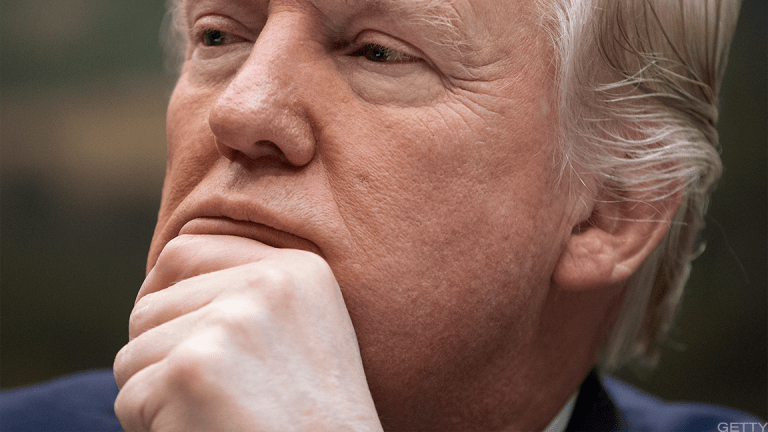 Mueller Probe Keeps Dollar, Markets in Check Ahead of Key Week For Trump
Reports of the first arrests in Special Counsel Robert Mueller's Trump/Russia probe has hit global market sentiment Monday.
Reports of the first arrests in Special Counsel Robert Mueller's Trump/Russia probe has hit global market sentiment Monday.
The potential for the first arrests linked to Special Counsel Robert Mueller's investigation into Russia meddling in last year's elections has dampened market sentiment Monday and overshadowed a key week in President Donald Trump's broader economic agenda.
Multiple media reports suggest arrests in Mueller's far-reaching probe, which has been in place for around six months, could come as early as Monday, although there were no specific targets mentioned or indications of what the formal charges would be.
Trump himself sent a series of Tweets Sunday deriding both the scope of the investigation and the timing of media leaks to the potential arrests, which come just ahead of what is expected to be a formal announcement on the next Chairman of the Federal Reserve, significant movement on the Republican tax cut plan and the President's impending swing trip to Asia following the China's Communist Party Congress earlier this month.
Perhaps sidetracked by the spectacle of arrests that could overshadow the President's agenda, the U.S. dollar index, which benchmarks the greenback against a basket of six global currencies, was marked 0.25% lower rat 94.68 in early Monday trading while benchmark U.S. Treasury bond yields were seen 2 basis points lower at 2.40% 
Wall Street futures prices have the Dow Jones Industrial Average priced for a 42-point, or 0.18%, decline  at the opening bell, while the broader S&P 500 could give back around 0.22%, or 5.75 points, at the opening bell.
The pullback, however, may also be linked to speculation that Jerome Powell is the President' favorite to replace Janet Yellen at the head of the Federal Reserve over John Taylor, a choice that would be considered marginally less hawkish than the Stanford economist.
The Fed is slated to meet Thursday in Washington, but no decisions on rates are expected until its two-day meeting that begins on December 13, where traders are pricing in a 95.7% chance of a hike, according to the CME Group's Fed Watch tool.
On taxes, Republican lawmakers are expected to unveil details of their signature $6 billion tax cut bill Wednesday amid speculation that major changes to mortgage interest deductions, retirement savings accounts and state and local tax payments.
Trump is also scheduled to travel to Asia Friday for an 11-day trip that will include a visit with China's President, Xi Jinping, who was cemented in office -- and into China's political history -- last week as part of the country's 19th Communist Party Congress.
More of What's Trending on TheStreet: