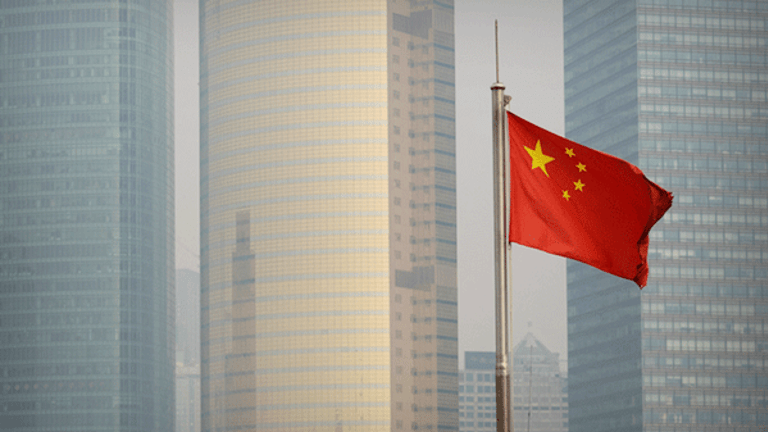 MSCI Agrees To Include Domestically Listed Chinese Stocks
MSCI just freed funds to back the world's No.1 appliance maker and No.2 drinks group
China's long march to establish Shanghai as a true international financial center received a huge boost Wednesday, June 21, when MSCI Inc. (MSCI) - Get Report agreed to include some 222 Chinese A shares in its influential emerging markets indexes.
The decision adds domestically-listed Chinese companies with a total market capitalization of about $696 billion to all of MSCI's standard country and regional indexes, exposing them to investment from institutional funds that control trillions of dollars and are benchmarked against the MSCI indexes.
"From today, international investors who don't know the A-share market, and who aren't looking at Asia from Asia, need to focus on that," noted Deutsche Asset Management's Asia Pacific Chief Investment Officer Sean Taylor. "China and Asia are already a big part of the emerging market index, and will become increasingly bigger as time goes on."
Chinese stocks had been knocked back for inclusion by MSCI for three years running and the decision had been widely expected - though that didn't stop Chinese shares gaining. The Shanghai Composite Index traded Wednesday at 3156.21 up 0.52%
The inclusion will have an immediate effect as emerging market funds stock up on the shares, investing $17 billion to $18 billion in the stocks to rebalance their funds with the MSCI indexes, according to the index manager's estimates.
China A stocks will initially account for 2.6% of the MSCI China Index and 0.7% of the MSCI Emerging Markets Index, according to Goldman Sachs. "Looking ahead China A could account for 9% (of the Emerging Markets Index) in the next five years and bring in about $230 billion of index flows," noted the investment bank.
On the flip side, Korean, Taiwanese and Indian stocks are likely to be hit by selling, albeit lightly, as their weight in the indexes are diluted by China's entrance.
Chinese stocks given the nod by MSCI will be new to many western investors but include companies that may yet become household names, such as:
MSCI were Kweichow Moutai Co., a liquor maker whose 594 billion yuan ($87 billion) market cap ranks second only to Diageo plc (DEO) - Get Report amongst drinks companies. Kweichow stock traded Wednesday at 473 yuan up 1.44, taking its year-long gain to almost 70%.
Shanghai-based SIAC Motor Corp., China's biggest car maker by sales and owner of the iconic MG brand, which has a market capitalization of 350 billion yuan. SIAC shares traded 3.2% higher on Wednesday at 29.98 yuan.
Tsingtao Brewery Co., maker of China's No.2 beer by sales and a favorite of Chinese restaurants around the world. The company, which is also listed on the Hong Kong exchange, rose 2% Wednesday to 34.66 yuan, taking its 12-month gain to 19% and boosting its market capitalization to 44.5 billion.
Midea Group Co., the world's No.1 consumer appliance maker. The company has grown through dominance of its domestic market as well as overseas acquisitions, including last year's $3.9 billion acquisition of German robot maker Kuka. Midea stock traded Wednesday at 42.79 yuan, up 4.7%, taking its gains to 90% over the past year.