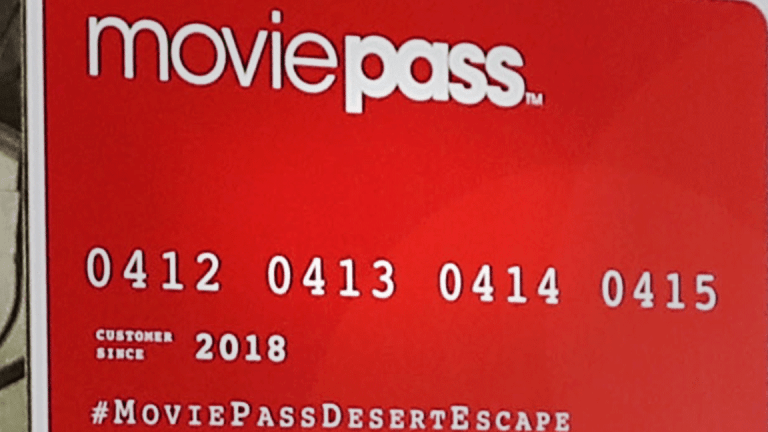 MoviePass Parent Stock Hits All-Time Low, CEO Isn't Worried
Contrary to popular belief, the man behind MoviePass says the service isn't going anywhere.
Contrary to popular belief, the man behind MoviePass says the service isn't going anywhere.

Shares of MoviePass parent company Helios and Matheson Analytics Inc. (HMNY) plummeted 7.93% Wednesday, trading at an all-time low of $0.17. But the end isn't near, Helios and Matheson Analytics CEO Ted Farnsworth told TheStreet.
"The money issue on my side has never been an issue," Farnsworth said. "I don't mean that to be cocky or arrogant, but people see what it is. When you go to a movie theater, half of the people there have MoviePass."
"The investors on Wall Street understand that and they understand that model, so for us to sustain that and go forward is not a problem," Farnsworth said.
Last August, the data analytics company took a majority stake in MoviePass and dropped the subscription's price to $9.95 in August. The service allows users to see one new movie daily but pays theaters the full price of each ticket. Helios and Matheson shares peaked in October at $32.90 after MoviePass acquired 200,000 subscribers in one month. 
They have plunged since on concerns about its financials. 
According to SEC filings, Helios and Matheson burns $21.7 million every month, causing an independent auditor to "[raise] substantial doubt about the company's ability to continue." 
MoviePass introduced surge pricing last week, the latest in a series of turnaround efforts aimed at preventing price increases, stabilizing the company and reducing fraud according to Farnsworth. Still, Farnsworth repeated MoviePass founder and former Netflix (NFLX) executive Mitch Lowe's assessment that the company will be profitable by 2019.
"We are the fourth largest movie theater chain in America without one building by the number of tickets that we're buying," Farnsworth said. "It does remind me of Amazon (AMZN)  when everyone including Barnes and Noble (BKS) said that people aren't going to buy books online. But look who wins in the end."
Wall Street remains skeptical though.
MoviePass aims to hit 5 million subscribers by the end of this year, but it recently said it burned through $40 million in cash in May alone operating the service with just over 3 million users. At the end of that month, the company had only about $18.5 million in cash and $30.3 million in accounts receivable.
Analysts don't expect the company to be profitable until 2020. 
This is why Jim Cramer's Action Alerts PLUS owns Amazon.