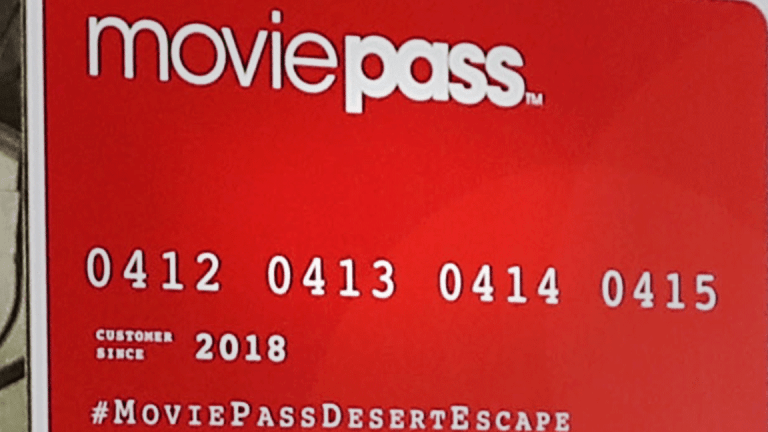 MoviePass Parent Gains 2% on Turnaround Speculation
MoviePass may be here to stay after all.
MoviePass may be here to stay after all.
Shares of MoviePass' parent company Helios and Matheson Analytics (HMNY) jumped 2% to 19 cents a share on Monday, indicating that its plan to shore up its balance sheet may be more successful than previously thought. Shares plunged 29 percent on July 2 after the company filed a universal shelf registration statement with the Securities and Exchange Commission to sell $1.2 billion in equity and debt securities to make up for substantial loses. The data analytics company has previously diluted its shares to raise capital, increasing its share count 3,429% since August.
"H&M made all of these shares available to keep the company afloat from a financial perspective," Jim Fosina, CEO of subscription marketing firm Fosina Marketing Group said. "The key issue with their subscription model is that it is a 'money losing' model. While attractive to the subscriber from a monthly cost standpoint, the company is actually losing money with each subscriber."
Helios and Matheson lost $150.8 million in 2017 according to an independent audit the company disclosed in SEC filings in April. MoviePass charges customers $9.95 a month to see up to one movie a day, but pays theaters the full price of each ticket. The company has recently limited subscribers from seeing films multiple time and introduced surge pricing to limit its loses.
"MoviePass is committed to maintaining our low monthly price as we continue to grow rapidly. Rather than raise our prices or limit viewings, our plan has been to develop a new variable pricing system based on the demand for particular showtimes," MoviePass wrote to its customers. "Our aim is to create the most flexible and cost-efficient product, so that we don't have to simply raise the price on the subscription."
Despite the auditor's assessment that the company's loses "[raise] substantial doubt about the company's ability to continue," CEO Mitch Lowe told Variety that he expects MoviePass become profitable in 2019 by selling ads and subscriber data.
"The rationale that the company is providing is that they believe that the real jewel in the model is 'if you build it, the advertisers will come with the marketing dollars'," Fosina said. "The company believes that there is real value in the data that they are collecting from subscriber engagement. While the data is valuable, in our opinion and from the lack of excitement from advertiser budgets, it will not be enough for the company to grow."