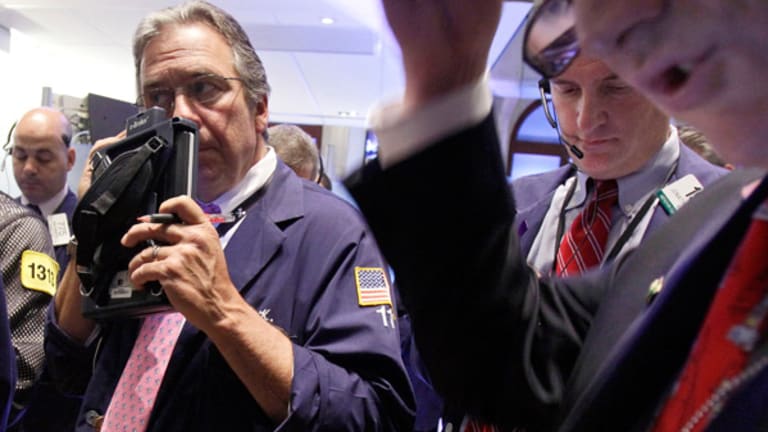 Motorola Shorts Beware
The company stands to regain its investment buzz over coming quarters.
This column was originally published on RealMoney on March 24 at 11:52 a.m. EST. It's being republished as a bonus for TheStreet.com readers.
I have heard that a popular hedge fund's matched-pair trade is long
Nokia
and short
Motorola
(MOT)
.
Bad trade.
We may get the Motorola shorts churning out negative yarns in the quiet period, but don't let that influence you. This year, starting with the first quarter, should be excellent for Motorola.
Motorola lost a bit of buzz with a solid but not exceptional December quarter. In my opinion, the company left a ton of business on the table because of component shortages. Check out the 10-K filed a few weeks ago. Handset backlog exploded, up 100% at year-end. That represents 10 million more phones than at the end of last year. Cell-phones have short shelf lives and ship relatively quickly, as in the next quarter.
Many bears, including Tero on this site, predicted that the Razr would fizzle. How wrong they have been and will continue to be.
Six quarters into production, Motorola still cannot satisfy demand. Some of my wealthiest associates just bought Razrs, as did my 12-year-old son. That market covers just about everyone in this country, and most still do not have a Razr.
My only concern with the Razr is that Motorola messed up by not being able to produce enough product. That's a high-class problem to have. Motorola will not make the same mistake with its new hot phone, the Slvr.
Another bear contention is that the Slvr launch is going poorly.
How so very wrong.
The Slvr is ramping at a faster pace than the Razr and recently became the best-selling prepaid phone in the U.K. According to a Citigroup report, component suppliers have been asked to get up to 4-million-unit capacity per month. Motorola expects to sell a ton of Slvrs this year. I believe it is correct. It's a candy-bar product, so most of the sales will be international.
Motorola's publicly stated financial goals include significant market-share gains and profit-margin expansion this year. With the success of its thin-form factor line including the Razr, Slvr and the PBL, selling many tens of millions of units (70 million to 100 million?) this year, I believe Motorola would achieve both.
The handset market looks solid for 2007. New technologies should continue to drive the replacement cycle, and BRIC countries continue to add subs at a torrid pace. I think 900 million handsets will be sold globally this year. And starting off with a bang-up first quarter (flat to up sequentially?), I expect Motorola to ship more than 200 million units. My forecast is significantly higher than Wall Street consensus. And that's without Motorola's hit product for 2007, the Scpl.
Over the next quarter or two, it should become obvious to investors that Motorola's mojo has returned. And painfully, the Motorola shorts will be covering at higher prices.
P.S. from TheStreet.com Editor-in-Chief, Dave Morrow:
It's always been my opinion that it pays to have more -- not fewer -- expert market views and analyses when you're making investing or trading decisions. That's why I recommend you take advantage of our
to TheStreet.com's
RealMoney
premium Web site, where you'll get in-depth commentary
and
money-making strategies from over 50 Wall Street pros, including Jim Cramer. Take my advice --
At the time of publication, Marcin was long Motorola, although positions may change at any time.
Robert Marcin is the founder of Defiance Asset Management, a private investment management firm. Client accounts managed by Defiance Asset Management often buy and sell securities that are the subject of commentary by Marcin, both before and after it is posted. Under no circumstances does this column represent a recommendation to buy or sell stocks. This column is intended to provide insight into the financial services industry and is not a solicitation of any kind. Neither Marcin nor Defiance Asset Management can provide investment advice or respond to individual requests for recommendations. However, Marcin appreciates your feedback;
to send him an email. Marcin is not required to update or held responsible for updating any portion of this column in response to events that may transpire subsequent to its original publication date.