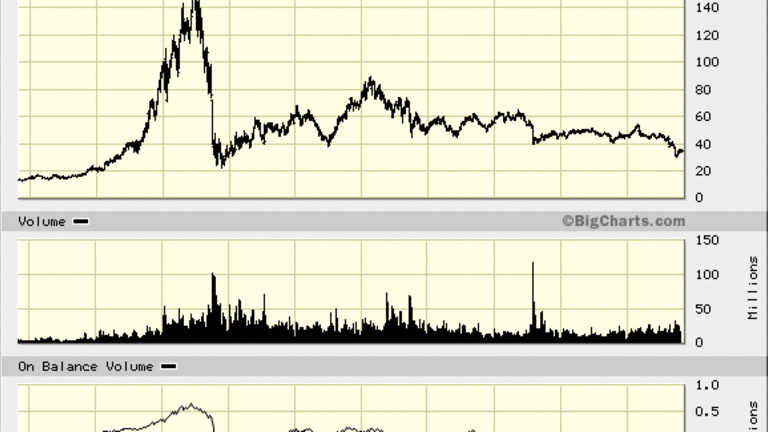 Publish date:
Mosaic (MOS) Stock's Muddy Chart: How to Play It to Avoid Getting Stuck
For Mosaic (MOS) you could wait for more weakness, or go long at a strategic entry point.
For Mosaic (MOS) you could wait for more weakness, or go long at a strategic entry point.
NEW YORK (TheStreet) -- Back on August 26, in a story about a number of agricultural names, we said Mosaic Co. (MOS) - Get Report had been stuck in a roughly sideways pattern since late 2008. The interesting thing was the slightly rising On Balance Volume (OBV) line. Investors/traders had been slowly accumulating MOS. With a neutral trend, we said that investors might have wanted to wait until prices broke out over the highs of 2015.
Mosaic slipped lower in September and may have hit its low for 2015 earlier this month.
In this chart of MOS, above, we don't have a lot of bullish clues but we do have some things to get us started. First, prices have made a significant percentage retracement. Bottom reversals need to have something to reverse and a decline to $29.61 from $53.83 in February qualifies in my book. Second, the OBV line has risen this month along with prices, telling us that volume is heavier on days when MOS closes higher. This is a sign of accumulation. Last, prices rallied to the underside of the declining 50-day simple moving average (MA). Though MOS is pulling back from this initial attempt to breach the 50-day MA, I suspect we will see another attempt that is likely to be successful.
We show this long-term chart of MOS, above, to illustrate the five-year decline and to show that prices have held above old support at the 2008 lows.
Our strategy is to look to buy either on some small additional weakness in shares of MOS and/or go long MOS on strength above $36. Risk $3 from entry.