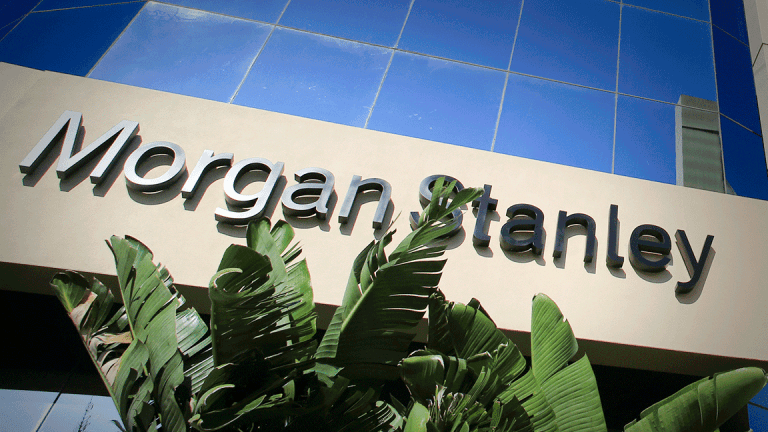 Morgan Stanley Falls Behind Rivals Amid Q2 Trading Slump
Morgan Stanley said second-quarter profit tumbled 9% from a year earlier to $2.25 billion. Earnings per share were $1.23, exceeding the $1.14 average estimate of Wall Street analysts.
Morgan Stanley (MS)  said Thursday that second-quarter profit tumbled by 9% as the Wall Street firm suffered along with big-bank rivals like JPMorgan Chase (JPM) and Goldman Sachs (GS)  amid a lackluster environment for trading everything from bonds and stocks to commodities and currencies.
Net income was $2.25 billion, down from $2.47 billion a year earlier, New York-based Morgan Stanley said Thursday in a press release, pegging earnings per share at $1.23. The results still managed to exceed the $1.14 average estimate of Wall Street analysts in a survey by data provider FactSet. 
We reported solid quarterly results across all our businesses. Firmwide revenues were over $10 billion and we produced an ROE within our target range, demonstrating the stability of our franchise," said CEO James Gorman. "We remain focused on serving our clients and pursuing growth opportunities while diligently managing expenses."
Morgan Stanley shares were marked 0.2% lower in pre-market trading immediately following the earnings release to indicate an opening bell price of $43.70 each.
Trading revenue slid by 12% to $3.3 billion, while investment-banking revenue from advising on mergers and underwriting stocks and bonds fell by 13% to $1.47 billion. 
Morgan Stanley noted "lower volatility" and a "subdued level of structured transactions" in its fixed-income trading unit.  
Octavio Marenzi, CEO of the capital-markets consultancy Opimas, said in e-mailed remarks that Morgan Stanley beat Wall Street earnings estimates mainly thanks to valuation mark-ups and gains on principal investments, which can swing widely from quarter to quarter.
Gains on investments totaled $194 million in the period, more than double the amount a year earlier.
"The bump from principal investments will be hard to replicate," Marenzi said. "In coming quarters, the bank will need to bolster top-line growth in its core businesses."  
Morgan Stanley's results came during an unusually rough quarter for big U.S. banks in the lucrative business of trading bonds, stocks, currencies and commodities. 
In a series of earnings reports in recent days and conference calls with investors, executives from JPMorgan Chase (JPM) , the largest U.S. bank, to Goldman Sachs (GS) , the Wall Street powerhouse, said that client activity was muted due to gnawing uncertainty over the direction of President Donald Trump's trade war with China and the potential for Federal Reserve rate cuts.  
But in terms of the percentage drop in net income, Morgan Stanley's ranked the worst among the biggest U.S. banks.  
JPMorgan's second-quarter net income rose by 16% from a year earlier to $9.65 billion, while Wells Fargo (WFC) posted an 11% increase to $3.1 billion, Bank of America's climbed 8% to $7.3 billion and Citigroup's (C)  rose 7% to $4.8 billion. Goldman's earnings fell by 6% to $2.42 billion.