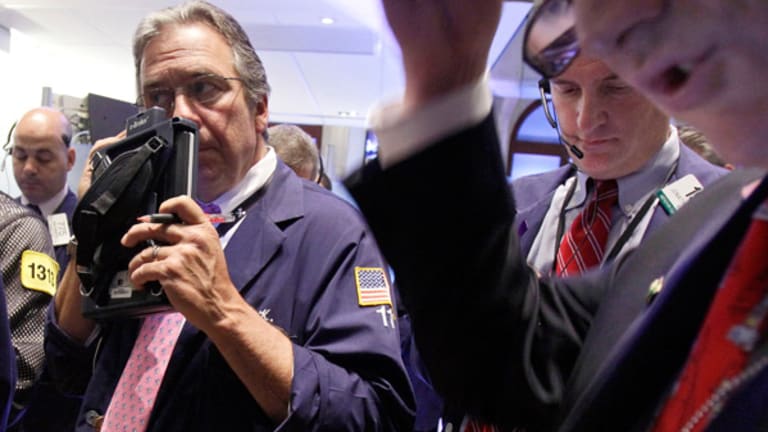 More Work to Do on the Downside
Holding at previous lows only keeps bullish hopes alive.
Holding at previous lows only keeps bullish hopes alive.
This column was originally published on RealMoney on March 5 at 9:08 a.m. EST. It's being republished as a bonus for TheStreet.com readers. For more information about subscribing to RealMoney, please click here.
On Friday, I
turned negative on oil, yet I didn't receive even one email on the subject.
I also find it curious that there's a lot of talk about a slowdown, yet there has been no flight to quality in names like
Coca-Cola
(KO) - Get Report
and
Kimberly-Clark
(KMB) - Get Report
.
This leads me to believe that people might be hiding out in oil stocks instead of recession names. Does the oil trade need to be shaken out?
As for the market, on Friday I
discussed the potential for an upcoming oversold rally this week. I also explained why I think the rally will be short-lived. The charts in Friday's column focused on the short term, so today I'd like to show the intermediate-term charts.
First, though, let's briefly review the shorter term. The oscillator will be oversold this week. The 10-day moving average of the put/call ratio should peak between Monday and Wednesday. In addition, the McClellan Summation index now requires a reading of +4,200 (that's the net differential of advancing stocks minus declining stocks on the
New York Stock Exchange
) to reverse course from down to up. Typically, when this number gets to +4,000 or more, the market is quite stretched and needs a rebound to relieve that downside pressure.
That's the case for an oversold rally this week. Now here's the case for why there is still more work to be done on the downside.
The 30-day moving average of the advance/decline line (blue line below) is still not oversold. Heck, it's not even as oversold as it was in late January. It will not be oversold until late March. Oversold readings in this indicator tend to come in conjunction with intermediate-term rallies.
The 30-day moving average of the equity put/call ratio (blue line below) has not yet peaked. You can see on the chart that a peak is closely associated with market bottoms. We're not there yet.
Upside volume as a percentage of total volume on the NYSE (on a 30-day moving average) is now at 50%. In late January, it was at 49%. But good rallies come when this indicator gets down to the low-40% area, so a reading of 50% isn't even close to a bottom.
In the past, I have shown the 10-day moving average of the net of new highs and new lows to help look at market turns. That indicator also says there's more to go on the downside. But I also look at something a bit more in depth: the 10-day moving average of new highs, divided by the sum of the 10-day moving average of new highs and the 10-day moving average of new lows. At 10%, the market has truly good lows. Even at 70%, there have been some decent lows. The reading is now at 90%. I can't even find a way to call it a low.
A successful test of a low has nothing to do with holding at the previous lows. It has to do with breaking the previous lows and getting positive divergences such as fewer stocks making new lows, higher lows in the oscillator and lower volume.
For example, take a look at this chart of the
Nasdaq
. Notice how each lower low last summer came on lighter and lighter volume. We have only just had our first (potential) peak volume reading. So how can any rally from here be anything more than an oversold bounce?
Such positive divergences cannot come until we have had an oversold rally. The sequence is such that we come down, get an oversold rally and then come down again, hopefully breaking the previous lows in the market averages.
The break of the previous lows, weeks after the initial low, often gives us the chance to have a positive divergence as well as the time to get the intermediate-term indicators lined up for a better rally.
Holding at previous lows only serves to keep bullish hopes alive. If you want a bottom, bullish hopes must be given up.
At the time of publication, Meisler had no positions in the stocks mentioned, although holdings can change at any time.
Helene Meisler writes a daily technical analysis column and TheStreet.com Top Stocks. For more information,
. Meisler trained at several Wall Street firms, including Goldman Sachs and SG Cowen, and has worked with the equity trading department at Cargill. Under no circumstances does the information in this column represent a recommendation to buy or sell stocks. She appreciates your feedback;
to send her an email.